THE DANCER IN ME 2013: OCCUPY THE EARTH! WORSHIP ARTS & MUSIC TRAINING CONFERENCE

Thursday, March 21, 2013 at 5:00 PM

-

Sunday, March 24, 2013 at 3:00 PM (PDT)
Event Details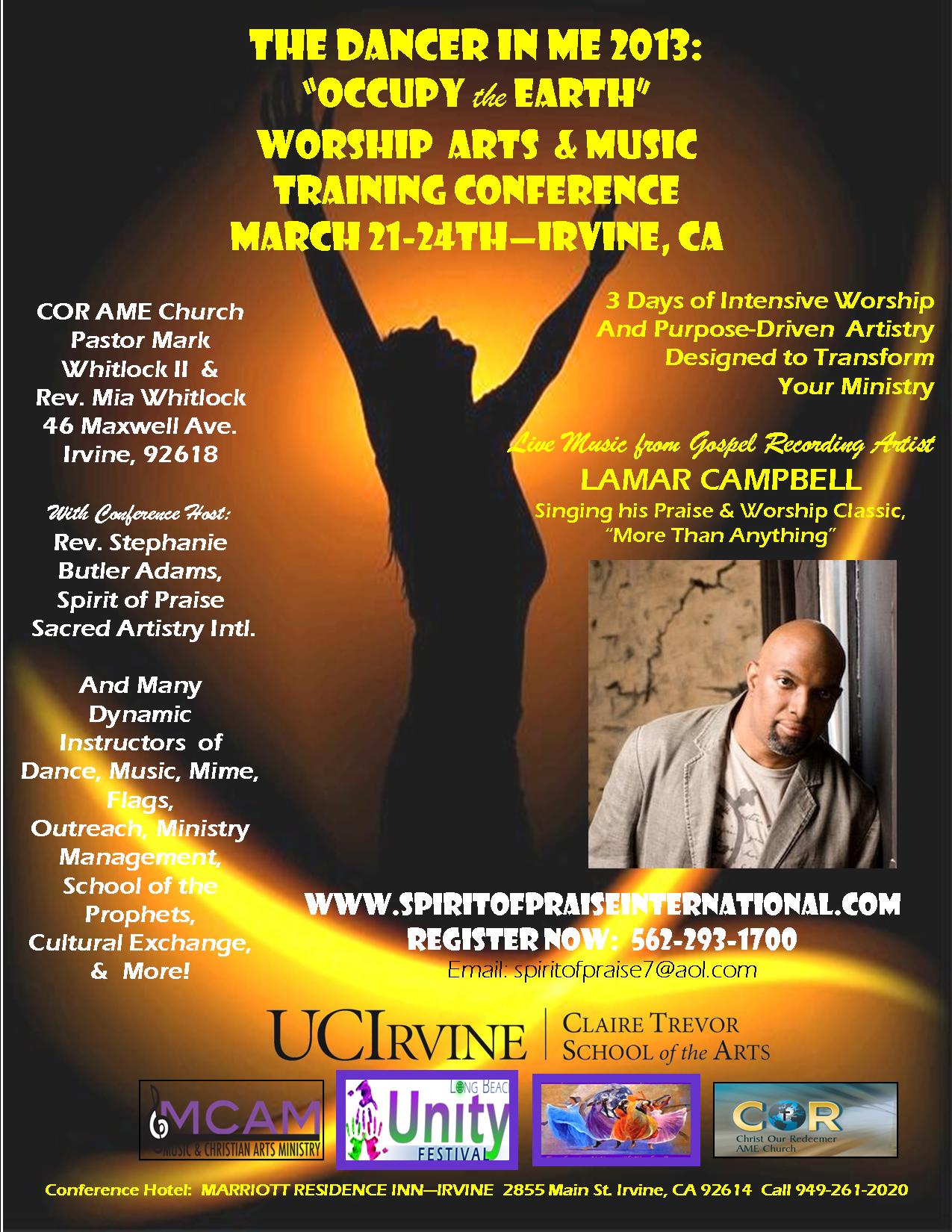 2013 THE DANCER IN ME: "OCCUPY THE EARTH"
WORSHIP ARTS & MUSIC TRAINING CONFERENCE
Scripture Reference: LUKE 19:13
COMPLETE CONFERENCE WEBPAGE AND DETAILS:  WWW.SPIRITOFPRAISEINTERNATIONAL.COM
This 3-day event features dynamic, life-changing teaching & preaching, accompanied by a team of nationally and internationally respected pioneers, dancers, musicians, singers, choreographers, writers, entrepreneurs, and anointed artists in the arena of Sacred & Performing Arts. This Conference WELCOMES Men, Women, and Children ages 5 and up from various levels of movement expertise. ALL dance ministries/troupes/teams/Directors, ministers of music, clergy & pastors, and anyone seeking to fully discover and launch their God-given creative capacity should not miss this Conference Experience. SPECIAL FOCUS: COMMUNITY OUTREACH, INTERNATIONAL MISSIONS, ARTS EVANGELISM, CROSS-CULTURAL MINISTRY, SO MUCH MORE!
COME into a spiritually charged, highly creative environment as you experience the BEAUTIFUL CAMPUS OF UC-IRVINE and its State-of-the-Arts facilities and DANCE STUDIOS WHILE BEING EQUIPPED for another Dimension of Ministry to the Nations!
Breakout Sessions include (but not limited to): Choreography, Drama, Mime, Technique in Ballet, Capoeira, Urban, Modern, African, Israeli, Movement Meditations, Pageantry & Flag Mastery, Lyrical, Dance & Missions, Improvisation, Protocol of Effective Networking, Creating Community Partnerships and MORE. Hosted by Spirit of Praise Sacred Artistry International Founder Rev. Stephanie Butler Adams, Mr. Stephen Adams, President/CEO of the Long Beach Unity Festival, and Christ Our Redeemer AME Church (COR) Pastors Mark Whitlock II and 1st Lady Rev. Mia Whitlock.  Proud CO-Sponsors: The University of California - Irvine (UCI) CLAIRE TREVOR SCHOOL OF THE ARTS.
QUESTIONS? CALL 562-293-1700
CONFERENCE HOTEL:  MARRIOTT RESIDENCE INN - 2855 MAIN STREET - IRVINE, CA 92614 
CALL  949-261-2020 NOW TO BOOK YOUR ROOM! GREAT RATES!
Room Rate INCLUDES BREAKFAST and UNITY BBQ! 
(Group Name to Reference when Booking: "SPIRIT OF PRAISE" ) 
Beautiful King Suites - $109 (sleeps 4-5ppl) ; 2Bedroom Suites - $159 (sleeps 7-8ppl)
 (All Suites include FULL KITCHEN and LIVING AREA)
CONFERENCE AIRPORTS:  JOHN WAYNE INTERNATIONAL AIRPORT - IRVINE, CA 
OR
LONG BEACH INTERNATIONAL AIRPORT - LONG BEACH, CA   
               REGISTER ON-LINE NOW AND VISIT WWW.SPIRITOFPRAISEINTERNATIONAL.COM  
FOR ALL CONFERENCE DETAILS
When & Where
DAILY WORKSHOPS: Claire Trevor School of the Arts - 4002 Mesa Road
EVENING SERVICES: COR AME CHURCH, 46 Maxwell Ave.
Irvine, 92617


Thursday, March 21, 2013 at 5:00 PM

-

Sunday, March 24, 2013 at 3:00 PM (PDT)
Add to my calendar
Organizer
Spirit of Praise Sacred Artistry International & The Long Beach Unity Festival
SPIRIT OF PRAISE SACRED ARTISTRY INTERNATIONAL (SOP) is a community and faith-based performing arts and consulting ministry that instructs & empowers people from various cultural backgrounds & levels of spirituality in principles, disciplines, & guidelines of Sacred & Liturgical Arts with an emphasis on dance, the Word, writing, music, healthy lifestyles, and community outreach. SOP is under the fiscal sponsorship of THE LONG BEACH UNITY FESTIVAL, a non-profit 501c3 organization.
The Mission of the Long Beach Unity Festival is to promote unity to all communities through music, the Arts, and healthy lifestyle initiatives.
The Mission of Spirit of Praise Sacred Artistry International is to: 
Ø  Honor oneself and humanity through the discipline of keeping the body as a sacred temple unto God.
 Ø  Demonstrate and live a joy-filled life of holiness and integrity unto God and humanity.
 Ø  Train, equip, and impart spiritual disciplines and strategies for healthy lifestyles through the ministry disciplines of dance, the Arts, community outreach, international missions, and the Word.
 Ø  Expose humanity to the vast diversity of indigenous dance styles and genres which both celebrate ones culture and glorifies God.
 Ø  Influence a generational legacy of global-minded, spiritually mature leaders, into Artistic Entrepreneurs in their Communities and the Nations.
 Ø  Serve as a clear and steady resource to the world of new, aspiring and seasoned Sacred & Performing Artists, regardless of technical experience, ethnic background, or spiritual aptitude.
****************
Rev. Stephanie Butler Adams is the Founder & Director of Spirit of Praise Sacred Artistry International, and the author of the widely acclaimed, "My Body is the Temple: Encounters & Revelations of Sacred Dance & Artistry". Her two other published works are, "Breathe, Balance, and Stretch: Movement Meditations & Daily Devotions for Living", and the children's book entitled, "The Dancer In Me". Rev. Stephanie and her husband Stephen are the visionaries and producers of the Annual DANCER IN ME Sacred Arts & Music Training Institute. Rev. Adams serves as the International Director of Dance for the AME Church worldwide, and the Assistant Minister of Music & Worship Arts (Dance) at COR AMEC in Irvine, CA.Stephanie is the Executive Director of the LONG BEACH UNITY FESTIVAL, INC. of which her husband Stephen Adams is President and CEO.
THE DANCER IN ME 2013: OCCUPY THE EARTH! WORSHIP ARTS & MUSIC TRAINING CONFERENCE