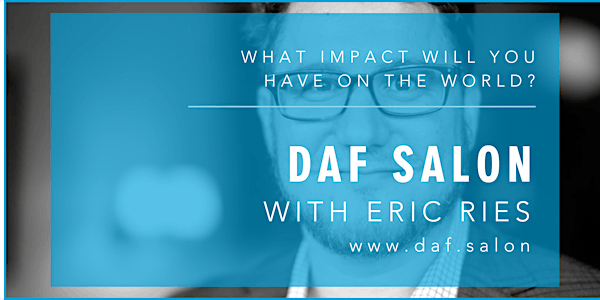 The DAF Salon with Eric Ries
The DAF Salon convenes thought-leaders to accelerate impact investments from Donor Advised Funds.
About this event
The DAF Salon was founded in 2020 with a simple idea: provide a platform to inform and inspire everyone to expand the use of their Donor Advised Funds for impact investments. The Salon quickly became the one centralized source for thought-leadership across entire industry. Since its founding, over a thousand people have attended a DAF Salon.
Join us for a very special conversation with Eric Reis.
Eric is by far one of the greatest influencers on entrepreneurialism and innovation in a generation. His books, The Lean Startup and The Startup Way, created a global movement. It also inspired him to become a long-term thinker. This led him to found the Long Term Stock Exchange (LTSE), the first U.S. national securities exchange focused on cultivating enduring value in the public markets.
Climate change is the defining issue of our time and Eric is determined to have an impact there too. Eric joined the thirdACT PBC team as an advisor and through his DAF at ImpactAssets, he's now influencing another form of finance: climate impact through investment from Donor Advised Funds.
Eric created a movement to take the guesswork out of innovation. Now, he's taking the guesswork out of solving the climate crisis. Join us to learn more about how this original thinker is applying DAFs to climate.