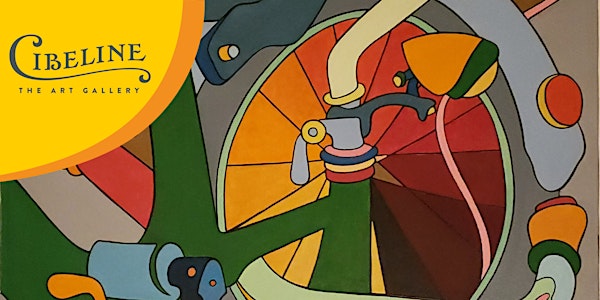 "The Cycle of the Bicycle" Closing Exhibit - First Friday, August 6th. 2021
Location
Cibeline The Art Gallery
460c Harrison Avenue
#Suite C6
Boston, MA 02118
"The Cycle of the Bicycle" is an interactive exhibit that follows Jean Sariano's process from his inspiration to finished masterpieces.
About this event
On August 6th, the Closing Exhibit event will feature Live Music, Beverages and Nibbles beginning at 5pm to 9pm. Mark Femino, will compliment our first friday evening, with acoustic guitar, mandoline and ukelele musician
Saturday, August 7th from 12pm to 5pm will include a casual Meet the Artist discussion from 1pm to 3pm.
Sunday, August 8th, the last day of exhibit from 12pm to 5pm.
We highly suggest reserving your Tickets for our closing weekend of "Cycle of the Bicycle" exhibit.
Cibeline is announcing that Cycle of the Bicycle will be our final exhibit within the 460C Harrison block. We will be transitioning to a Virtual Gallery model in order to expand our reach and look forward to hosting monthly pop-up gallery events. Stay up to date with our happenings here!
This masterful show of rarely seen bicycle artwork should not be missed, as it will feature a meticulous and thorough glimpse into Sariano's creative process; from early 1965 sketches to finished works from 80's through 2000's.
"The Cycle of the Bicycle" features vibrant paintings of interacting geometrical form characteristic of the intricacies of the bicycle. The complex abstract pieces highlight interwoven mechanical parts shaped in cartoonish elegance to keep the eyes engaged over the canvas. The effect is an immersive experience in form inspired by Sariano's studies of Fernand Leger Cubism.
Given the ordinary nature of a bicycle, this show is entirely familiar to audiences of all ages, but Sariano's gaze is anything but ordinary. This charming showcase will feast the attendees with a decadent expression of brightness inspired by the colorful Aztec art forms. A quirky collection, and a prominent addition to the Boston's art scene; explore the creative process in Jean Sariano's "The Cycle of the Bicycle."
"Even a part of an object has value. A whole new realism resides in the way one envisages an object or one of it's parts" Fernand Leger
Guests joining us will have the opportunity to paint a bicycle of Sariano's previously drawn artwork and fill in the sketched shapes; just as Jean did while painting this series. This unique opportunity will allow attendees an immersive experience into Sariano's artistic process. This concept will be offered throughout the duration of the show and will then be displayed and potentially auctioned off.
This exhibit featured in Cibeline, The Art Gallery will be on display from June 4th through August 8th, 2021.
Hours: Appointments for private viewings available on Tuesdays, Wednesdays and Thursdays. Friday from 12pm to 6 pm, Saturday from 12 pm to 5 pm, and Sunday 12 pm to 4 pm. Any additional information about this event or upcoming shows is available at cibelinetheartgallery.com and can also be found on the Cibeline Art Gallery Facebook and Instagram.
Cibeline Sariano
460C Harrison Avenue, Suite C6, Boston, MA 02118
Gallery (617) 797-5889
Cibeline Sariano, daughter of prolific contemporary artist Jean Sariano and gallery owner of Cibeline The Art Gallery, is thrilled to be representing her father's extensive collection and showcasing it for all to enjoy, in the heart of Boston's vibrant SoWa Art District!