The 2nd webinar in "The Cultural Diversity Problem" series discusses issues in Australian Journalism and related areas.
About this event
According to a recent report produced by Media Diversity Australia (MDA):
..more than 75% of presenters, commentators and reporters have an Anglo-Celtic background, while only 6% of presenters, commentators and reporters have either an Indigenous or non-European background. AND
100% of free-to-air television national news directors in Australia have an Anglo-Celtic background (and they are also all male).
This is a major problem in Australia and when narrowed down, Asian/Asian Australians are almost invisible. This is the second webinar in "THE CULTURAL DIVERSITY" problem series by the Asian Australian Alliance.
The panelists will be discussing how they've navigated this issue throughout their careers and what current and aspiring journalists and media professionals can do to contribute to change in this area.
MODERATED BY:
ALISON TANUDISASTRO ( The Guardian Australia)
Alison Tanudisastro is a Digital Producer at The Guardian Australia and has worked in design studios and creative agencies across Sydney and London. Alison's passion for diversity and inclusion in the arts and media sectors have seen her work as a branding and marketing consultant for New Earth Theatre (the UK's oldest British East and South East Asian theatre company) and her writing has been published in SBS Life, Time Out and Culture Trip.
PANELISTS INCLUDE:
JENNIFER WONG ( Writer and Comedian)
Jennifer Wong is a Chinese-Australian writer and comedian from Sydney. She's the presenter of ABC's Chopsticks or Fork, a six-part series on Chinese restaurants in regional Australia. As a reporter, her work has been published and broadcast on ABC Everyday, ABC News, ABC Radio National, SBS Food, and SBS Dateline. Her most recent solo stand-up show, "How to English Harder", had sold-out runs at the Melbourne International Comedy Festival and Belvoir St Downstairs.
LEE TRAN LAM (Freelance journalist and Diversity in Food Media founder)
Lee Tran Lam is the editor of New Voices On Food, a Diversity In Food Media anthology showcasing under-represented Australian talent. Concrete Playground called it one of the best books of 2020. Lee Tran is also a freelance journalist with work appearing in Good Food, Gourmet Traveller and SBS Food. Lam hosts The Unbearable Lightness of Being Hungry podcast, presents Local Fidelity on FBi radio and has a sandwich named after her which Time Out called one of Sydney's best toasties.
KIRAN GUPTA ( Freelance journalist )
Kiran is a freelance journalist from Sydney. He is currently writing for The Sydney Morning Herald and has written for The Guardian, The Daily Telegraph, Mamamia, PopMatters and many other publications. He has been editing a blog for the past two years. He is very interested in the intersection between pop culture and the social issues that form a part of our daily lives. Outside of journalism, Kiran is also an accomplished performer holding an AMusA (with Distinction Medal) in Musical Theatre from the AMEB and has featured in many musical theatre performances.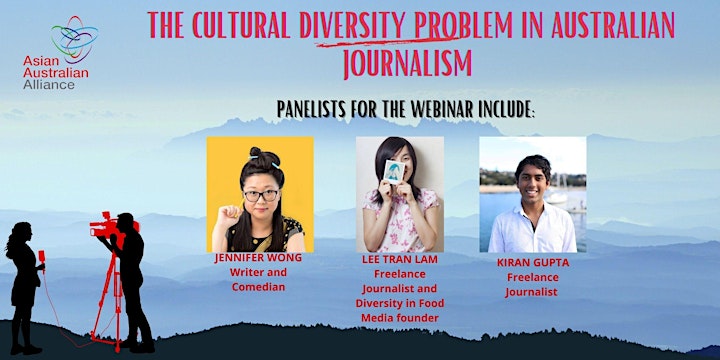 Organizer of THE CULTURAL DIVERSITY PROBLEM IN AUSTRALIAN JOURNALISM