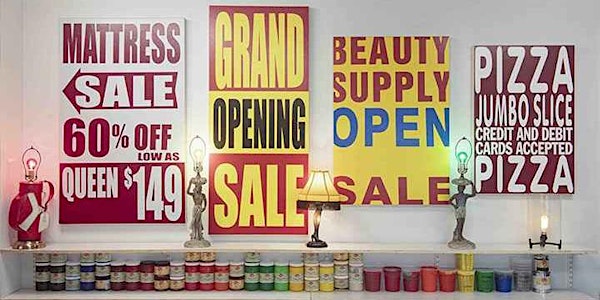 The Cultural and Artistic Landscape of Signs: Roundtable Conversation
Online roundtable with artists and curators about the iconography of signs and the meeting points of art and commerce.
About this event
Online roundtable about the iconography and cultural context of signage, the connection between commercial signage and street art, and the meeting points of art and commerce.
In connection with a solo show by artist Mark Kelner at Beacon Gallery entitled Dollar City, this conversation brings together Kelner, conceptual artist and photographer Geoff Hargadon (who also works in wealth management) and art historian and curator Anna Winestein (a reformed economist).
The panel discussion, which takes place on Zoom, is moderated by the founder of Beacon Gallery, Christine O'Donnell, and will include time for questions from the audience. See below for panelist bios.
When you register for this event, you will receive an automatic order confirmation from Eventbrite that does not contain any new information. The Zoom link and information for the roundtable will be sent out via Eventbrite 48, 24 and 2 hours before the event. You will also be able to access the Zoom link via the 'Online Event Page' section on Eventbrite, where it will be posted 48 hours before the event.
Co-presented by Ballets Russes Arts Initiative and Beacon Gallery.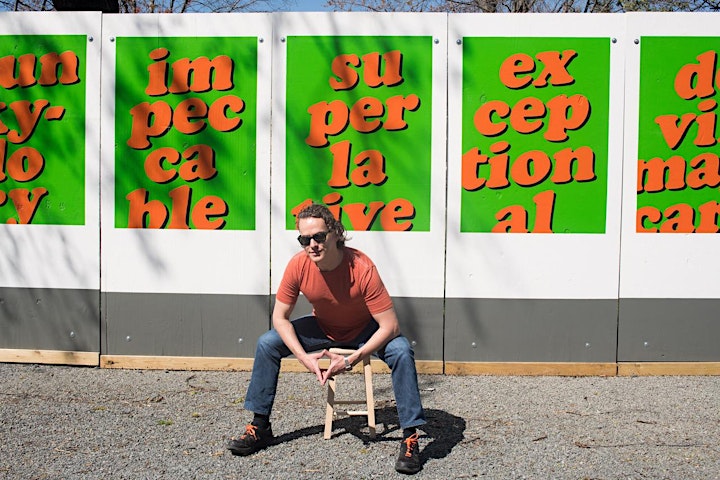 Mark Kelner is a visual artist and filmmaker based in Washington, DC and Brooklyn. from His practice centers on the distortion of ubiquitous mass – cigarette labels, oil and gas station logos, fast food signs, and retail culture, among other touchstones. The child of Soviet-Jewish-Russian emigres, Kelner draws upon American and Soviet pop art and pop culture influences in his work. In 2019, his solo exhibition "Solaris: Shelter for the Next Cold War" garnered wide acclaim and over 13,000 visitors. He has shown at Ronald Feldman Gallery in New York and the Librairie du Globe in Paris, among others. His first museum acquisition was to the Zuzeum Art Centre in Riga, Latvia as part of their inaugural exhibition "American Dreams." Prior to the art world, he worked with filmmaker Steven Spielberg, coordinating the production of video testimonies of Holocaust survivors in Eastern Europe and the former Soviet Union for the USC Shoah Foundation Institute. Mr. Kelner is represented by Galerie Blue Square (Washington, DC) and LAZY Mike (Los Angeles) and, this summer, exhibited his first solo show in Tokyo titled, "Barcodes" at The Container.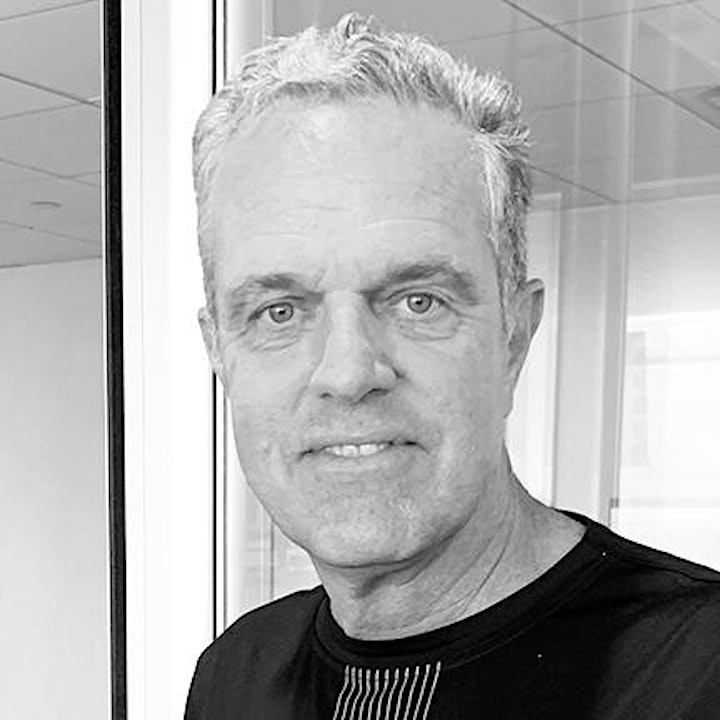 Geoff Hargadon is a conceptual artist and photographer from Somerville, MA. His current project, Cash For Your Warhol, was featured by Société Perrier at Pulse Miami in 2011, was the subject of a solo exhibition at Montserrat College of Art in 2010, and has been collected by a number of collectors and institutions, including the Andy Warhol Museum in Pittsburgh, MIT List Visual Arts Center in Cambridge, and the Hood Museum of Art, Hanover, NH. CFYW is Hargadon's take on art-as-commodity, a reference to financial chaos and the ubiquitous signage that responds to it. The signs are screen-printed on corrugated plastic, the exact materials used by others trying to buy houses, cars, and gold – deliberately designed to create an ambiguous message when installed on the street. CFYW has also been presented globally in other media, including several billboards in various cities, and a pop-up store in Cambridge. His photography has appeared in a number of books and publications. Hargadon is the creator of The Somerville Gates (2005) and the co-founder of the popular public art destination known as "Graffiti Alley" in Central Square, Cambridge.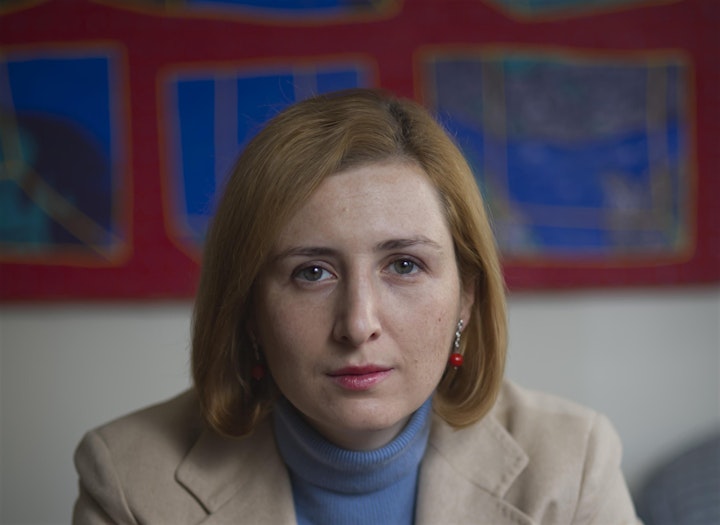 Anna Winestein is a cultural historian, arts entrepreneur, curator and artist, born in St. Petersburg, Russia and educated in Boston, MA and Oxford, UK. She holds separate undergraduate degrees in Art History and Painting, and graduate degrees in Economics and Modern History. Ms. Winestein is the co-founder and Executive Director of Ballets Russes Arts Initiative. She has previously served as Creative Director of the Hermitage Museum Foundation and Cultural Envoy for the State Department, as well as advising museums, collectors, auction houses and art galleries. She has authored or contributed to numerous books, exhibition catalogues, essays and articles across varied topics in the art and performance history of the Russian and Soviet empires and their contacts with Europe and the US.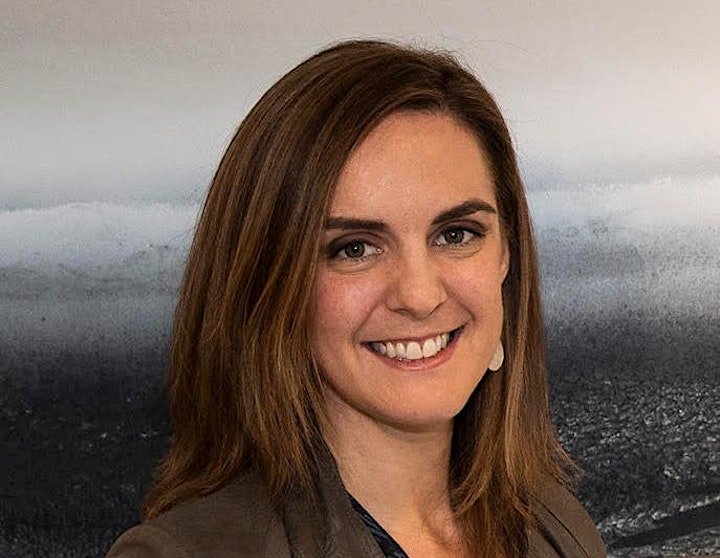 Christine O'Donnell opened Beacon Gallery in Boston, Massachusetts in 2017 after over a decade spent living and working in Paris, Hong Kong, and Singapore. Christine teaches workshops and provides opportunities for artists and curators through multiple channels including her registered 501(c)3, Beacon Gallery Consulting. She is a member the Association of Women's Art Dealers (AWAD) a Member Appraiser in the International Society of Appraisers, a partner in Madrid's Very Private Gallery. Christine is pursuing a Masters Degree in Art History though the UK's Open University, has a MA in teaching from Tufts University in Medford, Massachusetts and a BA from College of the Holy Cross in Worcester, Massachusetts.