The Cuba Cruise Experience

Monday, August 13, 2018 at 5:00 AM

-

Friday, August 17, 2018 at 12:00 PM (EDT)
Event Details
The Globe Trotting Divas is sailing to Cuba onboard Norwegian Sky!  
             Ports of Call: Miami, FL/ Havanna, Cuba/Great Stirup Cay, Bahamas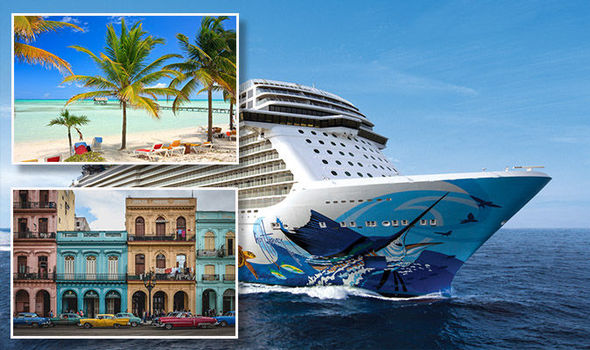 ***CRUISE PACKAGE COST***
***ALL RATES BASED ON DOUBLE OCCUPANCY***

***ALL RATES SUBJECT TO CHANGE WITHOUT NOTICE AT TIME OF BOOKING AND IF GROUP SPACE DOES NOT FILL***
DELUXE OCEAN VIEW- $1,100.00 -LIMITED CABINS AVAILABLE!

OCEAN VIEW - $1,070.00

INSIDE- $1,030.00

What's INCLUDED
Cruise Fare
Roundtrip Port Transfers in Miami, Fl
Meals and Select Beverages
Onboard Entertainment and Activities
People to People Full Day Tour of Havanna
Shared Cocktail Party
Globe Trotting Divas Swag Bag
Required Visa mandated by American and Cuban Governments
ALL Government Taxes/Fees
NOT INCLUDED
Travel Protection
Airfare
Specialty Dining
Any other services or amenities not listed under What's Included
Air should be purchased NO LATER THAN June 30th and Wallet Happy Vacations must have your flight details no later than July 13th.
Initial Deposits and Payment Schedule
ALL DEPOSITS/PAYMENTS ARE NON REFUNDABLE AND NON TRANSFERABLE
INITIAL DEPOSIT REQUIRED TO BOOK: $75 PER PERSON BY OCTOBER 6TH

$75 PER PERSON IS DUE THE 15TH OF EVERY  MONTH FROM
NOVEMBER 2017- MARCH 2018

FINAL PAYMENT DUE BY FRIDAY MAY 4, 2018
Payment Schedule
A min monthly payment of $75 per person is required and a detailed payment schedule along with payment amounts and due dates will be printed on your Travel Receipt issued to you at receipt of your initial deposit and confirmation of booking. Failure to make your monthly payments can and will result in trip cancellation with no refunds. 

Additional Payments
Addtional payments can be made using the following channels:
By Phone: Wallet Happy Vacations – 215.200.8311 EXCEPT FINAL PAYMENT
By Mail: Wallet Happy Vacations PO Box 17609 Philadelphia, PA 19135
Paypal: https://www.paypal.me/WalletHappyVacations

FINAL PAYMENT MUST BE MADE VIA ONLINE OR BY BANK CHECK OR MONEY ORDER ONLY. ITEMS SHOULD BE MADE PAYABLE TO WALLET HAPPY VACTIONS. WE DO NOT AT ANY TIME ACCEPT PERSONAL CHECKS.

Will I Require a Passport and/or Visa?
Yes, a valid U.S. Passport is required for this cruise as with a Visa. The cost of your Visa is $75 per person and has been included in your cruise fare and will be provided to you prior to boarding the vessel. 

Required Travel Documents to Book
Each guess is required by Wallet Happy Vacations and Norwegian Cruise Line to complete specific Travel Documents in order to participate in this cruise. 

For Travel Documents mandated by Wallet Happy Vacations please visit www.wallethappyvacations.com and complete the following documents online:  
TRAVELER INFORMATION FORM
DISCLOSURE AND ACKNOWLEDGEMENT AGREEMENT
PASSPORT LIABILITY DISCLOSURE
MEDICAL AND INJURY RELEASE DISCLAIMER
PLEASE BE SURE TO READ AND ACCEPT THE TERMS AND CONDITIONS OF WALLET HAPPY VACATIONS.

Norwegian Cruise Lines in compliance with OFAC and the United States and Cuban Governments requires that EACH traveler carefully read then complete and submit a Certification Affadavit. This form MUST be completed by the due date of your final payment. 

Please click HERE then select the follwing option before fully completing the form and submitting:
515.656(b) Educational Exchanges - People to People
OUR POLICIES
A VALID U.S. PASSPORT AND VISA ARE BOTH REQUIRED
Please register in the SAME NAME that is on your Passport
All Travelers must complete all required Travel Documents before booking
Travelers 25 years of age and older are welcomed to join us
All payments are Non-Refundable and Non-Transferable  
Please adhere to the monthly payment schedule to avoid possible cancellation. If you are unable to make a scheduled payment please contact us as soon as possible.
For more on our Policies including Cancellation and Terms and Conditions please visit us @ www.wallethappyvacations.com.
TRAVEL INSURANCE (Call or email us for Quote)
Travel Safe is our preferred Travel Insurance Provider. However, you may insure your trip with the provider best fitting your needs. Travel insurance helps protect against unforeseen emergencies which can occur at any time. It also helps protect you against other circumstances like travel delay, lost or stolen baggage and personal items, missed connections, hurricanes and
so much more.

In sum, travel insurance is Peace of Mind. It allows you to relax and enjoy your vacation without worry. If you don't think it's worth the additional cost, just ask someone who's had to cancel their trip and lost all deposits and payments made and did not have coverage. As the saying goes, It is better to have it and not need it than to need it and not have it!

Itinerary
Your Official Itinerary and Trip Activity Itinerary will be issued on or after July 13, 2018. You will NOT receive your documents prior to this date. Please retain all travel receipts issued to you by Wallet Happy Vacations.

Our Buisness Hours and Contact Info
We are The Globe Trotting Divas a division of Wallet Happy Vacations Travel Agency. We can be reached by phone @ 215.200.8311 and by email info@wallethappyvacations.com during normal business hours as follows:
Mon – Friday 9a - 5p EST
Sat 9a – 3p EST
When & Where

Norwegian Cruise Lines
1509 N Cruise Blvd
Miami, FL 33132


Monday, August 13, 2018 at 5:00 AM

-

Friday, August 17, 2018 at 12:00 PM (EDT)
Add to my calendar
Organizer
Specializing in Theme Vacations for Groups, Wallet Happy Vacations is located in Philadelphia, PA. Our professional travel planning services caters to the Caribbean Islands, Africa, Europe, New Orleans, LA and Las Vegas, NV. We invite you to experience group travel the way it was meant to be!