We are delighted to be celebrating the 28th Annual Crystal Lecture in partnership with the University of Wolverhampton.
About this event
This year we are delighted that John Crabtree OBE, Her Majesty's Lord-Lieutenant of the West Midlands and Chair of the Birmingham Organising Committee for the 2022 Commonwealth Games, will present this year's lecture - "Business - A Ham Sandwich."
John will talk about his personal reflections based on his experience and approach to business leadership. He will reflect on the four building blocks for a successful business – customers, quality, people and profit.
In 2003 John was voted UK Lawyer of the Year for his integral role in the transformation of Wragge & Co from a provincial Birmingham firm into a top national practice with an enviable FTSE-100 client base. This was a ten-year odyssey that transformed the stature of the non-London UK legal market. John then moved into a career in business, engaged across many sectors, and in addition has accepted public appointments and chaired national charities.
Join us on Thursday 18th November, where John will share his extensive experience of both wealth creation and social inclusion, with a particular centre of gravity based in the West Midlands.
The event includes the presentation of the CMI Rosebowl Award. This is presented to the university's MBA student who is judged to have produced the best postgraduate dissertation.
Our Speaker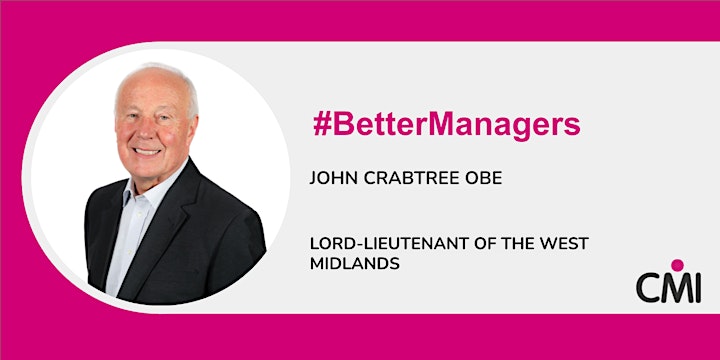 John Crabtree OBE
Lord-Lieutenant of the Wet Midlands
John has a variety of business, community and charitable interests, predominantly in the West Midlands. He is a former President of Birmingham Chamber of Commerce & Industry, previous High Sheriff of the West Midlands and is Her Majesty's Lord-Lieutenant of the West Midlands. John is currently also Chair of the Birmingham Organising Committee for the 2022 Commonwealth Games.
For many years, he was Chair of both Birmingham Hippodrome Theatre Trust, the UK's most popular single theatre and Sense, the leading charity looking after the deafblind and people with complex disabilities.
In 2003 he was voted West Midlands Businessman of the year, the following year he was voted UK lawyer of the year and has received life-time achievement awards from the Birmingham Law Society and the Birmingham Post. In 2007 he was awarded an OBE in The Queen's Birthday Honours. John has also received honorary doctorates from Birmingham University and Birmingham City University.
In the meantime...
If you're a member of CMI, or subscribe to our content, you can find thousands of exclusive, practical development resources in ManagementDirect. Log in here and search for a topic to get started!
Not yet subscribed?
From free newsletters packed with the latest trends, insights and tips for managers and leaders, to the full suite of invaluable tools and benefits that come with being a CMI member, we've got something for everyone. Visit our website to find out more.