The Crystal Ball at Kaleideum Downtown - Celebrating the Class of 2019
Description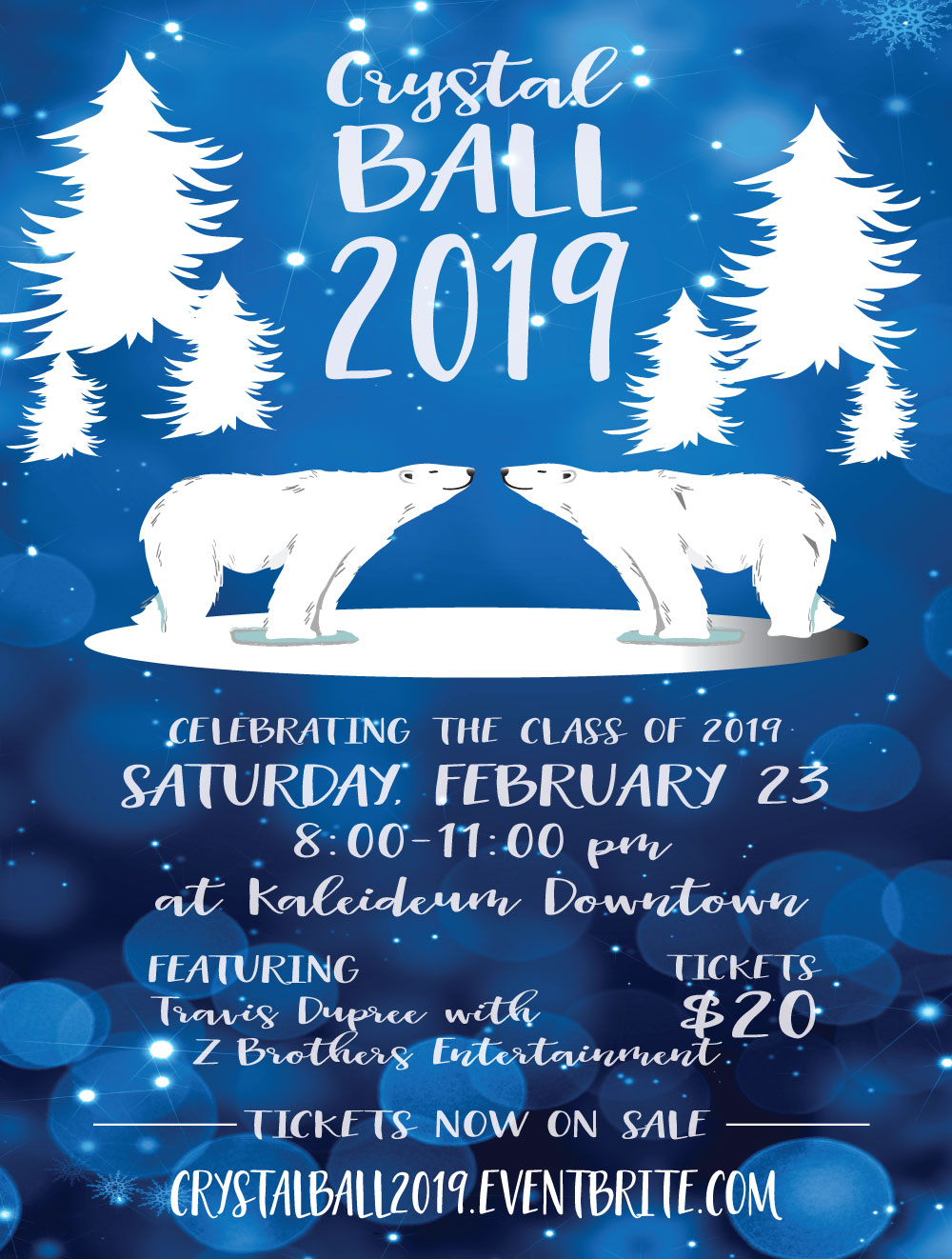 The Crystal Ball Committee

invites all Winston-Salem Seniors from the Class of 2019
to join us for
THE CRYSTAL BALL
benefitting Kaleideum
Saturday February 23rd
8:00 pm-11:00 pm
at Kaleideum Downtown
390 S Liberty St, Winston-Salem, NC 27101

With entertainment by
Travis Dupree with Z Brothers Entertainment
from Charlotte NC
Tickets: $20
includes DJ, photo wall and refreshments.
The 2019 Crystal Ball Student Ambassadors
Forsyth Country Day School
Madeleine Bennett, Meredith Cavenaugh, Demetri Hodges, Oliver Jewell, Will Schomberg, Nick Strauch and John Woodard
Mount Tabor High School
Jonathan Allen, Julia and Caroline Borchelt, Olivia Chaves, Max Curran and Ethan Williams
Reagan High School
Gracie DeLong, Will Rice, Jack Stern and Mary Slade White
Reynolds High School
Hattie and Sarah Altmann, Bennett Blanco, Alex Brooker, Eliza Carlton, Harry Capizzi, Maggie Collins, Will Crowley, Helen Foster, Harris Gregg, Caroline Harris, Emma Jones, Brad Knight, Robert Myers, Elizabeth Orr, Andrew Petersen, Warren Quadland, Zoe Spanos, Kennedy Vest and Wills Woodruff
ATTIRE
Semi-formal, Coat and Tie. Please bring socks for IceVenture!
THIS IS A CHARITY EVENT
Any proceeds from this event will go toward Kaleideum.
IMPORTANT INFORMATION FOR ALL GUEST AND PARENTS - PLEASE READ:
You must present your EventBrite ticket confirmation and identification (school ID and driver's license are accepted forms) at the door.
No alcohol or weapons permitted.
The welfare and safety of all participants at The Crystal Ball is achieved only with your knowledge and participation in this responsibility.
Parents and students should review the statements below and agree before purchasing a ticket.
1. Any child who arrives under the influence, suspected to be under the influence, or in possession of alcohol or drugs will not be allowed to attend the Ball, and the parent will be immediately notified. The parent (or responsible adult) will be expected to pick up the child from the dance as soon as possible. The child will be looked after by a staff member/chaperone until a parent/responsible adult arrives. If a student is believed to need urgent medical attention, the Crystal Ball committee will call an ambulance. All medical fees will be paid by the child's parents or guardians.
2. Guests will be checked upon arrival. Any and all bags, of whatever nature, will be inspected.
3. The Crystal Ball Committee is not responsible for any lost or stolen items. All tickets are non-refundable.

4. All students should arrive at the party at the latest by 9:30 pm. No students will be admitted after 9:30 pm.
5. The dance ends promptly at 11:00 pm. The Crystal Ball Committee cannot assume responsibility for transportation. Please make prearranged plans with your child.
Purchasing a ticket for this event means the child's parent or guardian has read and agreed to the guidelines and accepts responsibility for their son's/daughter's behavior.
PARKING
Parking at Kaleideum Downtown is limited. Please consider carpooling or taking Uber.