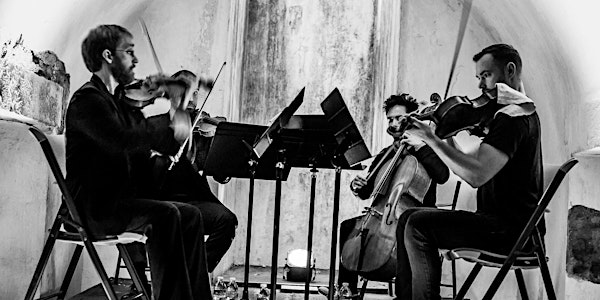 The Crypt Sessions Presents: JACK Quartet - "Lines Made by Walking"
When and where
Location
Church of the Intercession 550 West 155th Street New York, NY 10032
Description
Wine and cheese reception at 7:00, Concert at 8:00PM
*PLEASE NOTE THE CRYPT IS NOT WHEELCHAIR ACCESSIBLE*
The Long Version
If The New York Times calls you "the nation's most important quartet," then you must be doing something right… in the case of the JACK Quartet, they've established themselves as one of the leaders in new music, giving voice to countless composers, while creating a new body of works that prove classical music has a future far beyond powdered wigs and dusty scores.
For their Crypt Sessions debut, the JACK will give the New York premiere of Lines Made by Walking, a piece by Pulitzer Prize-winning composer John Luther Adams that channels nature in all of its magnificence and fragility.
The Short Version
In the deep vaulted cells of the Crypt, come climb a mountain with us, spun forth from the hands of four musical giants.
Program
John Luther Adams: Lines Made by Walking (New York Premiere)
Up the Mountain
Along the Ridges
Down the Mountain
*2019 Tippet Rise Commission for String Quartet*
Christopher Otto, violin
Austin Wulliman, violin
John Pickford Richards, viola
Jay Campbell, cello
There will be a wine and cheese pre-concert reception at 7:00 (included in ticket price) before descending into the crypt.

*Thank you to our beloved sponsor Yamaha!*
FOR MORE INFO VISIT
WWW.DEATHOFCLASSICAL.COM