About this Event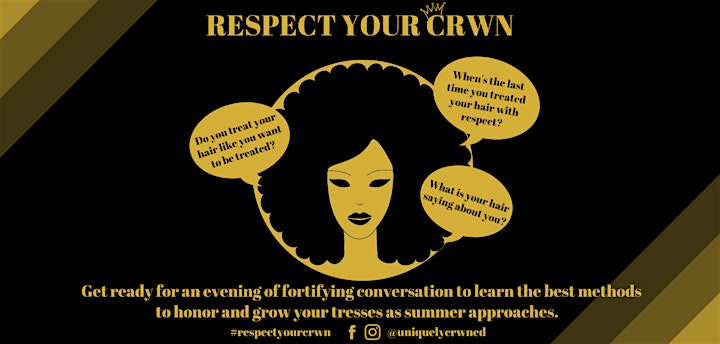 Hi, Beautiful! In preparation for the summer, we cordially invite you to experience a fortifying discussion with our esteemed panelists (to be announced) of hair care professionals. They'll discuss the best methods to honor and grow your tresses as the summer nears.
Join us at our first Crwned Series event, Respect Your Crwn on April 14, 2020 at 6pm in Metro Atlanta (Switchyards Downtown Club).
Why? The Crwned Series was created to bridge the gap between the digital and physical realm of hair education in the African-American community. We recognized an opportunity to organize constructive conversations about the natural hair ecosystem, hair care topics, challenges and more that we as African-American women face.
What? We aim to educate, empower and unite women on our journey to embracing the beauty of our individuality. You can count on the Crwned Series to deliver transparent and thought-provoking discussions that breed authentic connections around all things hair related.
When? Our quarterly events are a safe space to celebrate all hair textures whether your hair is kinky, curly, coily, wavy, relaxed, weaved or tucked away under a wig. The Crwned Series is the right forum for you, so join us!
If you're unable to attend, but are interested in learning more about future events, follow us on Instagram and Facebook @uniquelycrwned or go to www.uniquelycrwned.com to sign up to receive the latest announcements on new releases and events.
Have a question?
Email events@uniquelycrwned or go to our site to submit a message. We'll respond within 24-48 hours.
With gratitude,
Uniquely Crwned