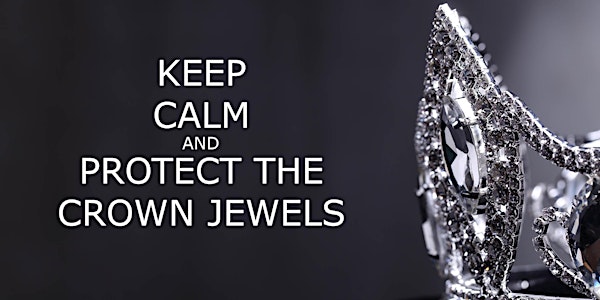 The Crown Jewels: Protecting What's Important. DePaul University's Sixth Annual Cyber Risk Conference
When and where
Location
DePaul University Loop Campus DePaul Center 1 E Jackson Blvd 8th floor Conference Center Room 8005 Chicago, IL 60604
Refund Policy
Contact the organizer to request a refund.
Description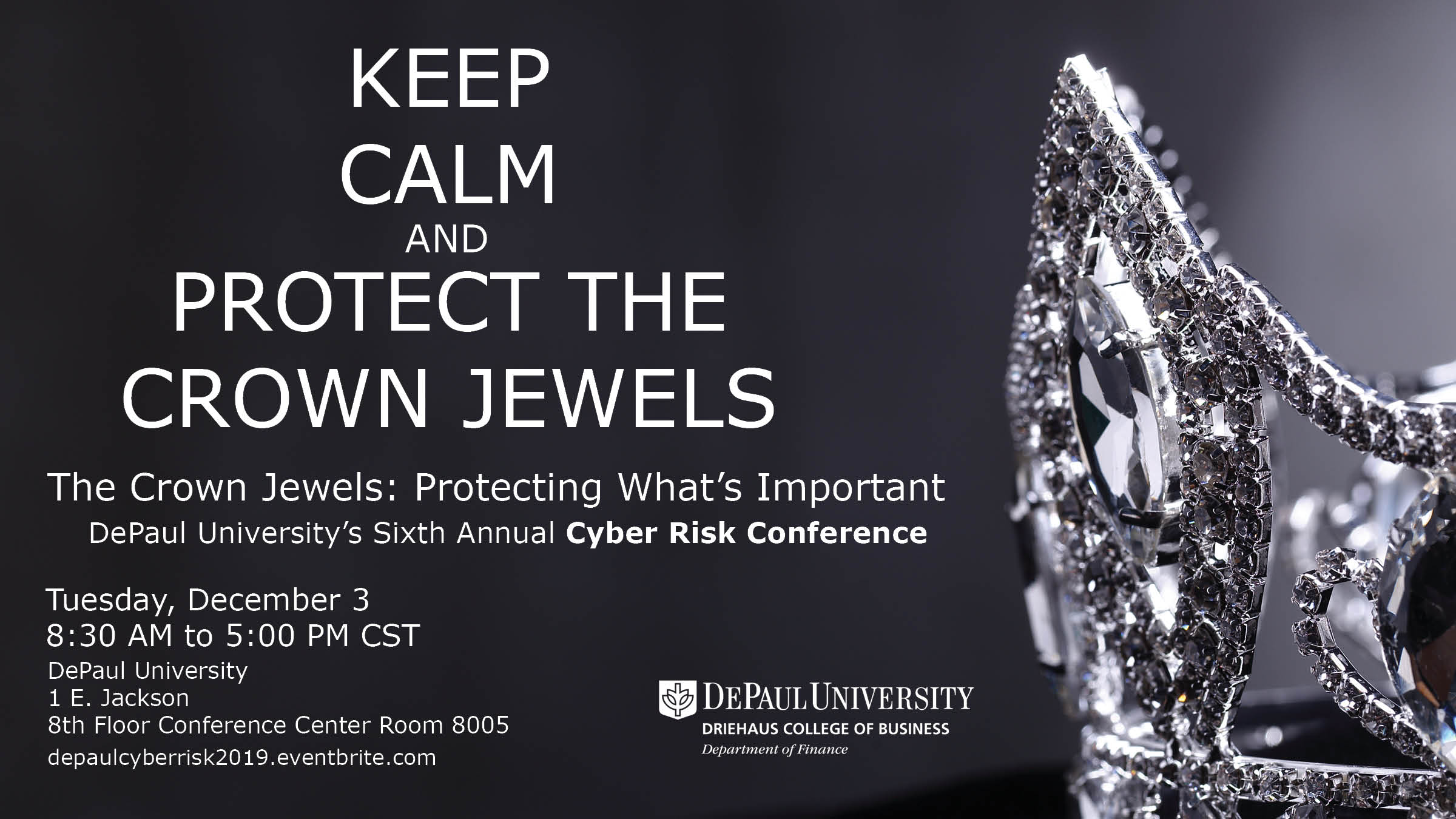 The Crown Jewels: Protecting What's Important
The assets of an organization are exposed to loss from cyber-related perils in many ways: directly, such as through unauthorized access, ransomware, or spyware; and indirectly, such as through infrastructure sabotage or failure. Implementing defenses against all of these perils takes time, money, and other resources. How should an organization set priorities to protect the most important assets from the most salient perils?
In this conference we explore the process of protecting the "Crown Jewel" assets from the full spectrum of cyber-related perils.
Keynote Speaker
Why are critical infrastructure assets so easy to attack?
Can a criminal entity or terrorist group -- from the other side of the world -- take down the Internet and telecommunications systems? Or launch a worm that disrupts oil and gas pipelines, water and electric power distribution? How will we cope if the outages last for days? This presentation highlights the challenges involved in securing interconnected critical infrastructure assets, in particular, the Internet and IP networks, telecommunications networks, banking networks, and process control (SCADA) networks used in oil and gas pipelines, coal mines, wind farms and water and electric power distribution systems. Also, it discusses the importance of designing security solutions that weave science, technology and policy.
Sujeet Shenoi, F.P. Walter Professor of Computer Science and a Professor of Chemical Engineering at the University of Tulsa, Tulsa, Oklahoma; and a member of the technical staff at Johns Hopkins University Applied Physics Laboratory, Laurel, Maryland.

Tentative Agenda
8:00 a.m. Registration opens
8:45 a.m. Welcoming Remarks
9:00 a.m. Opening Keynote Speaker – Sujeet Shenoi, University of Tulsa
9:50 Break
10:00 a.m. Panel 1: Assessing "Crown Jewel" Risks– moderator: Steve Weber
Bruce Coffing, City of Chicago

Chetan Bhatia, Aon

Randy Armknecht, Protiviti

Sean Bullman, Kenway Consulting
11:00 Break
11:15 a.m. Panel 2: Risk Mitigation Strategies – moderator: Bryant Wallace, WallScott Solutions
Liz Kovick, Allstate

Stel Valavanis, OnShore

Eric Shiffman, FBI

Ross Durer, Allstate
12:15 p.m. Networking Lunch
1:15 p.m. Panel 3: Enterprise View – moderator: Sean O'Kelly, IL Dept of Professional Regulation
Kevin McDermott, Cook County

Sujeet Shenoi, University of Tulsa

Andy Retrum, Protiviti

Laszlo Gonc, Next Era
2:15 p.m. Break
2:30 Panel 4: Risk Transfer and Post-Breach Loss Control – moderator: Zain Iqbal, Marsh
Aaron Tantleff, Foley & Lardner

Elizabeth Bart, Milliman

Arthur Hsu, Marsh

John Hibbett, Risk Management Solutions of America
3:30 Break
3:45 Closing Keynote Speaker – Anatoly Bodner, IBM
4:45 Closing Remarks
5:00 Adjourn to Reception
ABOUT:
Now in our sixth year of conference programming, DePaul has been proud to offer an annual exploration of the frontiers in cyber security. This year's topic is no exeception as we explore the continuing evolution of cyber risk and security.
For a full list of previous conferences, check out our cyber risk conference page on the DePaul website.