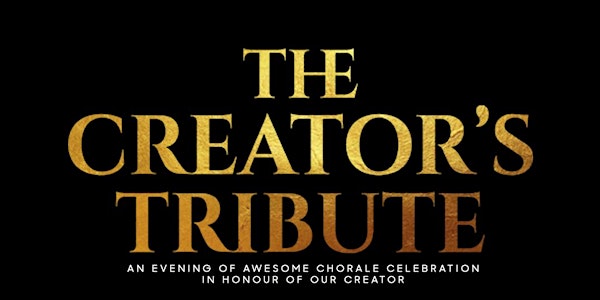 The Creator's Tribute
When and where
Location
La Palm Royal Beach Hotel Accra, Greater Accra Region Ghana
Description
The Creator's Tribute is an evening of awesome choral celebration in honour of The Creator of the universe.
The Creator's magnificence, awesomeness and immeasurable wonder deserves our very highest celebration and worship!
Over 70 singers will be on stage to perfom 30 songs in different genre drawn from different cultures and periods.The event will end with an awesome worship medley.
THE STORY OF THE CREATOR
In the beginning The Creator created the Universe! The observable Universe contains approximately 300 sextillion stars and more than 100 billion galaxies.
The Milky Way galaxy alone where our Earth is located, is estimated to contain between 100–400 billion stars. There are probably at least 100 billion planets in the Milky Way. Our sun, the nearest star, is 93 million miles away. That is why the sun, which is a million times the size of the Earth, looks so small. The Milky Way as a whole is moving at a velocity of approximately 600 km per second through the universe. All this is held and perfectly balanced by The Creator!
We will come together each year to celebrate such magnificence, awesomeness and immeasurable wonder!
This is what 'The Creator's Tribute' is about.
Attendance is FREE but limited strictly to Invitation and Reservation.