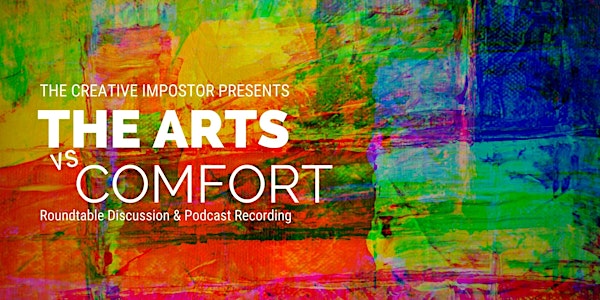 The Creative Impostor Roundtable: The Arts vs Comfort in Society
Interactive discussion and podcast recording with artists Lisa Brown, Terri Hudson, Isabelle Rizo, Ashley Scott. Hosted by Andrea Klunder.
By The Creative Impostor Studios
Date and time
Friday, September 11, 2020 · 4 - 5:30pm PDT
Refund Policy
Contact the organizer to request a refund.
Eventbrite's fee is nonrefundable.
About this event
Become a part of our roundtable discussion and live podcast recording session of The Creative Impostor, hosted by Andrea Klunder.
We are exploring the following questions from the viewpoint of both creators and consumers of multidisciplinary art forms:
Is one role of the artist to make people uncomfortable?
Is an aversion to discomfort the reason why our society often devalues the arts, especially in a time like this?
How can we use art to intentionally cause discomfort that elevates the conversations we are having?
We will hear remarks from 4 artists to start the conversations and then open to a conversation moderated by The Creative Impostor host, Andrea Klunder, in which attendees may share experiential insight, ask further questions, and we may come to some new understandings around art, discomfort, funding and society.
Please note, you are NOT REQUIRED to comment either verbally or by chat if you would prefer to simply be an active listener.
This Roundtable is limited to 16 guests and tickets are offered on a sliding scale. Click the Tickets button. You can choose between the Suggested Donation of $20 OR choose Sliding Scale and enter the dollar amount you wish to share.
Contributions will be forwarded to our artist facilitators or a charitable organization of their choosing.
Meet Our Facilitators
Lisa Brown is a writer and printmaker who lives in Chicago, IL. Prior to living in Chicago, she worked to preserve the work of outsider artists in Wisconsin and assisted the president of a play publishing firm in New York. Lisa is a graduate of Northwestern University for both her undergrad and her masters.
Terri Lynne Hudson is an actor and performance artist based in Chicago. She is a disability access advocate, particularly in the performing arts. She has most recently appeared playing multiple characters in the Exquisite Corpse Playwriting Project's Inward and Outward, Artist Development Workshop's Sketchtopia, and Hot Closet Studios' remotely filmed feature The Last Nice Day. She is also a featured reader for the nonprofit Fun 4 the Disabled's children's book read-along series.
Isabelle Rizo is a Romanian Chicago-based artist, hypnotist, and tarot teacher. Inspired by folk art, mystical multiculturalism, folklore, and contemporary social art practice, Isabelle's work is driven by the desire to instill profound self trust, intuition, and ancestral connection with each piece, class, and performance she undertakes. She has exhibited her artwork in Prague, Chicago, and Romania, and tarot reading with clients like GOOP, Atlas Obscura, Shaker's, and more. She runs and international coven filled with creative mystics from around the world. Isabelle has been featured in Prague College, Zero to Travel Podcast, The Golden Romania, Holistic Fashionista, LVBX Magazine, Ajala, and Entrepreneur Magazine.
Ashley Lana Scott is a Multidisciplinary Artist, Mental Health Advocate and Creative Wellness Coach. She creates art that explores, questions, and clarifies the multiple answers of life as she has experienced it through the lens of a more compassionate and loving reality. She uses her art form to address the beauty, possibilities, issues, and potential for excellence within communities of color and struggle. Her work centers around Self Discovery, Community Empowerment, Social Impact and Mental Health.
Guidelines
The Zoom session will be recorded for the purposes of including on The Creative Impostor Podcast. By attending this roundtable, you agree to have any comments you contribute to the chat or verbally to be recorded and published on all platforms where The Creative Impostor is published. Your name will not be used unless you introduce yourself verbally during the session.
We do not tolerate harassment, discrimination, inappropriate behavior or language. Anyone who does not align with the values of this organization may be removed from the session at anytime with no refund.
The Podcast
Listen to The Creative Impostor Podcast: http://www.thecreativeimpostor.com/podcast
About the organizer
The Creative Impostor Studios,
making podcasts you and your audience will LOVE.
Specializing in creative storytelling, mission-based community organizing, and contemplative practice to build powerful podcasts. We work with people who want to use podcasting to tell stories, create movements, and change culture.

Services include consulting, coaching, producing, editing, workshop facilitation, youth mentoring, and public speaking.