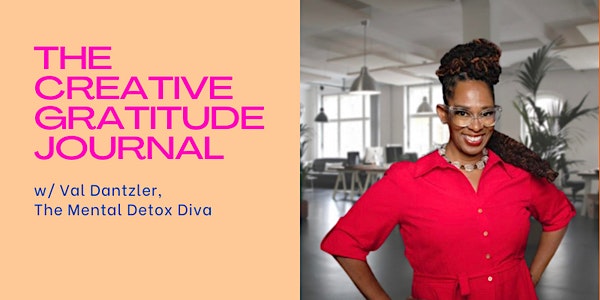 The Creative Gratitude Journal
The Creative Gratitude Journal Workshop is a revolutionary approach to transforming your life. Developed by Valencia Dantzler
When and where
Location
The Pauline Tea-Bar Apothecary 2326 Arty Avenue Charlotte, NC 28208
Refund Policy
Contact the organizer to request a refund.
About this event
The Creative Gratitude Journal Workshop is a revolutionary approach to transforming your life. Developed by Valencia Dantzler, this unique method combines the power of positive thinking with creative techniques for achieving lasting results. With years of study and experience in detoxing both the body and mind, Valencia has crafted an effective system for living a more grateful, content life.
Backed up by her personal journey as well as countless testimonials from others, the Creative Gratitude Journal Method works quickly and effectively – often taking just 30 days or less to see tangible results. So if you're looking for a way to make significant changes in your life, look no further than The Creative Gratitude Journal Method.
Workshop Features:
- Revolutionary approach to self-transformation
- Combines positive thinking with creative techniques
- Proven effectiveness over time
- Can take only 30 days to achieve results
- Testimonials from users around the world
About The VIP Swag Bag:
Are you looking for a way to up your gratitude game? Our VIP Swag Bags for The Creative Gratitude Journal Workshop provide you with everything you need to master the techniques presented in this comprehensive course. With our unique bag of goodies, you can dive into learning mode with confidence and enthusiasm.
Whether you're looking for tips on mastering gratitude journaling or you want to add creative new elements to your craft, these swag bags will have you covered. From access to exclusive online courses to personalized thank-you notes, our swag bags give you the perfect way to start your journey.