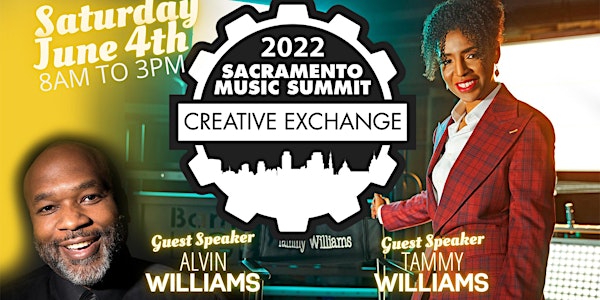 The Creative Exchange: Music, Art, Entertainment and Production
Location
Mc George School Law School & McClatchy Park
3200 5th Avenue
Sacramento, CA 95817
Musicians, Artists, Entertainers, & Athletes Surviving and Thriving through the Pandemic
About this event
Register now to attend The Creative Exchange: Sacramento Music Summit. FREE admission for the entire family - all ages welcome! Come attend the Education Forums to learn more about music & film production, songwriting, social influencer lifestyles and financial literacy (cryptocurrrency, NFT's, and more). Food trucks, fun, community gathering, and activities for the entire family. Join a lively discussion with UCD nurses and physicians about the health risks of COVID-19.
Musicians, Songwriters, Artists, Entertainers and Athletes are SURVIVING & THRIVING through the Pandemic. All ages are welcome giving young entrepreneurs and creatives of color access to leaders and experts in the industry on real world experiences. Don't miss the infamous Battle of the Barbershops HOOP Tournament and You Got Served dance performance. Bring the children to participate in the Kids Activity Zone with face painting, arts and crafts, and games.
Special celebrity guest speakers include: Tavis Smiley (Entrepreneur, Broadcaster, Advocate, and Author); Alvin Williams (Writer, Producer and Educator for Tammy'Dele Films); and Tammy Williams (Producter Writer, Director & Owner of Cinema South Studios).
Education Forum from 8:30 am to 12:00 pm at Mc George Law School, 3200 5th Avenue in Sacramento
8:30 AM - 9:30 AM > Check-in/Welcome/Registration
9:30 AM - 9:45 AM > Opening Address - Jay King, CEO/President of the California Black Chamber of Commerce
9:45 AM -12:00 PM > Education Forum with special guest speakers
Surviving as an Artist, Musician, Songwriter, & Athlete during COVID
How to Turn Songwriting into a Real Business
Social media influencers – how to build your brand
What is Crypto Currency and why should I buy it?
The Importance of Team Building
Mental Health and COVID-19
Why is it important to be vaccinated? Fact vs Fiction
ALL entertainment/activities listed below located at Mc Clatchy Park, 3500 5th Avenue across from McGeorge Law School
12:00 pm - 1:00 PM > You Got Served dance performance presented by Kast Academy of the Arts, Raffle Prize Drawing, Announcements
11:00 AM - 2:00 PM > Kids Activity Zone presented by the Sojourner Truth African Heritage Museum
1:00 PM - 3:00 PM > Battle of the Barbershops Basketball HOOP Tournament & Raffle Prize Drawing
3:00 PM - 6:00 PM > Live artists audition performances
Register online now to be eligible for the Raffle Prize Drawing of gift certificates at: https://creative-exchange2022.eventbrite.com
UC Davis Health will administer Pfizer vaccines and boosters onsite at McClatchy Park from 10 am to 3 pm for individuals ages 5 and up (COVID-19 Vaccine Pfizer 5-11 and Pfizer 12+). No appointment, no identification, no insurance, or proof of immigration status is required to receive the vaccination. If you are hesitant about the vaccine, come to this clinic to ask us questions.
The Creative Exchange is a special event presented in partnership by the Sac Black Media Coalition and the UC Davis Move It Up Project.
If you have questions or would like to sign up to be a vendor, contact the California Black Chamber of Commerce at 916.467.8878 or e-mail administrator@calbcc.org.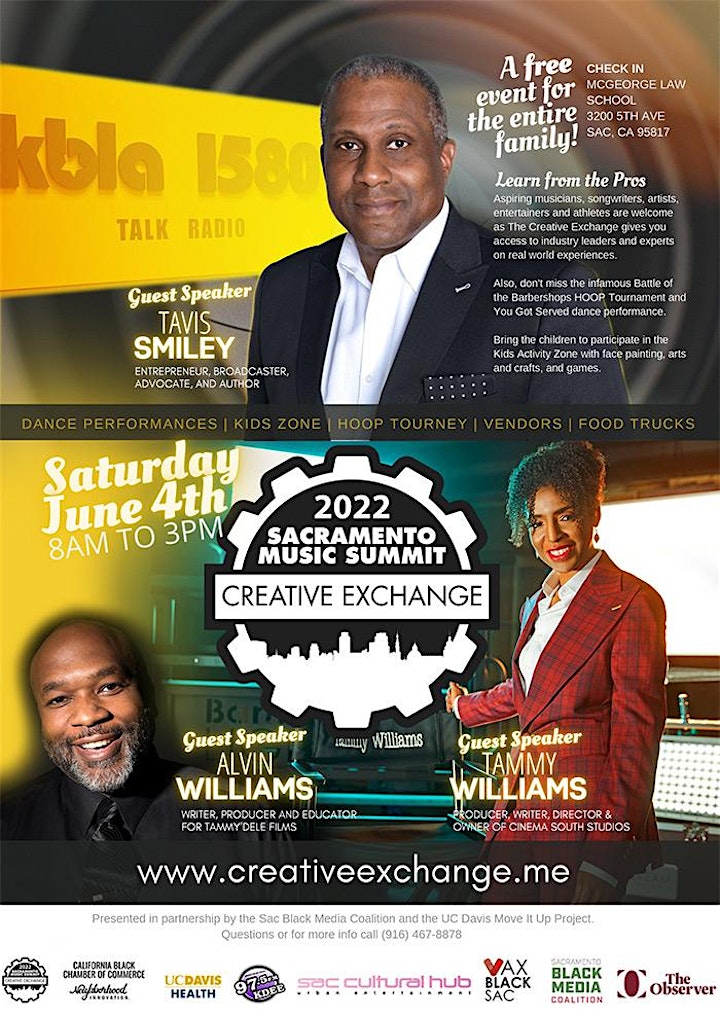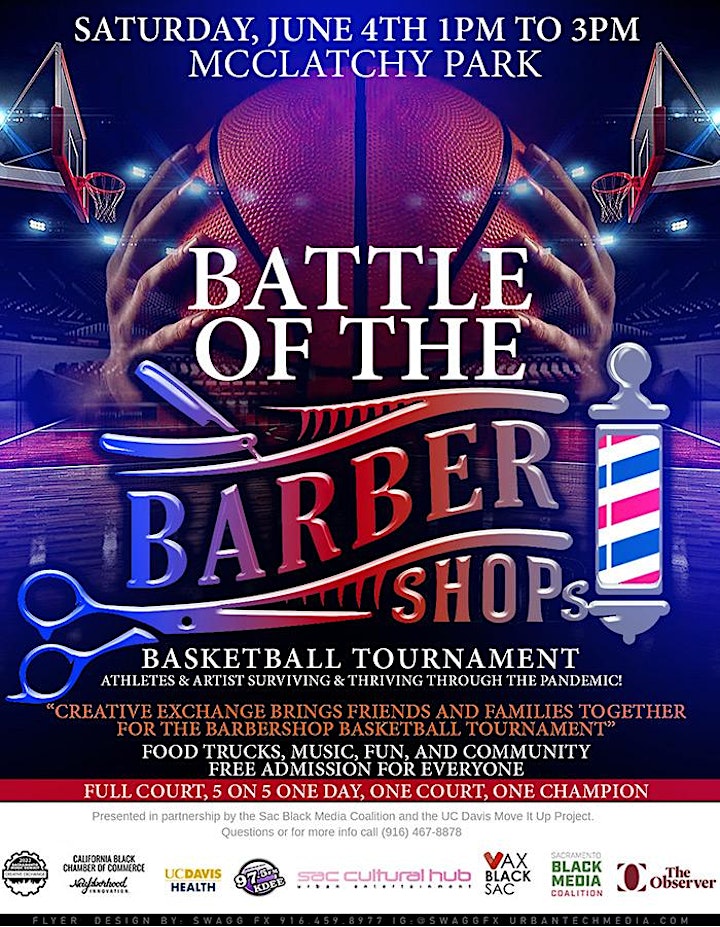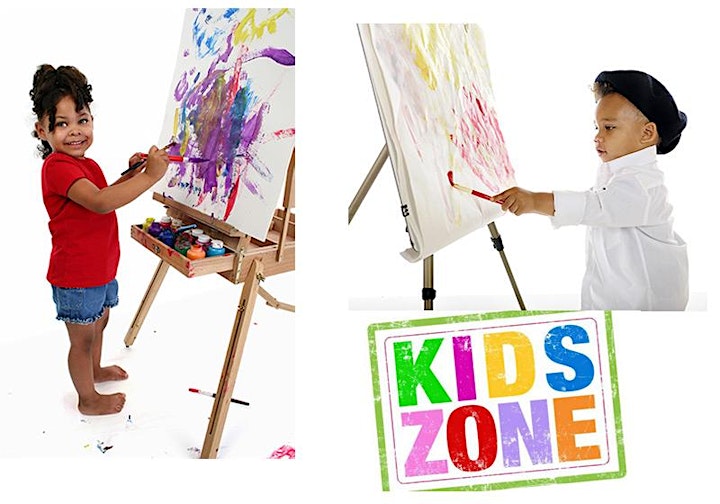 Showcase your talent at Creative Exchange - BE SEEN AND HEARD AT THE EVENT! Are you a music producer, up and rising artist, or budding filmmaker? Enter to win the opportunity to showcase your talent.
TO ENTER, FOLLOW THESE STEPS:
1. Follow 97.5 FM KDEE on Instagram
2. Create your best reel (singing, playing your instrument, film production/clip, etc)
3. Upload your reel to Instagram
4. Add the hashtag #CREATIVEEXCHANGE2022 and we will take care of the rest!
5. Look out for a DM from the 97.5 FM KDEE team to confirm receipt!
Get more info at http://www.creativeexchange.me