Description
Good Eats & Meets is very proud and excited to announce our next…
Craft Cocktail Series...Hands On Cocktail Pop Up Class ...
at Soul Gastrolounge with Andrew Maurer
Have you always wanted to be the cocktail connoisseur of your social circle? Want to make the perfect Mojito or Old Fashioned at home? Ever wondered how the best cocktails are made? Well, if you answered YES to any one of these questions, then you have to join us Saturday, September 27th from 12-3 at Soul Gastrolounge as guests get hands on instruction from Andrew Maurer (@vikingbarman) , one of Charlotte's Top Mixologists!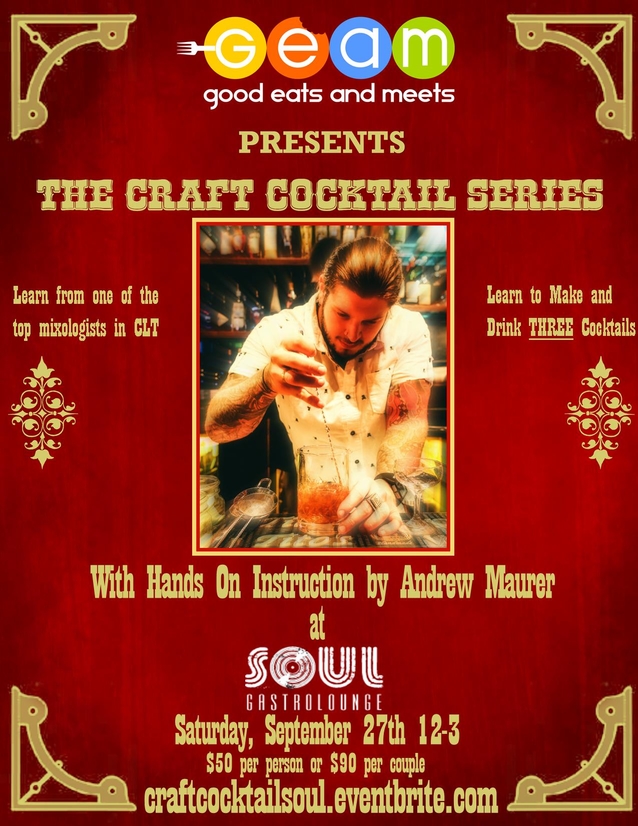 The concept is simple, we will have full bar stations set up for all guests in the ever hip hot spot of Soul Gastrolounge (Voted as a Top 10 Charlotte Restaurant by Zagat) set up with all the ingredients to make THREE incredible cocktails. Each cocktail will feature specially paired light bites from the Soul kitchen for you to enjoy. You will learn step by step by Andrew how to make that perfect drink, which of course, you will get to enjoy and drink. Three times over!
We promise this event will be one to remember! So, get together some of your friends or a date to enjoy an afternoon full of amazing sights, sounds and tastes and learn something to boot.
Our Craft Cocktail Series is dedicated to providing an entertaining, highly informative, hands-on learning experience in the world of spirits and cocktails. So, come join us for some cocktail crafting fun. Spots are limited, so get your tickets early! This event sells out EVERY time.
*We will also have a drawing in which the winner will be the lucky recipient of some great bar swag! As an added bonus, each person attending will also get a special surprise gift from Good Eats and Meets.
The cost to attend is $50 per person or a discounted couple price of $90, which covers all THREE cocktails, the light bites and hands on instruction. This is a GREAT offer!
The event will start at 12, with guests signing in and the class will begin at 12:30 SHARP.
You can find out more about Soul Gastrolounge here...
http://soulgastrolounge.com/
https://www.facebook.com/soulgastro
http://websta.me/n/soulgastro
You can find Good Eats and Meets at the following links...
http://www.meetup.com/geamclt/
https://www.facebook.com/goodeatsmeets
https://twitter.com/goodeatsmeets
http://pinterest.com/goodeatsmeets/
http://instagram.com/goodeatsmeets
Organizer of The Craft Cocktail Series...Hands On Cocktail Pop-Up at Soul Gastrolounge
The premise of Good Eats and Meets is to explore all that each of our cities has to offer in the culinary world, whether it's testing the "Best Of" restaurants or sampling the "greasy spoons." The group is for adventurous people who enjoy sharing a meal and great conversation and the best part about it all?  Membership is absolutely free!  The majority of people living in each of out cities are transplants from other areas and Richard Gruica, the founder, wanted to "provide a gathering place for all those who love food and socializing, with the idea of broadening their knowledge of regional specialties."  The group brings people of all ages and walks of life together in the European style of "breaking bread" and also supports the local restaurant economy.  Road trips, wine tastings, classes, farmer's market tours, dinners, brunches and smaller-scale tasting and dinner parties, as well as many other events can also be found on the social calendar.