The Cradle of Chinese Civilization - GBAAYSO 2014 Summer Concert

Friday, June 6, 2014 from 8:00 PM to 10:00 PM (EDT)
Who's Going

Loading your connections...
3 of your friends are going.
Share it to get more people on board!
Share

Sara Haughty
San Francisco, California

Luke Picard
London, United Kingdom

Rick Vespucio
Florence, Italy
Event Details
Greater Boston Asian-American Youth Symphony Orchestra Summer Concert 2014
时间|Time: Friday 8 pm; June 6, 2014 
地点|Place: NEC Jordan Hall (30 Gainsborough St, Boston, MA 02115)
Spring Festival

Red Folowers

Butterfly Lovers Violin Concerto By He Zhanhao and Chen Gang

Yellow River Piano Concerto By Xian Xinghai

Standchen and Wienner Deutsche By F.Schubert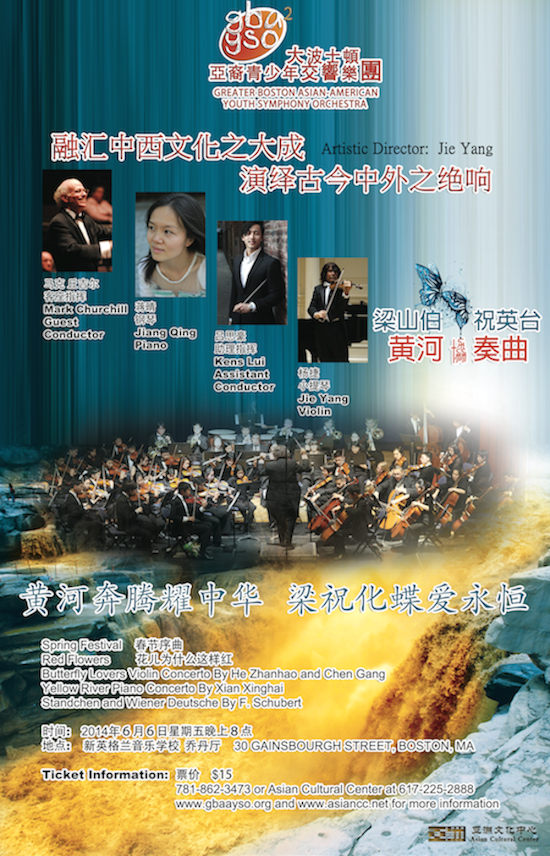 融汇中西文化之大成,演绎古今中外之绝响
----波士顿亚裔青少年交响乐团夏季音乐会
 今年六月在新英格兰音乐学院的乔丹音乐厅,年轻的大波士顿亚裔交响乐团将来自东西方不同文化背景的四位音乐家合作,倾情打造一场融中西方文化为一体的交响音乐盛会。
这场即将呈现给波士顿广大音乐爱好者和华人社区的音乐会将由西方乐器中最具代表性两种乐器------小提琴与钢琴来演绎中国音乐中经典的经典《梁祝》与《黄河》两首协奏曲。《梁祝》是以中国家喻户晓的民间故事《梁山伯与祝英台》为题材,以越剧的部分曲调为素材写成的一首单乐章标题协奏曲,全曲尼梁祝的故事较有代表性的三段剧情:相爱,抗婚,化蝶尾主要内容分为呈示,展开,再现三部。演奏上借鉴了二胡中的滑指手法来表现如泣如诉的悲切心情,模仿古筝扫弦的手法来表现对封建势力的反抗。
黄河作为中华民族的图腾,是五千年华夏文化的象征。钢琴协奏曲《黄河》是由冼星海《黄河大合唱》的主旋律改编而成,于1939年着手创作,这首乐曲成为中国音乐史上不朽的乐章,激励感染了无数的心灵。作品以抗日战争为历史背景,以黄河象征中华民族,歌颂中华民族的英雄气慨和斗争精神,乐曲在创作中运用了西洋古典钢琴协奏曲的表现手法,在曲式结构上体现了中国传统风格,以标题性组曲写成,全节分为《黄河船夫曲》,《黄河颂》,《黄河愤》,《保卫黄河》四个乐章,此外还有由电影《冰山上的来客》主题曲《花儿为什么这样红》改编的交响曲,《春节序曲》等。
客座指挥马克丘吉尔,新英格兰音乐学院,著名音乐教育家,大提琴家,指挥家,担任新英格兰音乐学院附中校长,艺术总监长达30年,热爱中国音乐,曾担任香港青少年交响乐团首席指挥七年之久,这次作为客座指挥将指挥乐团演奏《梁祝》小提琴协奏曲,这将是他首次同乐团合作。 
青年钢琴家蒋晴,被《纽约太阳日报》称赞为具有非凡才能的女钢琴家,先后在著名的卡内基音乐厅,林肯音乐中心的爱丽丝音乐厅,合作过的演奏家包括著名的小提琴家帕尔曼唐,维勒思坦等,硕士毕业于朱利亚,博士毕业于新英格兰音乐学院,它的演奏技巧娴熟,热情奔放,挥洒自如,她演奏的《黄河》钢琴协奏曲一定会给观众带来震撼的感觉。
小提琴家杨捷毕业于中国沈阳音乐学院,曾任辽宁乐团,大连乐团首席,美国朗吉音乐学院硕士,演奏文凭毕业,大波士顿亚裔青少年交响乐团创办人,艺术总监,指挥,曾受约于卡内基音乐厅独奏,多次演奏《梁祝》小提琴协奏曲,此次担任《梁祝》的独奏,令人期待。
青年指挥家吕思豪,新英格兰音乐学院长号专业学生,此次执棒带领弦乐团的演出,演绎舒伯特小夜曲等作品。
这次参加乐团演出的部分演奏员是来自于新英格兰音乐学院的学生,郎吉音乐学院,波士顿大学音乐学院,不同的肤色,不同的语言,不同的文化却演奏着同样的中国音乐,这本身就是一种民族的融合,一种文化的融合。
大波士顿亚裔青少年交响乐团成立三年来,不断发展壮大,演奏水平也日益提高,三年来演出了莫扎特,贝多芬,德沃夏克等一大批古典音乐,同时还有大批中国交响乐作品如《红旗颂》,《瑶族舞曲》,《北京喜讯到边寨》,《茉莉花》,累计观众近万名,深受华人社区的欢迎,是波士顿华人社区的骄傲。 
The Yellow River Piano Concerto and the Butterfly Lovers Violin Concerto are recognized as the two master works of Chinese music.  The West has Romeo and Julliet, and Tristan and Isolde, China has the ancient love tragedy of Liang Shanbo and Zhu Yingtai. 
 The love story begins with a young woman, Zhu Yingtai, disguises herself as a man so that she can travel to a southern province to study.  There she meets a young man, Liang Shanbo.  They develop a deep friendship.  Before she returns home, Zhu Yingtai tells Liang Shanbo about a young sister and entreats him to ask the young woman's parents for her hand in marriage.  In fact, Zhu Yingtai has no sister.  She is offering herself.  When Liang Shanbo arrives at Zhu Yingtai's home, he is thrilled to discover her true identity. But, tragically, Zhu Yingtai's father has already betrothed her to another man. 
The lovers meet at a tower and lament their misfortune.  Upon his return home, the brokenhearted Liang Shanbo falls ill and dies.  Zhu Yingtai hears of his death on her marriage day, and flees to his grave.  It opens beneath her, and she commits suicide by jumping in.  Zhu Yingtai and Liang Shanbo are transformed in butterflies.  They rise into the air, never again to be separated!  The violinist, Jie Yang has performed this concerto here in North America and China.  His strong commands of emotional intensity, color and tone, won many performances. 
Jiang Qing, pianist, praised by the New York Sun as showing "exceptional talent for a woman of her age," Jiang Qing,  is emerging as a unique artist, who works passionately to reach others with her pursuits as a performer, teacher, and arts advocate.  As a soloist, she has performed to acclaim in Alice Tully Hall, Carnegie's Weill Hall, the Peter Jay Sharp Theatre, Jordan Hall, and the Central Conservatory in Beijing.  She has also been featured in Steinway Hall as part of Vladimir Horowitz's centennial celebration, the Young Artist Showcase at the Isabella Gardner Museum, and at the LA County Museum of Art's Sundays Live Series.  A concerto winner, she has soloed with the orchestras at the Aspen Music Festival and Arizona State University. Her recent engagements include debut with the Chattanooga Symphony and Opera, the Chameleon Arts Ensemble of Boston, and west coast tour with Son A Trios. She will make her debut with the Greater Boston Asian-American Youth Symphony Orchestra playing the Yellow River Concerto in June, 2014. 
June 6 Friday, 8PM at New England Conservatory of Music, Jordan Hall, our Chinese Music Gale is the best testimony of promoting cultural diversity and community service through music performance.   We have invited many musicians from the New England Conservatory of Music to join us for the evening.  Renowned conductor, music educator, and cellist, Mark Churchill will be our guest conductor for the upcoming event.
When & Where

New England Conservatory Jordan Hall
30 Gainsborough St
Boston, MA 02115


Friday, June 6, 2014 from 8:00 PM to 10:00 PM (EDT)
Add to my calendar
Organizer
Asian Cultural Center U.S.A
The Cradle of Chinese Civilization - GBAAYSO 2014 Summer Concert