About this Event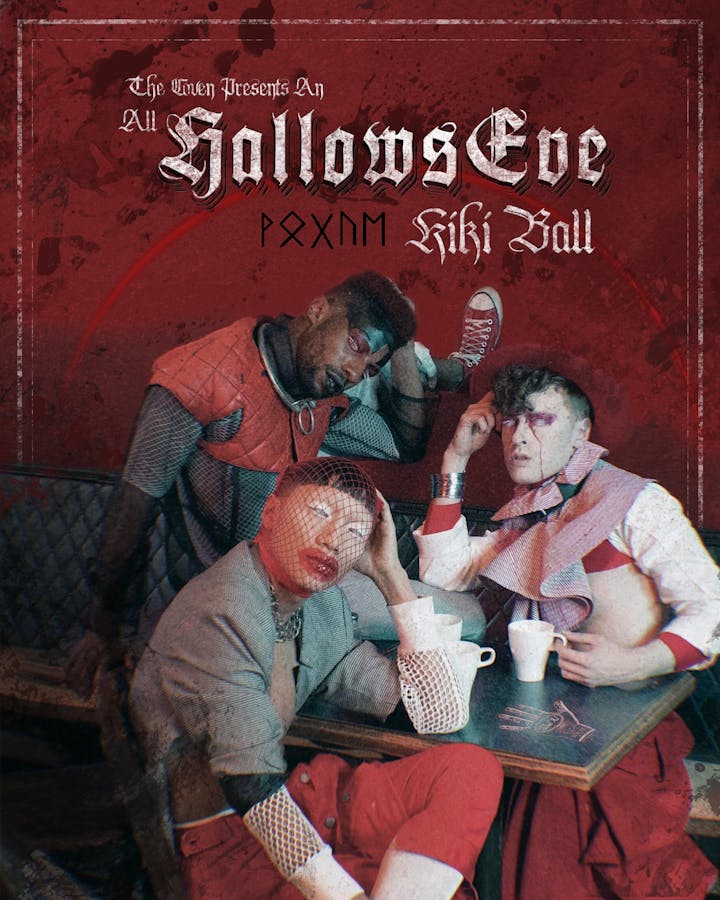 ☩ the COVEN ☩ presents an...
"All Hallows Eve Kiki Ball"
Including spooky Halloween decor, immersive character performers and DJ Sonidef spinning immaculate tracks all night long. This an 'All Hallows Eve' celebration NOT to be missed!
DOORS @ 8:00PM BALL STARTS @ 9:00PM
----------------------------------------------------
FEATURING...
HOST & COMMENTATOR:
KEVIN FRASER (YVR) - IMMIGRANT LESSONS, THE COVEN
LEGENDARY DJ:
SONIDEF (YYC)
JUDGES:
FAANGS (YVR / UK / LA)
TYREL MCKENZIE (YYZ / YVR)
JAYLENE TYME (YVR)
MIYOKO AMAZON (YYZ / YVR)
EVAN CLAYTON (YYZ)
GOGO GARGOYLES
SATANIC SEX SIRENS
... and much more!
Follow our instagram at @voguewithcoven for up-to-date info on the ball. Feel free to email voguewithcoven@gmail.com with your comments, questions or concerns!
----------------------------------------------------
******** CATEGORIES ********
All Categories are OTA (Open to All), unless otherwise stated.
***BEST DRESSED***
No explanation needed! Halloween is the day supernatural beings and souls of the dead roam the earth... so why not look your finest? The best costume of the night shall be awarded with a cash prize by our panel of judges.
PRIZE: $100 CASH PRIZE
***VOGUE PERFORMANCE*** - ICONIC HORROR VILLIANS
This category is OTA and heavily involves dance / vogue movement. It requires competitors to confidently showcase all 5 elements in order to get their 10's.
Showcase all your elements in an effect that will make the judges scream bloody murder! Embody any iconic horror villain from pop culture, past or present. Slaughter the competition to pieces with your pristine vogue technique , until you're truly the last villain standing. It's about to be a bloodbath...
PRIZE: POOLED CATEGORY COMPETITOR ENTRY $$$ AND A SICKENING SATANIC TROPHY
***BAZAAR*** - MONSTERS OF LEGEND
This is an EFFECT (LOOKS) category - no dancing involved however movement is encouraged to show off your work and bring your effect to life.
Mythical beasts and gruesome monsters have haunted our nightmares for centuries. Interpret your personal favourites into the most bizarre, twisted and frightening new creature to ever stomp the runway. "Behind every monster lies the one who created it…"
PRIZE: POOLED CATEGORY COMPETITOR ENTRY $$$ AND A SICKENING SATANIC TROPHY
***CLUB KID FACE*** - FREAKSHOW CIRCUS
This category is OTA - there are no mandatory dance elements but it is encouraged for competitors to have an elementary understanding of face category techniques.
Show the judges your artistry and creativity in an outrageous 'Club Kid' face effect that transports us front row to the travelling circus & freakshow. Terrify the judges and audience with the twisted beauty of your face. We just can't look away…
PRIZE: POOLED CATEGORY COMPETITOR ENTRY $$$ AND A SICKENING SATANIC TROPHY
***RUNWAY*** - THE OCCULT
This category is OTA - there are no mandatory dance elements but competitors should have an understanding of the difference between American (butch) and European (femme) runway styles. Both styles will be competing together with no restrictions around which genders are able to participate in either category.
Serve your most devilish model walk in a high-fashion look that has us gagging to join your supernatural, mystical, or magical cult. Walk it off against the competition, one-by-one until you've casted your dark spell on the judges and you're bestowed grand prize.
PRIZE: POOLED CATEGORY COMPETITOR ENTRY MONEY $$$ AND A SICKENING SATANIC TROPHY
---------------------------------------------------
TICKETS
*TICKETS ONLINE *
Spectator - $15
Competitor - $10 (per category)*
*AT THE DOOR* (Cash Only)
Spectator - $20
Competitor - $10 (per category)*
***All competitor fees are pooled together, in each category, and awarded to the Grand prize winner.
----------------------------------------------------
BALLROOM CULTURE
TO ALL COMPETITORS: Please come prepared knowing what to expect. If you are walking in a category for the first time PLEASE do your research and understand that there can only be one winner per category.
We want everyone to have fun, to feel they were able to serve their best, and we want everyone to have a fair chance at competing but you WILL be chopped during your 10s and unable to compete if you are unprepared.
VOGUING is a freestyle competitive dance form that utilizes 5 key elements in an improvised battle with other competitors. Currently (although open to interpretation within various vogue communities), the five popular elements of Vogue Performance are catwalk, hands, duckwalk, spins and dips, and floor performance.
Vogue and Ballroom culture emerged in the 1930s and 40s in New York City, birthed by the Black and Latinx LGBTQ2S+ community who were excluded from the pageant world of white America. The development of the Ballroom scene created safe and inclusive spaces for these communities to explore and experience life styles from which they were excluded due to systemic oppression.
Vogue can be categorized into 3 main styles. Pre-80s early Voguing, called "Old Way", directly emulated the glamour and posing of high-fashion models in Vogue Magazine and showcases direct influences from popping and breaking. The style exploded when Madonna famously popularized the dance style in her music video for "Vogue". The second style "New Way" is an evolution of "Old Way" introducing elements of contortion while maintaining linear and rigid shapes. The last, and most recent, vogue style is "Vogue Femme". This form was created and popularized by Black trans-women in the Vogue scene as a response to the the hyper masculine world of "Old Way" and "New Way" Voguing. Vogue Femme since then has also grown to further diverges into the two branches of "Soft and Kunt" and the highly popularized "Dramatics".
"For decades, ballroom, ball or house culture has been a way for queer blacks and Latinos to live their best lives – that is, to figure out how to respond to a society that devalued their lives and attempted to erase their presence. Through elaborate performances incorporating and commenting on race, class and gender, the ball community has historically reflected the American Dream and one's exclusion from it." - Les Fabian Brathwaith (Quote from Rolling Stones).
A BALL is an event that hosts a series of competitive categories, each with their own focus. Having been birthed in NYC by communities of Queer Black and Latinex people out of a need for safe nightlife spaces due to the discrimination they faced, balls are typically centered around creating safe space for LGBTQIA2+ POC.
Spectators, competitors, and judges, come together to celebrate people within their communities and compete against each other in different categories. Some of the most popular categories are Vogue Performance, Sex Siren, Hands, Runway, Bazaar, and Face. Each of these categories have specific requirements, and competitors are judged by a panel on how well they accomplish them. Before competing against others, category participants are required to "walk" one by one to receive full approval from all judges, known as 'receiving your 10s'. Competitors who make their 10s battle one on one against each other to impress the judges until there is one winner.
----------------------------------------------------
LAND ACKNOWLEDGEMENT & CONSENT
We would like to acknowledge that we are coming together to celebrate on the unceded territory of the Coast Salish Peoples, including the territories of the xwməθkwəy̓əm (Musqueam), Skwxwú7mesh (Squamish), and Səl̓ílwətaʔ/Selilwitulh (Tsleil- Waututh) Nations.
Creative safe space has always been at the heart of ballroom culture and we hope that this event can be a safe space for everybody to enjoy.
Oppressive attitudes and behaviours including but not limited to misogyny, transphobia, racism, fat phobia, ableism, and general bigotry are not welcome here. Consent is sexy - AND MANDATORY!