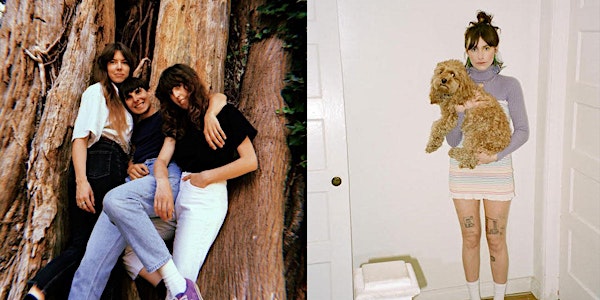 The Courtneys + Ian Sweet with Versing
Performers
The Courtneys, IAN SWEET
Versing
Location
Barboza
925 East Pike Street
Seattle, WA 98122
Sales Have Ended
Ticket sales have ended
Online sales have ended. Tickets may be available at the door!
The Courtneys + Ian Sweet with Versing
About this event
Age Restrictions:
21 and over only
Important Notice:
All tickets are nonrefundable and nontransferable with the exception of event cancellation. Support acts are subject to change.
The Courtneys Biography:
The Courtneys drift back to the sound of the early '90s, drawing from strong influences including Teenage Fanclub, Pavement, Eddy Current Suppression Ring, and The Clean. Courtney Loove's dreamy guitar riffs add a timeless powerpop element to the punk backbone formed by Sydney Koke's driving basslines, while drummer/lead singer Jen Twynn Payne delivers heartfelt lyrics with a powerful vocal style. These components come together through a passionate collaborative songwriting process to deliver a special blend of fuzzy "artisanal grunge."
The first, eponymous Courtneys album came out in 2013 on small independent label, Hockey Dad Records, based in the band's hometown of Vancouver, BC, Canada. They have since worked with a number of independent labels including Conquest of Noise in Australia and Waterslide Records in Japan, as well as Burger Records and Gnar tapes in the USA. They have released a number of singles and music videos, and toured throughout Canada and the USA, including spots supporting Tegan and Sara and Mac Demarco.
In 2015 The Courtneys made their way to Australia and New Zealand, where they were hosted by Flying Nun Records. Influenced by the legendary label from early on, the group are honored to now be able to call it their home.
Ian Sweet Biography:
The nervy indie pop of Ian Sweet, while musically complex, is undeniably hooky. IAN SWEET has been the source of and solution to many of Jilian Medford's deepest anxieties. But now, two years after her soul-bearing debut LP Shapeshifter, Medford is confronting that reality with surprising optimism on her new full-length Crush Crusher. After relocating to Los Angeles, Medford decided to make the project a solo endeavor once again (as it had been in her salad days in the Boston DIY scene) and took the opportunity to compose some of her most self-reflective and emotionally analytical songs to date.