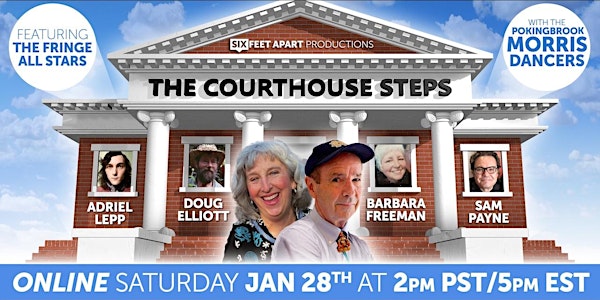 The Courthouse Steps
From Jonesborough to your living room, The Courthouse Steps featuring the Fringe All-Stars.
Refund Policy
Contact the organizer to request a refund.
Eventbrite's fee is nonrefundable.
About this event
For several decades Ed Stivender and Angela Lloyd have held a Fringe Event during the National Storytelling Festival at the Washington County Courthouse in Jonesborough, Tennessee This event was loved for its free-form style and spontaneity. An evening that resembled a carnival or a free-standing parade, featuring stories, singing, and dancing. On this VIRTUAL show, they will revive this tradition with Fringe Favorites like Doug and Todd Elliott, Barbara Freeman, The Pokingbrook Morris Dancers, Sam Payne, and Adriel (Noah) Lepp.
The show will stream live on YouTube and your ticket allows you to stream anytime afterward on any continent. Want to be in the Zoom room with Ed, Angela and The Fringe All Stars? Be part of the live virtual audience with our Backstage Pass ticket options.
Emcee: Claire Hennessy
Introducing the cast of The Courthouse Steps
Ed Stivender is a self-described " full-time Daydreamer who moonlights as a Storyteller", Ed Stivender has entertained audiences on two continents and two islands, since his debut in1980. Dubbed "Robin Williams of Storytelling" by the Miami Herald and "the Catholic Garrison Keillor" by Kirkus Reviews, he is the author of two books and numerous recordings. A popular workshop leader and MC, he is known for his delightful mixture of whimsy, wit and wisdom as he invites his audience to an interactive dance of the imagination. An award-winning Philadelphia Mummer, he was inducted into Storytelling's Circle of Excellence in 1996.http://edstivender.com/
Angela Lloyd is one of the unique performers on the national storytelling circuit today, Angela has been featured at the 25th (1997), 2003 & 2010 National Storytelling Festival, in Jonesborough, Tennessee and regularly appears at regional festivals and theatres across the country. A virtuosa on Washboard, Angela's performances are a whimsical braid of poetry, story and song played on Autoharp, Tenor Guitar, Spoon and Bell. https://www.angelalloyd.com/
Sam Payne hosts The Apple Seed – the award-winning national radio show on the art of storytelling produced by BYU radio – and serves as the Weber State University Storytelling Fellow. He has brought stories and songs to halls in Canada, Bulgaria, Tokyo, and from coast to coast in the United States, including performances at the Kennedy Center for the Performing Arts in the nation's capital, the National Storytelling Festival in Jonesborough, Tennessee, and the Timpanogos Storytelling festival in Lehi, Utah. https://www.sampayne.com/
Doug Elliot Whether he's singing about catfish, pontificating on possums, extolling the virtues of dandelions, telling wild snake tales or wailing out a jivey harmonica tune — either on a backwoods trail or in a concert hall — Doug performs a lively collection of traditional tales, ancient legends, inspiring stories, folklore and outrageous personal narratives. Doug will be accompanied by his son, Todd Elliot. https://dougelliott.com/
Barbara Freeman along with her cousin, Connie Regan-Blake, are the Pioneers of the American Storytelling Renaissance. For over two decades the duo toured the world as THE FOLKTELLERS. They found Storytellers in their travels whom they invited to perform at the National Storytelling Festival in Jonesborough Tennessee. Their two-act play Mountain Sweet Talk was Asheville's longest-running production at The Folk Arts Center. For the past 26 years she has performed as a solo artist. She was in the cast of MGM's Winter People. She has performed in the Holy Land, Nicaragua, and Venezuela as well as in Storytelling and Folk Festivals throughout America. She is the recipient of Storytelling's Circle of Excellence Award. barbarafreemanstoryteller.com
Adriel (Noah) Lepp first performed at the Courthouse Steps Fringe Festival at the age of six. He graduated from Marshall University with a Bachelor's Degree in Creative Writing last year. An avid linguist, he is working on his first novel.
The Pokingbrook Morris Dancers:
Larry Syzdek is a retired research and field scientist. He is also a lifelong musician, English Morris dancer and occasionally a pub singer. He has been to almost all the National Storytelling Festivals in Jonesborough TN and considers himself a professional story listener. He lives comfortably with his wife Ruth Olmsted on a small sheep farm in upstate NY on the Erie Canal.
Ruth Olmsted retired in 2019 from a 45-year career in academia. With a PhD in Comparative Literature, she taught writing, literature, speech, and humanities courses. She is a classically trained musician and has been dancing and playing for the Morris for more than 40 years. She lives, spins, and knits on a sheep farm along the old Erie Canal with her husband, Larry Syzdek, who expanded her folk festival horizons by bringing her to her first National Storytelling Festival.