The Courage to Create Work You Love: An Interactive Workshop
Event Information
Refund Policy
Contact the organizer to request a refund.
Eventbrite's fee is nonrefundable.
Are you someone who has built a life around a job/work that has done well for you and feel a change calling you but don't have clarity?
About this Event
What if there is a bigger plan for your career that you can't see right now? How do you forge a new path when you don't have a clear vision or know how to create it?
When we take the time to worry less about the unknown and choose to be guided by mentors who have walked the journey and have a roadmap - we feel more courage to take steps towards our calling.
We can move beyond outdated narratives and titles that offer a false sense of security.
Yet how do we do that when we are constantly overcome with fear and confusion?
Our calling is all about creating from a place of inspiration that is guided by an intelligence beyond our mind. When we embrace all parts of self, unlock our natural gifts, and integrate our unique experiences, we create work and a life that feels more true and serves the world in a bigger way.
If you are ready to start considering what's possible for your vision and start creating work you love - don't miss Dr. Sweta's workshop.
She is a Life/Leadership coach, who works with highly-driven individuals seeking transformation in work and life.
As a former pharmacist and professor, she understands the assurance that comes with goals and a plan towards a linear path. She also knows that creating work we love doesn't come from a general path put on us by others and change doesn't mean eat, pray, loving your life.
Her Permission Rx Coaching offers frameworks from an inside-out approach that provides comfort for the uncertainty that comes with growth while honoring everyones' individual path.
You will walk away with a roadmap to help you move from afraid of the unknown to enthusiastic about creating work that allows you to joyfully bring the best parts of you forward.
In this interactive workshop, you will:
Reconsider what's possible for you and your career while shining a light on what really holds you back
Learn how to take a holistic view of your career so that you can have greater happiness and fulfillment
Participate in an experience that will offer clarity for your initial next step
Clarify next steps to build a bridge from where you are to where you want to be
Although this is a virtual workshop, it will be interactive and transformative and there will be time for Q&A and laser coaching.
Once you register, you will receive the Zoom link and further details.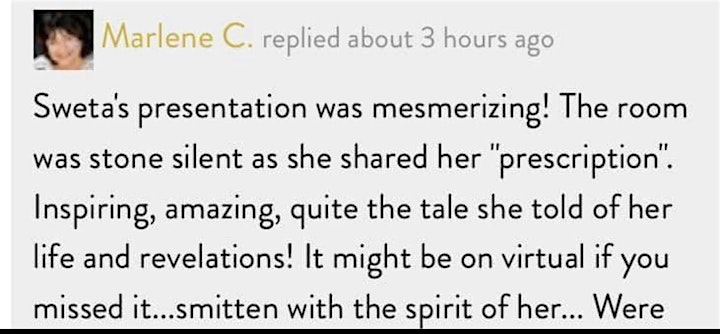 Date and Time
Location
Refund Policy
Contact the organizer to request a refund.
Eventbrite's fee is nonrefundable.