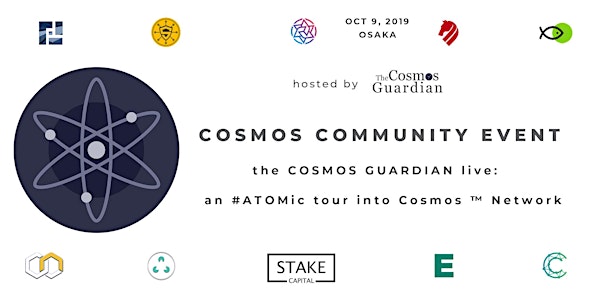 The COSMOS GUARDIAN live: an #ATOMic tour into Cosmos™ Network
the COSMOS GUARDIAN live: an #ATOMic tour into Cosmos ™ Network
When and where
Location
Hotel Fukuracia Osaka Bay 1-chōme-7-50 Nankōkita, Suminoe-ku, Osaka, 559-0034, Japan Hotel Fukuracia Osaka Bay 1-chōme-7-50 Nankōkita, Suminoe-ku Osaka, 559-0034 Japan
About this event
- COSMOS™ Community Event-
TODAY IS THE DAY!
Here is the location of the space station to be reached for our intergalactic journey:
⚠️Hotel Fukuracia Osaka Bay 1-chōme-7-50 Nankōkita, Suminoe-ku, Osaka, 559-0034, Japan⚠️
The access is allowed to Eventbrite tickets holders from 4.30 pm👨‍🚀
From 5 pm access will be free for everyone so I invite all of you to embark on this journey with us as soon as possible to avoid being left on Earth🌏🚀✨
⚠️ SOS ⚠️
I feel free to DM me on Telegram if you need something:
@daniela_pavin
Dear Cosmonauts & friends,
Put the telescope aside and come to see closely some of the most interesting emerging projects in the Cosmos™ ecosystem!
Main Pilot Riccardo Montagnin
Co-Pilot Dogemos - Interstellar doge backed by proof of meme
Planets that we will visit closely:
FORBOLE - NODE A-TEAM - SIKKA TECH - IOV - EVERETT PROTOCOL - STAKE.FISH - IRIS.NET - CRYPTIUM LABS - COMMERCIO.NETWORK - STAKE CAPITAL
****SOLD OUT!****
Contact us to find out how to get your chance to attend the event!
Direct channel to communicate with Aliens:
info@thecosmosguardian.org
To stay updated about all our ATOMic news follow us on:
Twitter: @CosmosGuardian
Medium: /the-cosmos-guardian