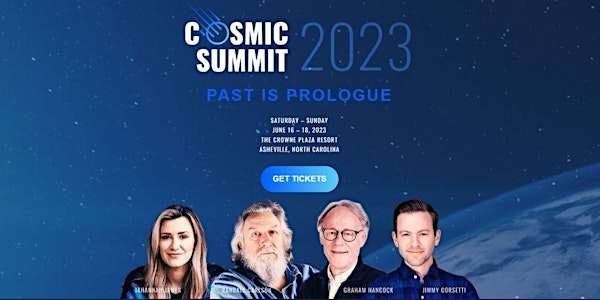 The Cosmic Summit 2023 Winter Special thru January
Join Graham Hancock, Randall Carlson and others at the Cosmic Summit 2023 to explore a new way of looking at ages past -- and ages to come.
When and where
Location
Crowne Plaza Hotels & Resorts Asheville, an IHG Hotel 1 Resort Drive Asheville, NC 28806
Refund Policy
Contact the organizer to request a refund.
Eventbrite's fee is nonrefundable.
About this event
The speakers at The Cosmic Summit are a deliberate mix of popular internet speculators, controversial authors and published scientists with rock solid data. Our common intellectual thread is a belief that humans and earth have been traumatized by cosmic impacts prematurely rejected by the mainstream.
The Cosmic Summit will be streamed to thousands worldwide. But for those who can make it in person to Asheville, the gathering will be an unique opportunity to eat, drink and hangout with others who ponder past ages – and ages to come.
Good news, bad news: The Crowne Plaza has now SOLD-OUT of reduced rate rooms due to CS23. A limited number of full price rooms are still available at the Crown. When those are sold out we will have additional rooms at the Four Points by Sheraton Asheville Downtown ~11/16/23
Join the following global influencers in Asheville to explore and explain the mysteries of the past.
Graham is a journalist and author who gives a global voice to controversial history and scientists. He has 12 Joe Rogan appearances, multiple New York Times best-sellers on summit subjects, and hosts "Ancient Apocalypse," a Top Ten Netflix docuseries that premiered on November 11. @graham_hancock
Randall has 7 Joe Rogan appearances, and presents regularly on Kosmographia.com and Randallcarlson.com. Carlson is a master builder and architectural designer, teacher, geometrician, geomythologist, geological explorer and renegade scholar. @randallwcarlson
Jahannah is a UK Comedic Actress and Alternative History researcher who questions historical orthodoxy with unforgettable charm and wit. 1+ million Facebook, 115k Instagram, 153k YouTube followers at Funny Olde World. @JahannahJames
Jimmy is the 'Bright Insight YouTube channel, and creates videos on the mysteries of lost ancient civilizations, conspiracies, & the cosmos. With 1.3M Subscribers & 130M+ views, he recently made his first appearance with Joe Rogan. @BrightInsight
Micah Hanks

Lt. Col. Matthew Lohmeier

Ben Van Kerkwyck

Russ Allen

Dr. Martin Sweatman

Dr. Steven Collins

Dr. Allen West

Dr. Kenneth Tankersley

Dr. Andrew M.T. Moore

Marc Young
The heterodox subjects addressed at The Summit will include the well-published Younger Dryas Impact Event, More Recent Cosmic Impacts, A Suspected Lost Civilization, Clovis People, The Black Mat, Megafaunal Extinctions, Gobekli Tepe, Forgotten Ancient Technologies, Controversial Archaeology, Atlantis, Megalithic Monument Building, Egyptian Mysteries, and Catastrophic Geology.*
Can't make it in Asheville? Join the LIVESTREAM and KEEP THE VIDEO!
The Cosmic Summit 2023 Event will be streamed in real time and available later via howtube Livestream. You can use howtube's LIVE CHAT to pose questions to each speaker during designated Q&A sessions as well as discuss and debate all topics with livestream attendees from around the world.
***DISCLAIMER AND EXPLAINER: The Cosmic Summit is not a presentation of the Comet Research Group. That fact will be repeated many times at the Conference. The Conference will cover subjects which are not endorsed or supported by the CRG or the thinking of individual CRG members. George Howard through Cosmic Tusk Productions, LLC, is the sole owner and producer of the conference, which is a for-profit entertainment and science gathering of general interest. George is an environmental entrepreneur in Raleigh, North Carolina, who became interested in the Younger Dryas Impact in 1994 and posts on relevant subjects since 2010 at cosmictusk.com. He is a co-director of the 510(c)3 Comet Research Group and occasional co-author with the CRG with over 1000 peer-reviewed journal citations.