The Cosmic Missions

Sunday, February 27, 2011 from 2:00 PM to 4:00 PM (PST)
Event Details
An Afternoon with
The Cosmic Missions
---
Sunday, February 27th, 2:00-4:00 pm

---

If we wonder how The Aetherius Society has such a dramatic effect on our world – and as the Master Aetherius points out, changing the history of mankind for the better – we need look no further than our great Cosmic Missions.

These Missions, among the greatest part of Dr. George King's lasting legacy, have been created out of a unique mix of advanced radionics, human courage and low budgets, all of which still exist today; and most of all, his communication with the Cosmic Masters.
The effect of these Missions is a karmic balance upon our world and the saving of millions of lives.

However, to try to understand these regular Cosmic events is difficult as the tapestry created by them is very complex, to say the least. We have six different Cosmic Missions being performed each year, which itself poses many questions.
What is the difference between Operation Space Power and Operation Space Power II? What is the difference between a Phase of Operation Sunbeam and performing the Seventh blessing on a Holy Mountain? Why is Operation Space Magic different from Operation Sunbeam?

All these questions , and more, will be answered in this afternoon session, firstly in a graphic Power Point Presentation given by Senior Engineering Officer, Richard Medway, where we first trace the beginnings of Operation Space Power in the dark days of the Cold War, the equipment used, and the effects on our world of all these Missions. This will be followed by a lively Q&A session with at least one of the Senior Engineering Officers, who are now responsible for these Missions after our Master's passing.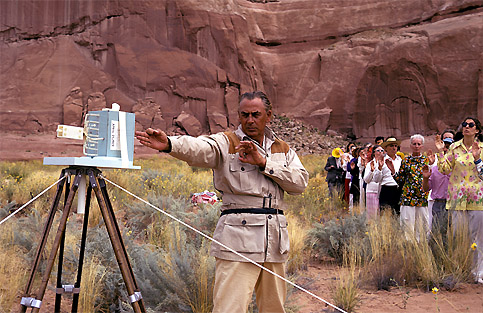 Dr. George King charging a radionic battery with
                                         Spiritual energy invoked through prayer and mantra
                                         (the picture in the event logo is of another radionic
                                          apparatus called a Spiritual Energy Radiator)
---

Suggested donation: $5.00 towards the Missions Fund.


The Aetherius Society
6202 Afton Place
Hollywood, CA 90028
(323) 465-9652
info@aetherius.org
Service is the Jewel in the Rock of Attainment
When & Where

The Aetherius Society
6202 Afton Pl.
Hollywood, CA 90028


Sunday, February 27, 2011 from 2:00 PM to 4:00 PM (PST)
Add to my calendar
Organizer
The Aetherius Society
The Aetherius Society is a worldwide spiritual organization dedicated to the salvation and enlightenment of humanity – and towards the great dawning New Age of the Mother Earth. The Society was founded in England in 1955 by trance medium and Master of Yoga, Dr. George King, and later incorporated in America in 1960 as a 501(c)3 non-profit organization.
The Aetherius Society cooperates with Ascended and Cosmic Masters to help build the New World through spiritual energy radiation, healing, spiritual development and education. We are here to serve.
Our motto is: "Service is the Jewel in the Rock of Attainment"
For further information, please visit: www.aetherius.org