Description
Come to Corvallis, Oregon, the week of July 10th 2017 for the first Corvallis ATLAS.ti Summer Workshop Series. Experts in ATLAS.ti from the United States, Germany and the UK will offer workshops on ATLAS.ti 8 Windows and Mac for beginners and a 3-day course on approaches for optimum data analysis with the software. The latter will include discussions on the role of ATLAS.ti in the research process, the Five-level QDA model, and best practices and recommendations on topics such as coding, theme development, and the interrogation of the data.

This Summer Workshop Series offers a unique opportunity to engage in rich dialogue with academics and researchers using ATLAS.ti in their research processes, and to learn from leading figures in the field of computer-assisted qualitative data analysis. Dr. Friese will be publishing later this year the third edition of the book 'Qualitative Data Analysis with ATLAS.ti', and Drs. Silver and Woolf will be publishing this summer the book 'Qualitative Analysis with ATLAS.ti: The Five Level QDA Method'. Dr. Paulus is the author of the influential book "Digital Tools for Qualitative Research'. Paul Mihas is the assistant director of the prestigous Odum Institute at the University of North Carolina Chapel Hill, while Ricardo Contreras is the director of the Training division of ATLAS.ti Scientific Software Development GmbH and an international consultant in the field.

Located 90 minutes south of Portland in the Willamette Valley, Corvallis has been recognized as one of the top places to live in the United States. Opportunities for ejoying nature abound, with miles of hiking trails in the area. A lively downtown offers an eclectic mix of coffee shops, restaurants, theaters and art gallaries. Corvallis is the home of Oregon State University and ATLAS.ti Americas.
Join us in Corvallis in July 2017!

Schedule
July 10 and 11, 9:00 to 5:00

July 12, 13 and 14, 9:00 to 5:00
Approaches to Qualitative Data Analysis with ATLAS.ti. Download course outline.
(Susanne Friese, Trena Paulus, Christina Silver and Nick Woolf).

Registration Fees

ATLAS.ti 8 Windows for Beginners: $600
ATLAS.ti 8 Mac for Beginners: $600
Approaches to Qualitative Analysis with ATLAS.ti: $700
One Beginners course + Approaches course: $800
Note: We have extended the early bird 25% registration discount until May 10th 2017!!! Special registration fees for students and faculty from Oregon State University. Contact us for details.

Instructors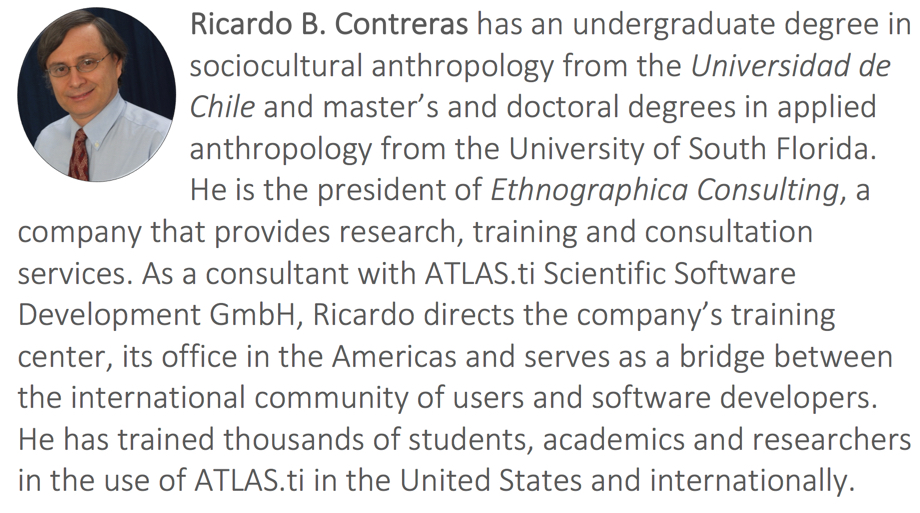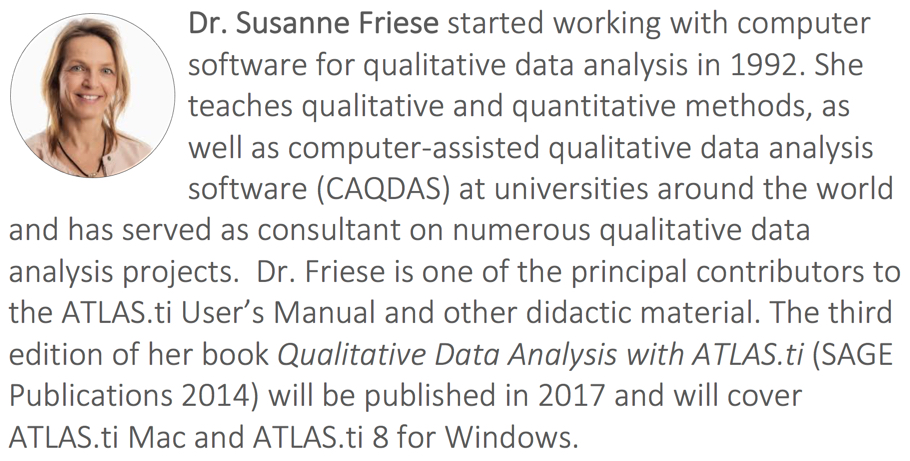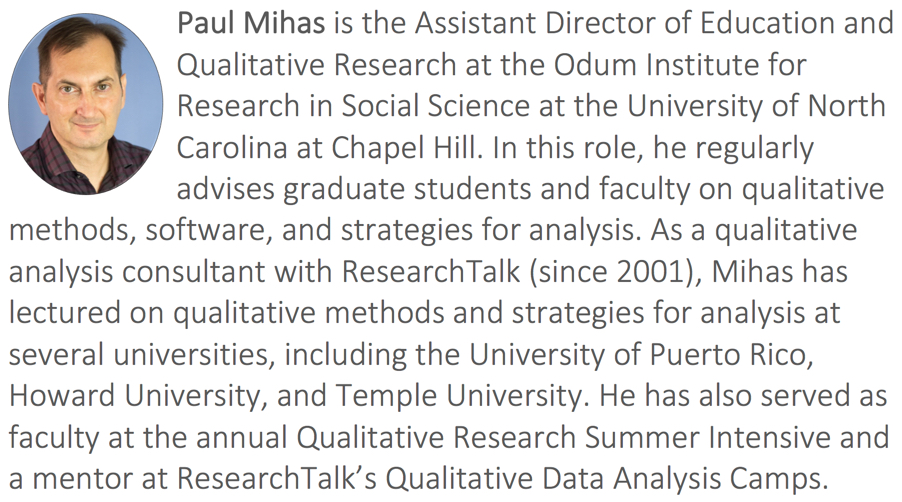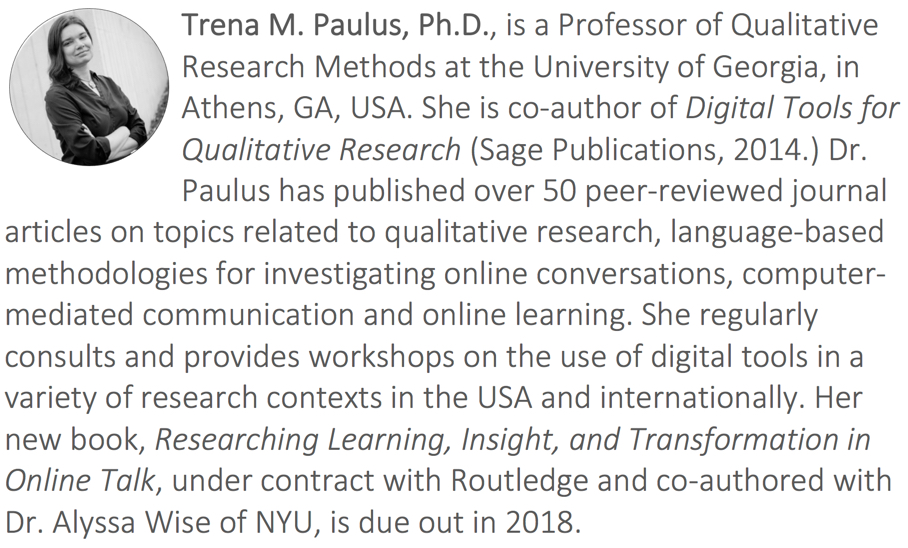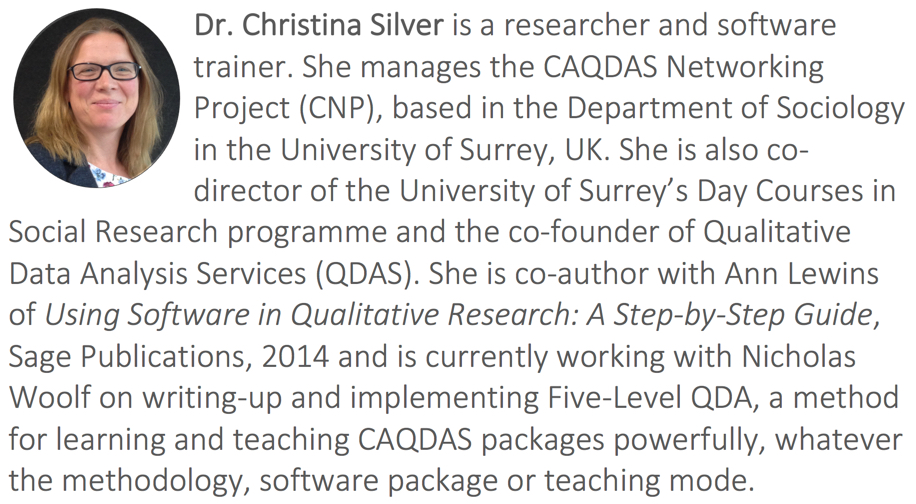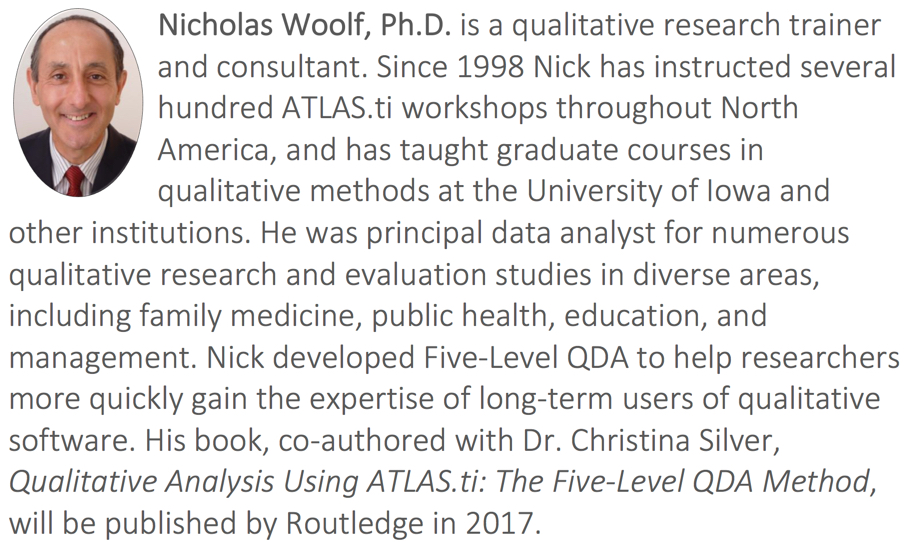 FAQ
Do you offer early bird registration?
Yes, we do. If you register by April 10th 2017, you qualify for a 25% discount. This discount does not apply to the live streaming registration options.

Do you provide a discount on software licenses to workshop attendees?
Yes, we provide a 20% discount on licenses to those who register for any of the workshops. After registering, please let us know and we will send you the discount coupon code.
Do I have to bring a laptop to class?
Yes, please do so. ATLAS.ti (demo or full versions) must be installed. If you do not have a laptop, please let us know. We do have a limited number of computers that we can share.
Do you accept payment by check or invoice/purchase order?
Yes, we do. Please contact us for more information.
What is the refund policy?
You may request a full refund up to June 30th at 11:30 pm. After that, we will refund 50% of the registration fee.
In what hotel may I stay?
To what airport should I fly?

Portland International Airport (PDX), located 97 miles north of Corvallis. The HUT Shuttle takes passengers from the airport to the Corvallis Hilton Garden Inn. Roundtrip is $87.00. Reservations are required. Reserve online here.

Eugene airport (EUG) is located 35 miles south of Corvallis. OmniShuttle takes passengers from the aiport to Corvallis. Reservations are required. Call 541-461-7959. Roundtrip door to door service is $130.00.

Do I have to bring my printed ticket to the event?
Yes, please do so.

---
Sponsors