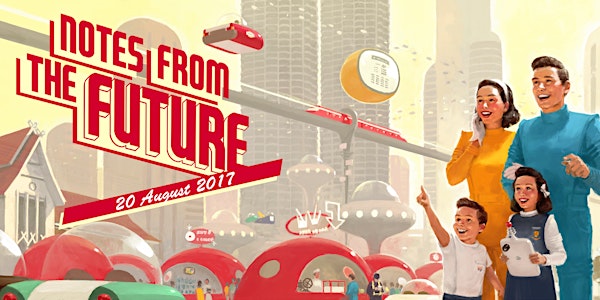 The Cooler Lumpur Festival 2017: Notes from the Future [20th August 2017]
When and where
Location
Publika Shopping Gallery 1 Jalan Dutamas 1 Kuala Lumpur, Wilayah Persekutuan Kuala Lumpur 50480 Malaysia
Description
Join us from 17th - 20th August 2017 at Publika! This registration page is only for sessions on Sunday, 20th August 2017.
Please take note that admission for all panels and screenings are FREE, however there will only be 250 seats available per session. You MUST register to save yourself a seat. Walk-ins are on a first-come-first-served basis 5 minutes before the session starts.
---
The programming is still being updated - check back to see what else is in store!
20th August 2017 [Sunday]
12:00 AM - 12:30 AM (come on Saturday 11:55 PM!)
Bump in the Night
A spooky storytelling session at midnight by The Whitmans.
PANELS - Black Box, MAP@Publika
10:30 AM - 11:30 AM
Animation Unarchived: The Good & The Banned
Hassan Muthalib in conversation with Amir Muhammad
11:30 AM - 12:30PM
Getting the Green Light for Sustainable Future
Speakers: Gurmit Singh (Cetdem), Aurora Tin (Zero Waste Malaysia), Tun Jeanne Abdullah (Landskap) | Moderator: Jonathan Case
This panel is co-presented with Green Future Malaysia.
1:00 PM - 2:00 PM
Writing Across Difference
Speakers: Taiyo Fujii, Olivia Sudjic, Leif Randt, Uthaya Sankar SB | Moderator: Sharaad Kuttan
2:00 PM - 3:00 PM
Not Just a Child's Play: When Gaming Turns Mainstream
Speakers: Cara Ellison (UK), Ng Yubin (MY), Danelie Antoinnette Purdue (AUS), Pinda Dorji (BHUTAN) | Moderator: Umapagan Ampikaipakan
This panel is part of Episodes, partnered by Astro.
3:30 PM - 4:30 PM
The Red Pill or The Blue Pill? Not How Things Will End But How Things Will Begin with IoT
5:00 PM - 6:00 PM
The Perempuan Problem: If You Don't Cut Me, I Still Bleed
Speakers: Suri Kempe, Yoon Su-Ann, Irene Wong | Moderator: Lina Teoh
6:30 PM - 7:30 PM
Geek Girl Rising
Speakers: Cara Ellison, Mahvesh Murad, Michelle Tan | Moderator: Umapagan Ampikaipakan
---
WORKSHOPS - CLassroom (Room 8, Level U2, Block C5, Publika)
Entrance to venue is the glass doors of the office block between The Bee and Bowery.
10:30 AM - 11:30 AM
Sensing Atmospheres: How to Experience Weather and Climate in Times of Global Warming by Professor Eva Horn
12:00 PM - 1:00 PM
Dear Diary, July 2037: A Futures Exploration Workshop by Amy Zalman
3:00 PM - 4:00 PM
New Forms of Writing for Your Mobile Screen by Leif Randt
4:30 PM - 5:30 PM [NOTICE: This programme was previously programmed for 3:00 PM. Please take note of the new timing.]
Writing Your Story for the Future by Taiyo Fujii