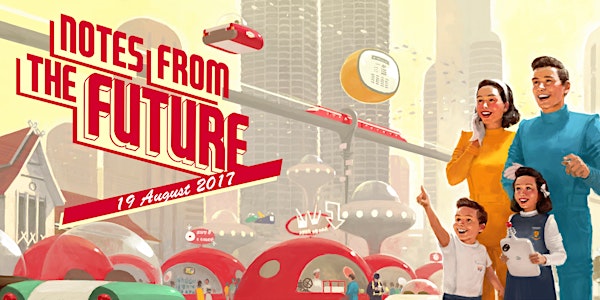 The Cooler Lumpur Festival 2017: Notes from the Future [19th August 2017]
Sales Have Ended
Ticket sales have ended
Oops, you snooze you lose! Please try again :)
Sales Have Ended
Ticket sales have ended
Oops, you snooze you lose! Please try again :)
Description
Join us from 17th - 20th August 2017 at Publika! This registration page is only for sessions on Saturday, 19th August 2017.
Please take note that admission for all panels and screenings are FREE, however there will only be 250 seats available per session. You MUST register to save yourself a seat. Walk-ins are on a first-come-first-served basis 5 minutes before the session starts.
---
19th August 2017 [Saturday]
PANELS - Black Box, MAP@Publika
10:00 AM - 11:00 AM
Life Lessons from the New World
Speakers: Amy Zalman and Jeff Stein | Moderator: Ann Lee
11:30 AM - 12:30 PM
A Whole New World of Content Formats
Speakers: Lionel Chok (Immersively), Eddy Lim (Rocketfuel Network), Prem Anand (Blaze Digital), Sean Lee | Moderator: Umapagan Ampikaipakan
This panel is part of Episodes, partnered by Astro.
1:30 PM - 2:30 PM
Some Notes from the Digital Democracy
Speakers: Jeff Stein, Eva Horn, Matt Armitage, Amy Zalman | Moderator: Melisa Idris
3:00 PM - 4:00 PM
Nevertheless, She Persisted: Writing As Resistance
Speakers: Bernice Chauly, Hanna Alkaf, Olivia Sudjic | Moderator: Fuad Rahmat
4:30 PM - 5:30 PM
Low Carbon Cities, Low Carbon Country
Speakers: Yasmin Rashid (EcoKnights), Ahmad Izdihar (Malaysian Green Building Confederation), Huzaimi Omar (Malaysian Green Technology Corporation) | Moderator: Christine Edwards
This panel is co-presented with Green Future Malaysia
6:00 PM - 7:00 PM
Days of Future Past: Why We Love Our Dystopias
Speakers: Eva Horn, Leif Randt, Taiyo Fujii | Moderator: Mahvesh Murad
7:30 PM - 8:30 PM
VR; IRL (Virtual Reality; In Real Life)
Speakers: Hussain Currimbhoy, Lionel Chok | Moderator: Lina Teoh
---
WORKSHOPS - CLassroom (Room 6 & 8, Level U2, Block C5, Publika)
Entrance to venue is the glass doors of the office block between The Bee and Bowery.
11:00 AM - 12:00 PM (Room 8)
So. You. Want. To. Get. Published. by Olivia Sudjic and Hanna Alkaf
1:00 PM - 2:00 PM (Room 5)
So, What's the Big Deal About Virtual Reality? by Lionel Chok
This workshop is co-presented with MyDocs.
2:00 PM - 3:00 PM (Room 8)
Kiss My Astronaut: The Future of Content Creation by Eddy Lim (Rocketfuel Network)
This workshop is part of Episodes, partnered by Astro
2:30 PM - 3:30 PM (Room 5)
Coffee with Hussain Currimbhoy, documentary programmer for the Sundance Film Festival, co-presented with MyDocs.
3:00 PM - 4:00 PM (Room 8)
Cooler Lumpur Junior Workshop - Once Upon a Family: Storytelling at Home
RM50 per parent (inclusive of 1 child)
4:30 PM - 5:30 PM (Room 8) [NOTICE: This session has been moved to 3:00 PM, Sunday 20 August.]
New Forms of Writing for Your Mobile Screen by Leif Randt
4:30 PM - 5:30 PM (Room 8)
The Bark Workshop: Craft Words that Bite by Cara Ellison
This workshop is part of Episodes, partnered by Astro.
4:00 PM - 6:00 PM (Room 5)
Storytelling with Data Journalism by Kuek Ser Kuang Keng
---
SCREENING - Black Box, MAP@Publika
9:00 PM - 10:30 PM
Food Evolution
A documentary on Genetically Modified Organisms (GMO) narrated by Neil deGrasse Tyson.
Organizer of The Cooler Lumpur Festival 2017: Notes from the Future [19th August 2017]
The Cooler Lumpur Festival is a multidisciplinary festival curated by PopDigital. It is Southeast Asia's first festival of ideas. The Kuala Lumpur-centric festival adopts specific themes each year with the aim to expand the city's cultural horizons, build stronger communites and cultivate the creativity and imagination of people.
Established in 2013, the festival is a platform that aims to bring together writers, artists, musicians, and thinkers from all across the globe in an attempt to create new connections, to share and spread new ideas, and to serve as a catalyst to our cultural conversation. Powered by writers and thinkers, by artists and musicians, ours is a gathering that aims to challenge people to debate and learn and grapple with the ideas and issues that constantly confront our society.
Why is this relevant? Because we believe that building discussion and dialogue is the hallmark of any great society. Because we beleive in the irresistible and contagious power of a great idea and the latent potential it holds to inspire awareness, change and transformation.