Description

The Cool People Awards are about celebrating the unsung hero's inspirational role models and everyday people at a series of cool events attended by cool brands, experts, VIP's and luminaries for presentations, partying, networking, music and entertainment.
Regional heats will lead to judging & finals taking place at the Ritz Hotel, Mayfair, London - The awards night will be an uplifting and inspiring occasion together with a glittering themed after-party at a trendy London venue. A percentage of the proceeds will be donated to our charities of choice, including children's charities.

When we hear about the Oscars, the Brits, the Grammys, the Emmy's, the BAFTA's, and other glamorous awards we are always told how important it is to 'take part'. But let's be brutally honest, only celebrities and superstars are featured.
You may not have noticed but…. There are few high-profile awards that celebrate the non-celebrity; those people who make an incredible difference in their family, place of work, business or the community.
Join us for a cool night out at the Cool People Awards Cool Coast Region Launch Party -THURSDAY 1ST MARCH 2018 - At The Cumberland Hotel - Bournemouth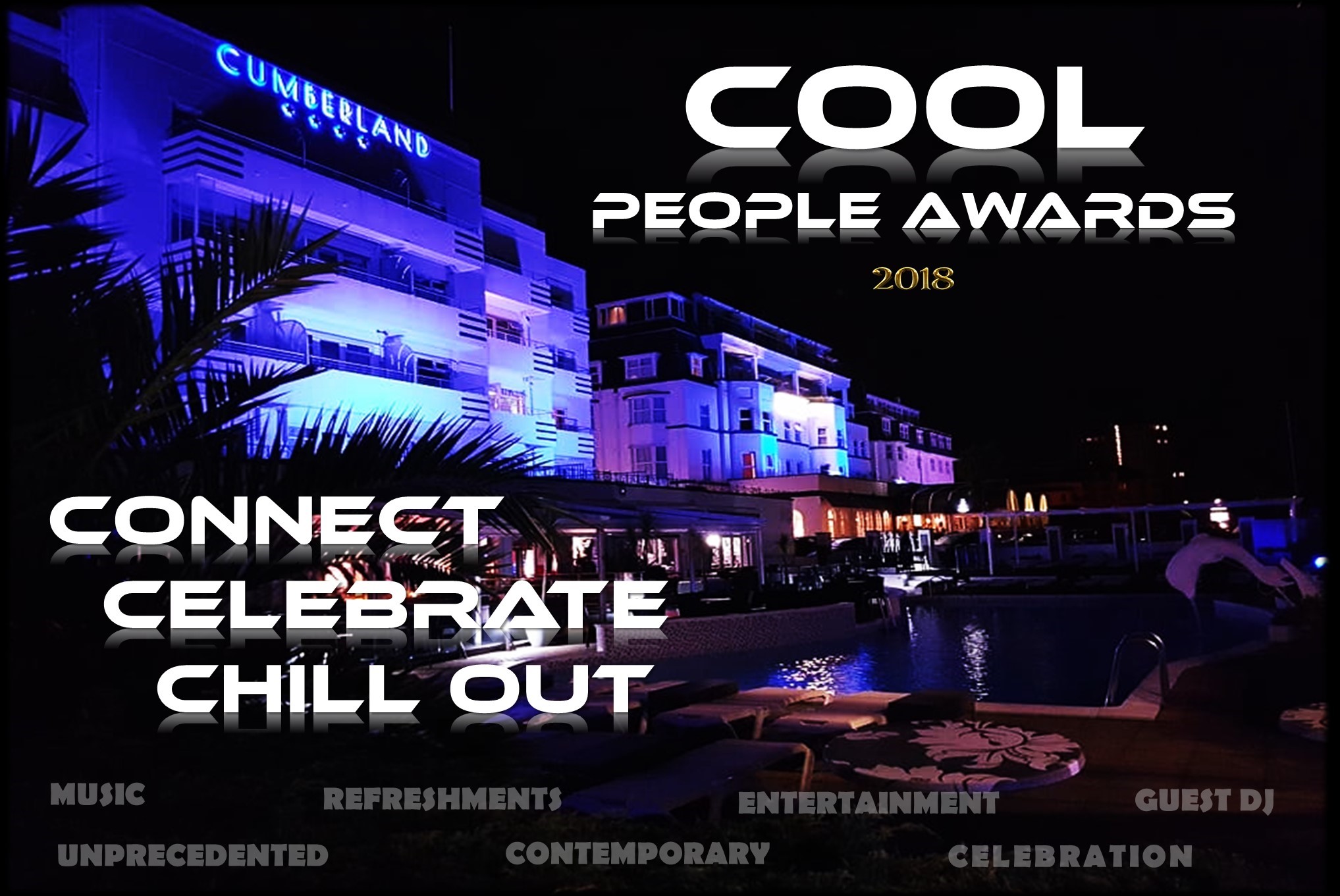 Refreshments
Networking
Unkown voices
Short Presentation
Cool People Awards online nominations launch.
A taste of what's to come - (with guest Chocolatier)
Prize Draw
'StateOfTheArt' - Music and Entertainment (Guest DJ 'DatMan' Artwell)
Chill with G&T (Gin & Tonic) sponsored by CONKER SPIRITS
Chill out by Candlelight - After Party
Don't miss our cool charities of choice Prize Draw and win some of the coolest prizes including a bottle of champagne, a luxury travel collection and more...

Being shortlisted for, or winning a Cool People Award serves as a testament to the nominees work ethic, dedication and unique specialness. It speaks volumes about the individual and provides a third-party endorsement of their achievements. It identifies their values and missions, so naturally, when nominated, they will look back at their milestones, how far they have come and what they have accomplished.
Is there an unsung hero in your family, workplace, or the community who you believe should be a candidate for a Cool Award?
Our mission is to celebrate dedicated family people, unsung heroes, high achievers, influencers and inspirational leaders in towns & cities across the UK. We strive to recognise and reward the outstanding individuals who are doing extraordinary stuff, whilst inspiring and empowering others to improve their own, and the lives of many in meaningful ways. So in honouring these awesome and innovative trendsetters, we do so with a sense of excitement, but also a sense of responsibility because the stakes are high and these honourees are shaping our future.
For more information contact our marketing partner on Tel: 07974 764239