Description
Join us for a preview of DPG's
Alta
with all proceeds benefiting
The Cooking Project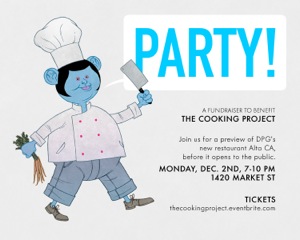 Organizer of The Cooking Project Fundraiser and First Look at Alta
The Cooking Project is a non-profit, community-based organization dedicated to teaching kids and young adults fundamental cooking skills. Our community of chefs, writers, home cooks, farmers and growers teach how to connect with food through a variety of programs on everything from unusual ingredients to how to cook simple, tasty dishes at home.
Our programs are based on the principle that learning to cook means learning much more than that. We believe that learning to eat well is fundamental to our kids' future success and the health of our communities. Through our programs, young people develop their curiosity, creativity, self-discipline, and self-respect, and learn about science, history, and other cultures, all while developing critical cooking skills.
By making cooking fun and delicious, The Cooking Project aims to inspire young people to successfully take on challenges–in the kitchen and out.  
http://thecookingproject.org/