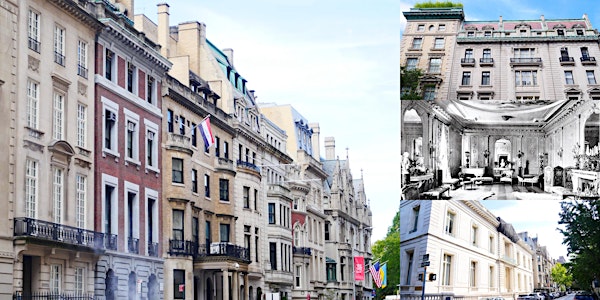 'The Cook Block: Manhattan's Most Exclusive Address' Webinar
Can't make it live? Register and get access to the full replay for one week! New York Adventure Club | www.AdventureClub.com
About this event
Over 150 years ago, one man bought an entire city block on the Upper East Side simply to protect his own property values, making it impossible for the millionaires who bought plots to build anything but "splendid" residences. And how is it that all of these years later, many of these restrictions still exist to this very day? From scenes of glittering dinner parties to a shocking murder, it's time to hear the stories surrounding one of New York's most unique micro-neighborhoods.
Join New York Adventure Club for a digital exploration of the majestic residences of Cook Block — situated between 78th and 79th Streets from Fifth Avenue to Madison Avenue in Manhattan, this block purchased by Henry Cook in 1879 was subject to restrictive deeds that empowered him to choose his neighbors and dictate what they erected on their lots.
Led by historian Tom Miller, our virtual lecture and showcase of one of Manhattan's most unique and historic blocks will include:
An overview of the life of Henry Harvey Cook, including what possessed him to purchase an entire city block and put restrictive aesthetic stipulations in place
A look at the Gilded Age mansions still standing on the block, including the homes of James Duke, Stuyvesant Fish, and others
What life was like for the wealthy families on Cook Block whose glittering lives were often touched by scandal, tragedy, and greed — sometimes the result of the very fortunes that placed them in these mansions
Rare historic and modern photographs — inside and out — of these opulent 19th and early 20th century masterpieces by some of America's most renowned architects.
Afterward, we'll have a Q&A with Tom — any and all questions about Cook Block are welcomed and encouraged!
Can't make it live? Don't worry, you'll have access to the full replay for one week!
See you there, virtually!
*Immediately upon registering, you will receive a separate, automated email containing the link to join this webinar
**For the best possible viewing experience, please ensure you're using the latest version of your internet browser — Google Chrome is the most compatible. Exact technical requirements and a webinar user guide will be shared in the automated confirmation email upon registration.
***A full replay of the experience will be available to all registered guests for up to a week
About Tom Miller
Architectural and social historian Tom Miller is the author of Seeking New York, Seeking Chicago, as well as the popular blog "Daytonian in Manhattan." Since 2009 Tom has published a blog post on a different Manhattan location every day — now totaling more than 3,000.
His research and reporting focus as much on the social histories of the buildings — the tragedies and sorrows, triumphs and scandals of the people who built and lived in the houses — as on their architecture and styles. Tom Miller's retelling of these stories make the buildings come alive; and suddenly they are more than brick, marble, and limestone, but the histories of real people.
Testimonials
"Very interesting and I appreciated all of the historical anecdotes about the people who lived in the various homes." -Geoffrey
"Lots of fascinating information!" -Russ
"Love the details. It's my neighborhood." -Michele
"Knowledgeable historian; lots of stories about the persons 'behind the buildings'" -Petra
"Presenter knows the subject matter extremely well. And it is clearly of great interest to him." -Leigh
"Wonderful cultural and historical insights about buildings I've passed often and to which I never gave any thought." -Janis
"Good examination of a unique urban block of residences." -Leon
"Comprehensive walk around the block." -Mirla
"The in depth knowledge of Tim(the presenter)." -Silvia
"I liked the stories about the mansions." -Mary Ellen
"I liked the behind the scenes stories. I liked the photos." -Cynthia
"Presenter knows the subject matter extremely well. And it is clearly of great interest to him." -Leigh
"I love the pictures of houses and people who owned them." -Miranda
"Clear pictures of the buildings." -Michael
"Interesting and informative." -Lucy
"Wonderful cultural and historical insights about buildings I've passed often and to which I never gave any thought." -Janis
"Concise, well organized, lots of colorful stories" -Virginia
"Full of fascinating facts and could have listened to more!" -Claire
"The presenter was well-spoken and clearly knew the material well, provided plenty of images." -Richard
"Photos of exteriors and interiors." -Iris
"The photos and history of the mansions, the photos and bios of most of the owners, the photos of the interiors." -Ida
"Seeing the houses and hearing about them." -Rebecca
"Information is not commonly known." -Laurie
"As always, his excellent mix of architectural history enlivened by stories of the people who lived in the mansions. As many pictures as possible given the time of the houses and their private ownership. His presentations never seem to last as long as they do, which means they are very enjoyable." -Lahring
"The presenter was excellent. My husband and I got a cocktail and listened to the webinar and then made dinner. Nice evening after work." -Joan
"Lots of interesting facts & photos." -Ellen
"Liked everything and I would have loved it to have been longer." -Leslie
Disclaimer
By attending a New York Adventure Club experience, you accept our terms of service.
Categories: Virtual, Gilded Age