Description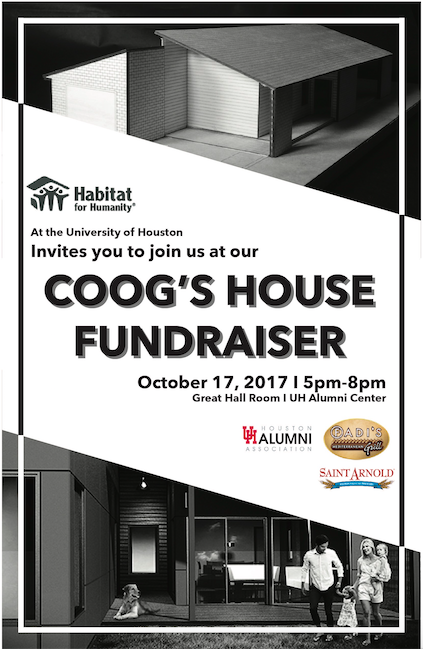 If you would like to DONATE, you can do so here: Coog's House Donations
The Habitat for Humanity Campus Chapter at the University of Houston has designed an AIA award winning home through the architecture students of the UH Gerald D. Hines College of Architecture and Design. This house serves the purpose of being an extremely affordable home that does so without sacrificing aesthetics or sustainability. This Coog's House project is designed and will be built by students, and would ultimately represent a pivotal moment in the University of Houston's history.
On October 17th, 2017 at the UH Alumni Center, the Habitat for Humanity UH Campus Chapter will be hosting a fundraiser dinner, sponsored by the UH Alumni Association and catered by Fadi's Mediterranean Grill and Saint Arnold, to raise financial support needed to construct the home and put the Coog's House project in motion.
In attendance will be noteworthy guest speakers such as Congresswoman Sheila Jackson Lee, Councilman Dwight Boykins, alumni and professional staff from the UH Architecture College, Bauer College of Business, The Honors College, along with Houston community and affordable housing advocates. The event will begin with a reception from 5 to 6 PM, and our guest speakers will begin speaking at 6 PM.
To make this event successful, we are seeking support from organizations and people like you. We are hopeful that you will extend your generous support to our Coog's House project.
Please register above if you would care to join us!