Discussions on establishing domestic peace for those affected by domestic abuse
About this event
As part of the 16 Days of Activism 2021, in this seminar, ICFDP bring to you 6 impactful session delivered by 6 members of the ICFDP team in a continued conversation on establishing domestic peace for families and individual affected by domestic abuse.
The event will be on Zoom and streamed live on Facebook / YouTube.
Come and get equipped and join us in this continued conversation and activism to establish Domestic Freedom and Peace.
Follow us on Facebook at: https://www.facebook.com/ICFDP/
Programme Schedule
Introduction: - (8:00pm- 8:05pm)
*Brenda Dempsey*
_The subtle manifestations of GBV in daily life and work (8:05pm - 8:20pm) - *Francesca Fondse*
_The Impact of Domestic Abuse on Children (8:20pm - 8:35pm)-
*Feyisitan*
_How Religion and culture keeps victims of DA imprisoned_(8:35pm - 8:50pm)-
*Uju Maduforo*
_Musical interlude_ (8:50pm - 9:00pm)
_Rescue yourself_ (9:00pm - 9:15pm)-
*Brenda Dempsey*
_Coping with Domestic Abuse Post Covid_ (9:15pm - 9:35pm)
*Cllr Kate Anolue*
_Maintaining Personal Resilience in the Face of Abuse_ (9:35pm - 9:50pm)-
*Ihu Nweke*
_Close/ announcements_(9:50pm - 10:00pm)-
*Ihu Nweke*
The event is free but registration is required.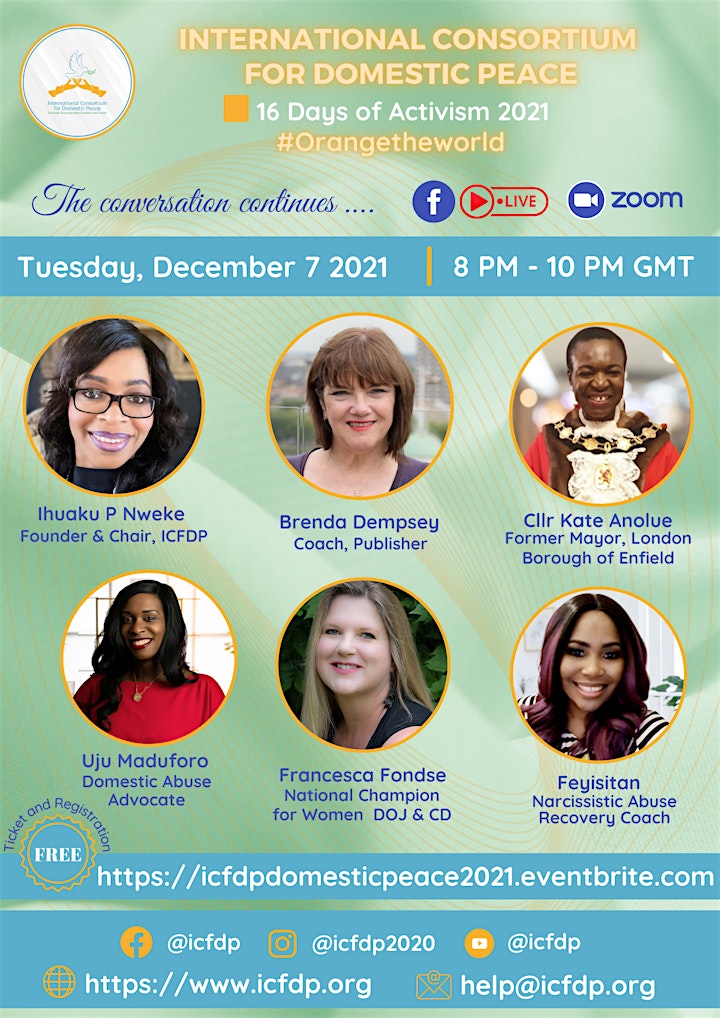 Organiser of The Conversation Continues