Description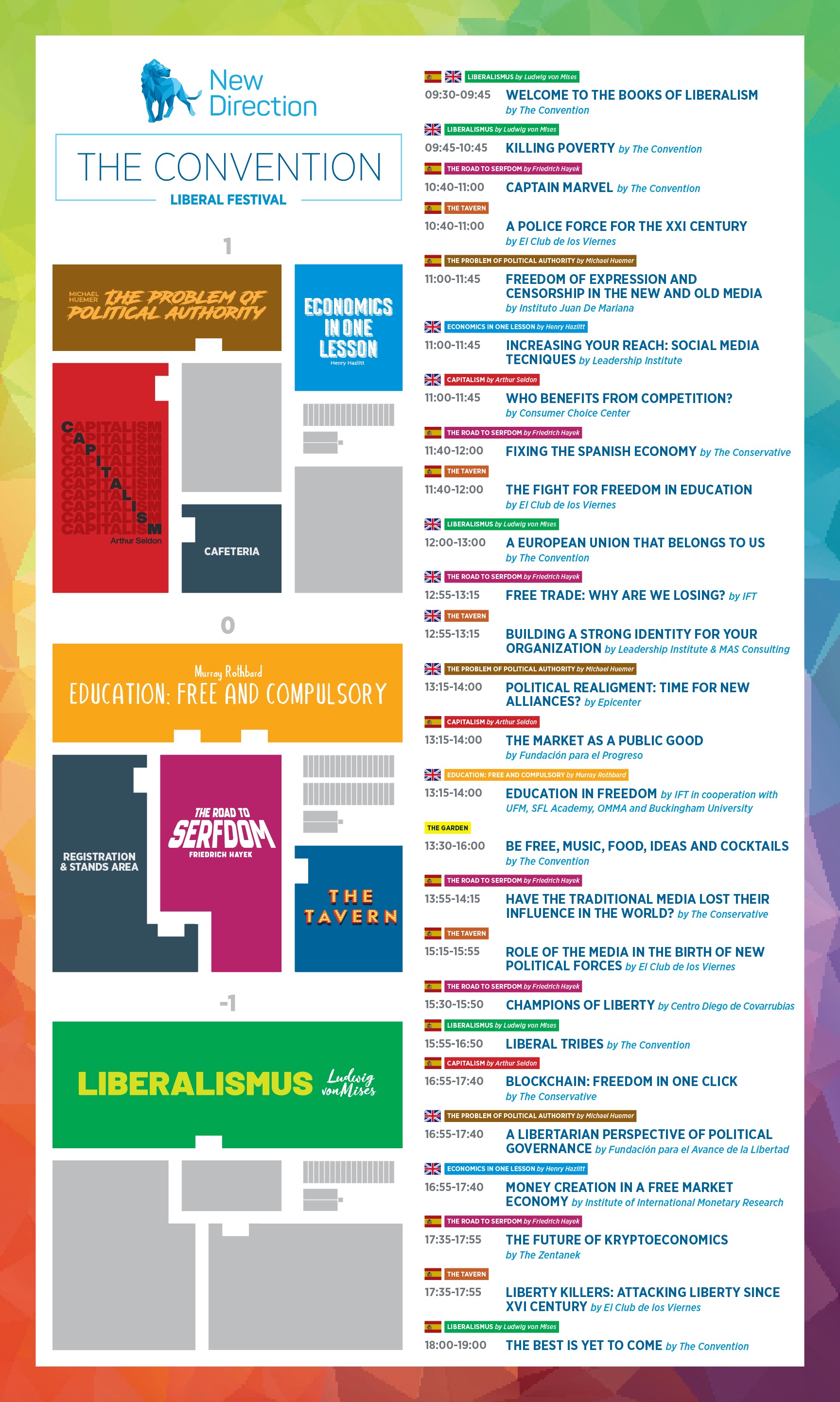 The Convention - Liberal Festival

The Books of Freedom
The Convention is gathering another year in Madrid to tell a new story: The Books of Freedom.


The Books of Freedom is the new story that free market and libertarian think tanks will tell us at the Convention on the 1st of June in Madrid this year. Our journey will begin with 'Road to Selfdom', which will take us on a path to discover the main books that have liberated human kind from oppressive ideologies which have tried and are still trying to kill our freedom. Each room at the Convention will have the name of one of these books and each book will host a few freedom fighters' organisations that will remind us that freedom is always one generation away from extinction. Don't miss the opportunity to become a freedom fighter and join the resistance against oppression.

Once more, The Convention - Liberal Festival is organised by New Direction and hosted by the Instituto Juan de Mariana. Last year 24 organisations partnered with us to deliver a fantastic festival with 21 events and 60 speakers. On the 1st of June this year there will be even more. Join us!
La Convención - Festival Liberal
Los libros de la libertad
La Convención se reúne un año más en Madrid para contar una nueva historia: Los Libros de la Libertad.
"The books of freedom" es la nueva historia que los representantes del libre mercado y los think tanks libertarios nos relatarán en la Convención el 1 de junio este año en Madrid. Cada sala de la Convención tendrá el nombre de un libro y albergará distintas organizaciones de luchadores por la libertad que nos recordarán que ésta peligra de estar a una generación de la extinción. No pierdas la oportunidad de convertirte en un "Freedom Fighter" y unirte a la resistencia contra la opresión. Nuestro viaje comenzará con el "Road to Selfdom", que nos iniciará el recorrido por los principales libros que han liberado a la humanidad de las ideologías opresivas que han intentado y siguen intentando matar nuestra libertad.
Como en la primera edición, La Convención - Festival Liberal 2019, está organizada por New Direction y por el Instituto Juan de Mariana. El año pasado, 24 organizaciones se asociaron con nosotros para ofrecer un fantástico festival con 21 eventos y 60 oradores. El 1 de junio las sorpresas y el conocimiento continuarán emocionándonos. ¡Únete a nosotros!