Description
It is estimated that California needs at least 200,000 new construction workers. If California is going to successfully address its housing affordability crisis, what solutions will ensure shortages in the construction workforce are not a hindrance to development? This workshop will provide an overview of how stakeholders like SCANPH and the nonprofit affordable housing industry can support investments in a 21st century workforce so that we can collectively meet the demands of solving our historic housing crisis. Speakers will discuss the impact of the tight labor market on development and how the state can boost competitiveness and productivity in construction.

Speakers include:

Chris Hannan, Council Representative, LA/OC Building and Construction Trades Council
Allison Riley, Managing Director of Real Estate Development, PATH Ventures
Charlie Muttillo, President, Morley Builders
Murtaza Baxamusa, Director of Planning and Development for the San Diego County Building and Construction Trades Council Family Housing Corporation
Alan Greenlee, Executive Director, SCANPH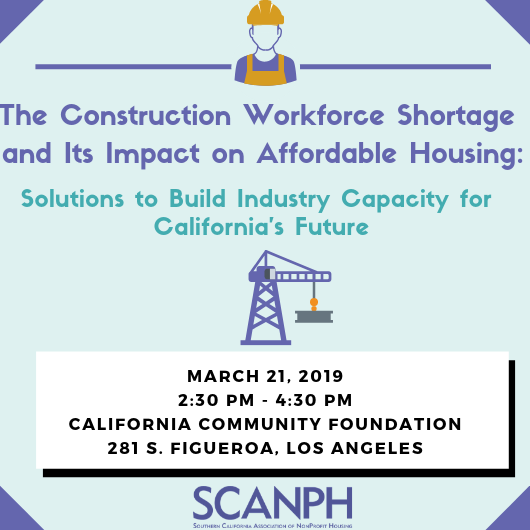 Location: California Community Foundation, Joan Palevsky Conference Room
Address: 281 S Figueroa St, Los Angeles, CA 90012
Parking and Directions: View here.