Actions and Detail Panel
The Connection Between Speech-Language Development and Dyslexia
Tue, March 14, 2017, 7:00 PM – 8:30 PM EDT
Description
The Connection Between Speech-Language Development and Dyslexia
Join us as we discuss what is typical speech-language development, when to be concerned, and what to do about your concerns. Presenter Anne Reed, M.S., CCC-SLP is a speech-language pathologist and is certified at the Associate Level with the Academy of Orton-Gillingham Practitioners and Educators (www.ortonacademy.org).
This DNF / IDA-GA / DDGA Outreach Event is free and open to the public. Check-in will begin at 6:45 p.m. Program will start at 7:00 p.m. Please let others know about this event.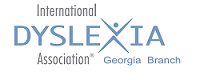 This event is brought to you by Dyslexia Network of Forsyth, Decoding Dyslexia-GA, and the International Dyslexia Association - GA. Outreach events are free and open to the public.
Dyslexia Network of Forsyth (DNF) provides resources and support to parents and educators of students with reading, writing and spelling difficulties in and around Forsyth County. Visit www.dyslexiaforsyth.com.
Decoding Dyslexia GA is part of a network of parent-led grassroots movements across the country concerned with the limited access to educational interventions for dyslexia within the public education system. Visit www.decodingdyslexiaga.com.
International Dyslexia Association - Georgia Branch (IDA-GA) is a non-profit, scientific, and educational organization formed to increase public awareness of dyslexia. IDA-GA is a resource and support system for parents, individuals with dyslexia, educators, therapists, psychologists, and other professionals. Visit www.idaga.org or dyslexiaida.org.