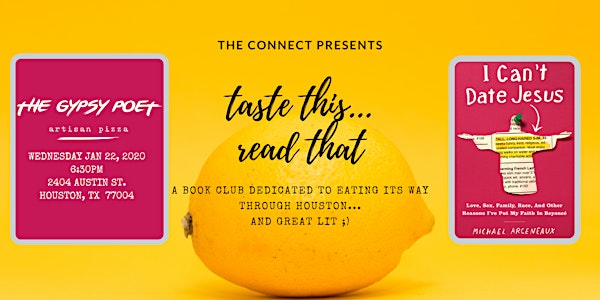 The Connect Presents: Taste This... Read That!
"Taste This... Read That" is a book club dedicated to eating its way through Houston.. and great lit!
When and where
Location
The Gypsy Poet 2404 Austin Street Houston, TX 77004
About this event
Come grab a slice and sip wine at one of Houston's newest and tastiest neighborhood pizzerias as we discuss the Instant New York Times Bestseller I Can't Date Jesus by Michael Arceneaux!
About I Can't Date Jesus:
With the characteristic wit and candor that have made him one of today's boldest writers on social issues, I Can't Date Jesus is Michael Arceneaux's impassioned, forthright, and refreshing look at minority life in today's America. Leaving no bigoted or ignorant stone unturned, he describes his journey in learning to embrace his identity when the world told him to do the opposite.
"You need not be black, gay, or a man to enjoy the keen observations noted in Michael Arceneaux's book. However, if you are either or all three of these attributes, the better the ride." - Goodreads
About The Gypsy Poet (a word from the owner):
A life traveling around the world made me develop an exquisite taste for food, service and good entertainment. This is my studio where all my life-experiences collide into my place of creation. I express my art through many ways; paint, architecture, colors, music, poetry and most important... handcrafted Pizza
"Simple. Delicious. Friendly. Awesome. This neighborhood joint tosses some awesome pizzas! "- Yelp