The CoMuseum International Conference 2021 features keynotes, fireside chats, workshops and masterclasses for the cultural community.
About this event
CoMuseum 2021: Re(Positioning) the museum of tomorrow
On December 1, the CoMuseum will host its plenary event, featuring keynote presentations, fireside chats and panel discussions which will focus primarily on the following themes:
Sustainability: Business Strategy, Digital Everything, Access to New Funding
The Future of Content: Collections, Curating, Storytelling and Interpretation
The Social Impact of Museums: Communities, Human Rights, Social Justice, Activism
The Museum and Climate Change
See all Conference Speakers and Schedule here: www.thecomuseum.org
On December 2 and 3, the CoMuseum will present a series of workshops and masterclasses for museum and cultural professionals.
Working language for the Conference and the workshops/masterclasses is English.
Admission to the conference and workshops/masterclasses is free.
A separate registration is required for all events – the plenary session and each workshop/masterclass.
Registration for the conference, workshops and masterclasses closes on November 29.
Workshops & Masterclasses
Space for the workshops and masterclasses is limited, in order to offer the opportunity to participants to interact with the experts and each other. Therefore, masterclasses and workshops are open to museum and cultural professionals. Following your registration, where you should fill out your job title and affiliation, you will receive the links for the workshops by Tuesday, November 30. As demand is high, each participant can register for up to two workshops.
Please Note: The workshop Career planning for folks who are more than their job titles with Aksana Khan, Community Mentoring Officer, Arts Emergency (UK) is for emerging museum and cultural professionals only.
The CoMuseum International Conference event is organized by the Benaki Museum, the U.S. Embassy in Greece and the British Council in collaboration with the British Embassy in Athens and the Polyeco Contemporary Art Initiative (PCAI).
The event is under the auspices of the Hellenic Ministry of Culture and Sports, the Municipality of Athens and ICOM Greece; and it is supported by Uni Systems and Microsoft as Major Sponsors.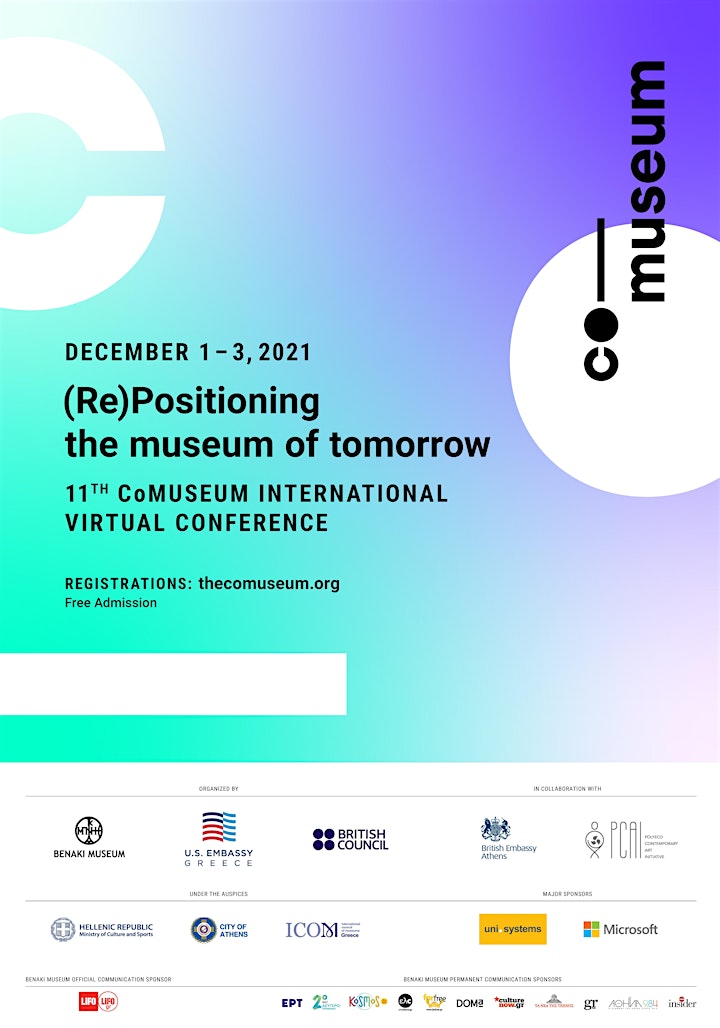 Organizer of The CoMuseum International Conference 2021