A Comedy Containing All 37 of the Bard's Best in 97 Minutes! Join us for a festive frolick thru the classics in a, well, much different way!
About this Event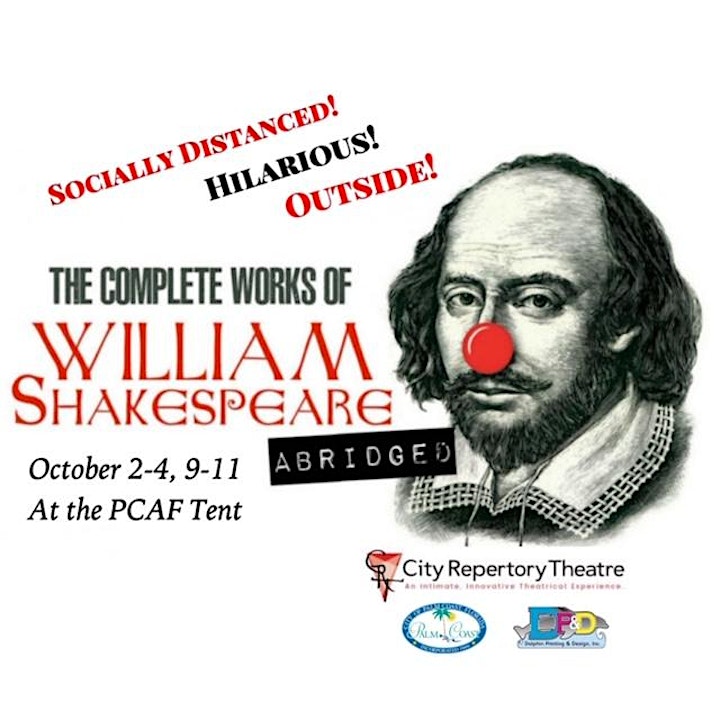 With only three actors and no fourth wall, this riotous spoof of Shakespeare's plays highlights a completely silly Romeo and Juliet, the fastest ever performance of Hamlet, and lots of goofy fun turning everything you ever knew (or didn't know) about the bard upside down. Lots of interaction with the audience. Don't miss this. It is pure fun.
"And a great way to get over the virus blues"
FUN FUNNIER FUNNIEST
THE COMPLETE WORKS OF WILLIAM SHAKESPEARE (ABRIDGED) [REVISED]Written by: Adam Long, Jess Winfield, Daniel SingerLaugh your way through this hilarious show!
Our show is staged OUTSIDE WITH ALL SAFETY PRECAUTIONS TAKEN.
Show times:
October 2/3 and 9/10 at 6 pm October 4/11 at 3 pm.
Tickets are available at www.crtpalmcoast.com
Shows will be performed at the Palm Coast Arts Foundation tent at 1500 Central Avenue, Palm Coast, Fl 32164"