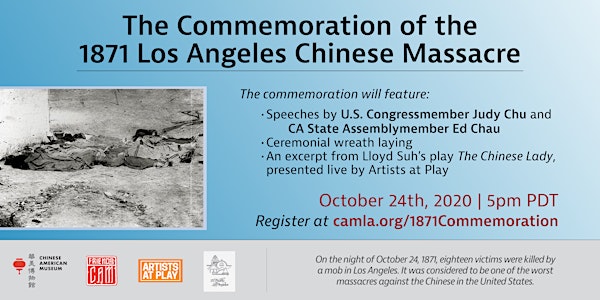 The Commemoration of the 1871 Los Angeles Chinese Massacre
We invite you to join us virtually for the annual Commemoration of the 1871 Chinese Massacre on October 24th 2020.
Refund Policy
Contact the organizer to request a refund.
About this event
On October 24, 1871, eighteen victims were killed by a mob in Los Angeles' historic Chinatown. Known as the Chinese Massacre of 1871, it was the culmination of growing anti-Chinese sentiment leading to racially motivated violence.
The commemoration marks this somber moment in American history with a memorial for all the lives lost in this historical tragedy and creates a space for reflection on contemporary issues of race and violence.
The memorial will include speeches by Congresswoman Judy Chu, California State Assembly Member Ed Chau, Commissioner of El Pueblo de Los Angeles Historical Monument David Louie, FCAM Board Member Eugene Moy. A single scene from "The Chinese Lady" will be performed by Artists at Play followed by a commemorative wreath-laying and the reading of the names ceremony by FCAM Board President Dr. Gay Yuen.
It is deeply important to CAM that we continue to recognize the Chinese Massacre of 1871 at this significant moment in time when xenophobia and racism towards Asian Americans are rising in the US.
The Zoom link can be found below.
https://us02web.zoom.us/j/84568411285?pwd=YWprNDRLNHNrc3lJYk5HVlBOZk5nZz09
Meeting ID: 845 6841 1285
Passcode: 431885
We would like to thank El Pueblo de Los Angeles Historical Monument and Artists at Play for supporting this event.