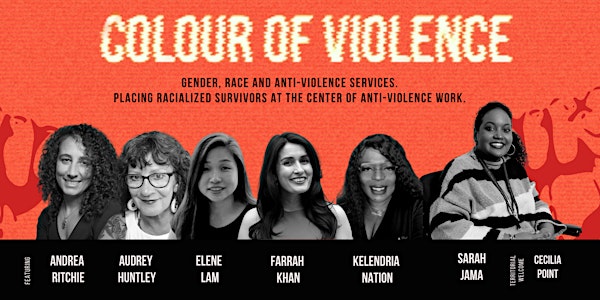 The Colour of Violence: Gender, Race and Anti-Violence Services
Colour of Violence: Gender, Race and Anti-Violence Services. Placing racialized survivors at the center of anti-violence work
About this event
As part of the 16 Days of Activism against Gender-Based Violence and our new multi-year Colour of Violence project, Battered Women's Support Services (BWSS) invites you to a powerhouse discussion with Black, Indigenous, immigrant/refugee, and racialized women on race, gender and anti-violence services.
Please click the link below to join the webinar:https://us02web.zoom.us/j/85863883150 Webinar ID: 858 6388 3150
TERRITORIAL WELCOME and OPENING REMARKS by CECILIA POINT: Cecilia is a member of the Musqueam Nation. As a political activist advocating for human rights and the environment, Cecilia stood for 200 plus days protecting her nation's ancestral burial site from development in 2012. Cecilia has also dedicated many years to cultural preservation in the field of Aboriginal cultural and ecotourism. She is a facilitator for reconciliation workshops with Bright New Day, and has been designated a public speaker for her nation.
AUDREY HUNTLEY: Audrey is a paralegal, storyteller, and co-founder of No More Silence working with other Indigenous women, trans and two-spirit people. Audrey finds strength in the strong community networks No More Silence is building across Turtle Island and beyond. One of her recent works, the short film Not Just Another Case: When Your Loved One Has Gone Missing or Been Murdered was created to empower Indigenous community members and provide alternatives to the mainstream institutions that fail them. Smudge, Don't Judge: Assisting Trans and Two-Spirit Survivors of Violence, a collaboration with Monica Forrester of Maggies Sex Worker Action Project and Trans Pride Canada is geared to service providers and addresses the homo and transphobia that prevents many Indigenous people from reporting or seeking assistance. Other initiatives that No More Silence is involved in include Indigenous Land Defence Across Borders which took members of the group to Palestine in 2018 to meet and exchange experiences of settler colonialism with local activists. Currently, Audrey is completing a film on Disability Justice in Indigenous Ceremony with Elder Wanda Whitebird. Together they are challenging the ableism the prevents many Indigenous people with access needs from joining in ceremonies or cultural events.
SARAH JAMA : Sarah is a community organizer from Hamilton, Ontario. She is co-founder of the Disability Justice Network of Ontario (DJNO) and holds a Social Sciences degree from McMaster University. Her lived experiences have fostered interests and a passion for community engagement, disability justice, and activism. Sarah currently works at the Hamilton Centre for Civic Inclusion.
FARRAH KHAN: Farrah has spent two decades raising awareness about the intersections of gender-based violence and equity through education, policy, art creation and advocacy. She is the founder of Possibility Seeds, a member of the Government of Canada's Advisory Council on the Strategy to Prevent and Address Gender-Based Violence and the Manager of Consent Comes First at Ryerson University. Farrah is co-founder of Use The Right Words: Media Reporting on Sexual Violence and co-director of Courage to Act, the first national project of its kind to address and prevent gender-based violence on post-secondary campuses in Canada.
ELENE LAM: Elene is the Executive Director of Butterfly - Asian and Migrant Sex Workers Support Network, founded to support Asian and migrant sex workers to address the unique challenges and violence they face across gender, race, language, social status, criminalization of sex work, and legal immigration status.
KELENDRIA NATION: Kelendria is a Black woman of Trans experience of Caribbean descent who uses her perspective and unique experience to bring awareness to the various issues surrounding trans people; especially trans women of colour. She has dedicated herself to using her voice to impact change and bridge understanding across all communities. She provides advocacy, resolutions and transitions for Trans identified peoples. Through her work in community space through advocacy, she strives to allow folks to see that Trans, Non binary, and 2spirit identified folks because of their multiple intersections are often times left out in conversations. With collaboration and standing in solidarity with other community members she has been given the tools of being able to communicate her experience which has allowed her to tell her own story in her own voice. It is her hope that in time there will be more opportunities to empower other BIMPOC identified folks in the same which she has been. She currently has her own consulting business "Kelendria Nation Consulting" where she works on prioritizing Transgender health and inclusion in various settings including within in the health care system, non-profit organizations and other allied organizations working towards Transgender, gender diverse and two spirit inclusion within their organization.
& ANDREA RITCHIE: Andrea is a Black lesbian immigrant survivor who has been documenting, organizing, advocating, litigating, and agitating around policing and criminalization of Black women, girls, trans, and gender nonconforming people for three decades. As a member of the national collective of INCITE! Women of Color Against Violence, she served on the editorial collective for the Color of Violence Anthology. She is the author of Invisible No More: Police Violence Against Black Women and Women of Color and co-author of Say Her Name: Resisting Police Brutality Against Black Women, Queer (In)Justice: The Criminalization of LGBT People in the United States, and No More Police: A Case for Abolition (forthcoming). She co-founded the Interrupting Criminalization initiative with Mariame Kaba, as well as the In Our Names Network, a network of over 20 organizations working to end police violence against Black women, girls, trans and gender nonconforming people. She has authored numerous research reports, articles, and opinion pieces on policing, criminalization, mass incarceration and immigration enforcement.
Co-Moderated by ANGELA MARIE MACDOUGALL (Executive Director, Battered Women's Support Services) and LESLIE VARLEY (Executive Director, BC Association of Aboriginal Friendship Centres).
This event is organized by Battered Women's Support Services (BWSS). An intersectional feminist voice against violence and oppression, BWSS provides frontline support and advocacy, as well as community education and training about gender-based violence with a goal to eradicate interpersonal and structural violence against all women, girls and gender diverse people.
ACCESSIBILITY INFORMATION
Event will be held online in English. ASL translation and CART will be provided.
Those registered for the event will be able to access a separate zoom breakout room for active listening support by racialized BWSS support workers trained in decolonial and anti-racist practice.
TAKE OUR ANONYMOUS SURVEY!
Have you taken our anonymous survey? We are launching a short, anonymous survey focusing on issues of accessibility, safety, and the structural barriers of anti-violence services in British Columbia for Black, Indigenous, immigrant/refugee, and women and gender-diverse survivors of colour.
We would like to hear from you! Complete our short, anonymous survey, available November 3, 2021 – January 23, 2022, and enter a draw for a $50 gift certificate!
https://www.surveymonkey.com/r/BWSSColourofViolence
The survey is also available in Spanish, Tagalog, Farsi, French, Simplified Chinese, Vietnamese and Punjabi here: https://www.bwss.org/colour-of-violence/
ABOUT COLOUR OF VIOLENCE
Drawing on the work of INCITE! Women of Color Against Violence, Battered Women's Support Services is undertaking a multi-year Colour of Violence project to examine the intersections of race and gender for Black, Indigenous, migrant/refugee, racialized women and gender diverse people experiencing gender-based violence in British Columbia.
We know that safety changes everything, and we want to make visible the layered safety needs of Black, Indigenous, immigrant/refugee, women and gender diverse survivors of colour. We will examine elements of police and criminal legal responses; the systemic barriers to accessing adequate gender-based violence services; and the intersecting involvement for Black, Indigenous, immigrant/refugee, women and gender diverse survivors of colour with child welfare, immigration, mental health, income, housing and other systems. We also aim to challenge the homogenization of "women of colour" and tend to the specific experiences of Black, Indigenous, migrant/refugee, and women and gender diverse survivors of colour.
For more information, visit https://www.bwss.org/colour-of-violence/ or contact endingviolence@bwss.org