The Colors - A Cosmetics And Perfumery Conference For The Multicultural Era
About this event
The Colors is a thriving community dedicated to sustainable beauty innovation to fulfill multicultural consumer aspirations.
We offer you to join our Annual Conference dedicated to the Cosmetics and Perfumery Industries for the multicultural and connected era.
From the farm to the shop, The Colors brings together in-person and online the key actors of the Multicultural Cosmetics and Perfumery chain value.
Thando Hopa, an exceptional personality, will be our Guest Of Honor for The Colors 2022 Multicultural Cosmetics and Perfumery Trade Show on January 28, 2022, at Station F in Paris. She is a Diversity Advocate and an International Model from South Africa.
On January 28, 2002, in Paris, she'll be surrounded by industry experts who understand the full potential of building a more inclusive, multicultural, and innovative Perfumery and Cosmetics industry. Check out the list of confirmed speakers.
Attend the conference, meet exhibitors, expand your network, discover the latest trends, and get new clients and partners.
Exhibition space: do you want to showcase your products or services?
Book a dedicated space at Station F in Paris from 4 to 9 sqm (and benefit from an additional exposure with a dedicated online session).
You can also book a virtual booth to connect with our online audience.
👋🏾👋👋🏿👋🏽👋🏻👋🏾 Contact our team.
On January 28, from 9:00 am to 6:00 pm CET, join us in-Person or Online.
This is a chance to personally engage with multicultural entrepreneurs and share challenges in the business.
💄👩🏾‍🦱👩🏽‍🦰👧🏾👨🏾‍🎤💅🏾 Discover the Conference Program.
If you want to pay with a credit card, please click on the "Pay with Debit or Credit Card" button or pay with your Paypal account.
Looking forward to meeting you,
The Colors Team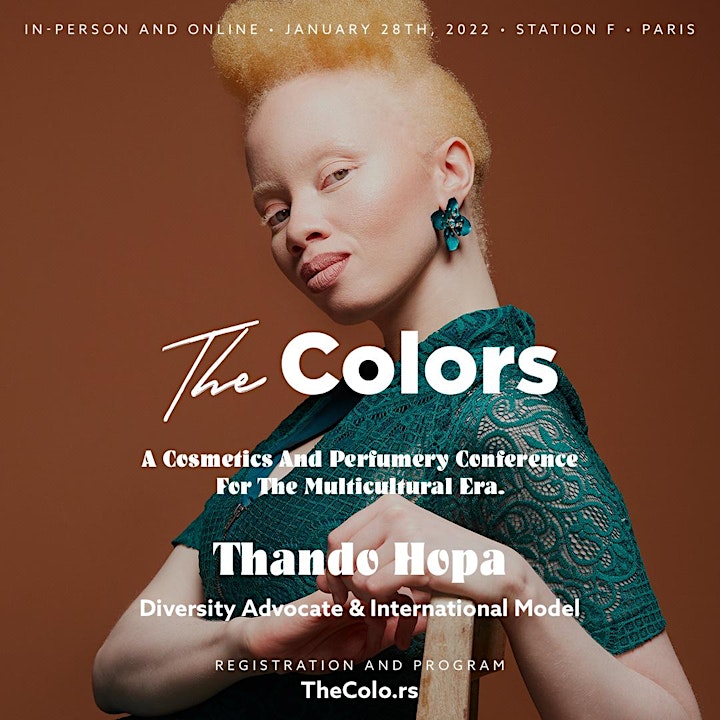 Organizer of The Colors Multicultural Beauty Conference