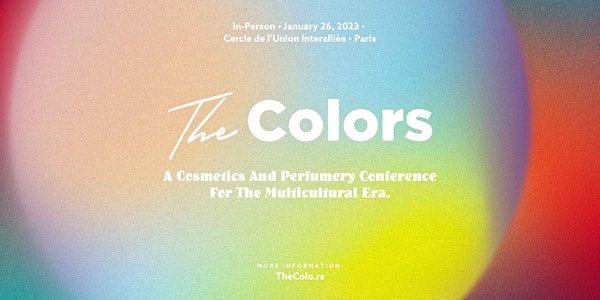 The Colors Multicultural Beauty Conference 2023
The Colors - A Cosmetics And Perfumery Conference For The Multicultural Era
When and where
Location
Cercle de l'Union Interalliée 33 Rue du Faubourg Saint-Honoré 75008 75013 Paris France
About this event
FRANÇAIS / ENGLISH
The Colors est une communauté dédiée aux industries de la Parfumerie et la Cosmétique Naturelles et Multiculturelles.
Nous vous proposons de rejoindre notre conférence annuelle en personne au Cercle de l'Union Interalliée à Paris.
Les pays mis à l'honneur pour leurs efforts en matière de développement durable pour la filière Cosmétiques et Parfumerie Naturelles et Multiculturelles seront Les Comores et le Ghana.
Les experts du secteur qui comprennent tout le potentiel de la construction d'une industrie de la parfumerie et des cosmétiques plus inclusive, multiculturelle et innovante échangeront toute la journée et lors d'un déjeuner exclusif.
Les places sont très limitées. Inscrivez-vous dès maintenant.
---------------
💄👩🏾🦱👩🏽🦰👧🏾👨🏾🎤💅🏾 Programme à venir
---------------
Si vous souhaitez payer avec une carte de crédit, veuillez cliquer sur le bouton "Pay with Debit or Credit Card" ou payer avec votre compte Paypal.
À bientôt!
L'équipe The Colors
-------------------
The Colors is a thriving community dedicated to sustainable beauty innovation to fulfill multicultural consumer aspirations.
We offer you to join our Annual Conference. From the farm to the shop, The Colors brings together the key actors of the Multicultural Cosmetics and Perfumery chain value.
The 2022 Guest Countries will be Comoros and Ghana also known as the Perfume Isles. African beauty change makers from both countries will showcase their natural ingredients and talk about their efforts to build Excellence in sustainability for their entrepreneurial ecosystem.
💄👩🏾‍🦱👩🏽‍🦰👧🏾👨🏾‍🎤💅🏾 Program is coming soon
If you want to pay with a credit card, please click on the "Pay with Debit or Credit Card" button or pay with your Paypal account.
Looking forward to meeting you,
The Colors Team
PROGRAM: