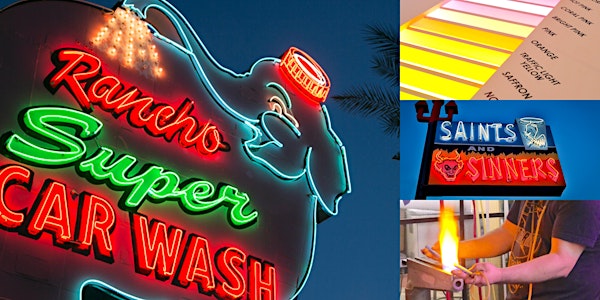 'The Colorful and Nostalgic History of Neon: How Art Met Science' Webinar
Can't make it live? Register and get access to the full replay for one week! New York Adventure Club | www.AdventureClub.com
About this event
From the sprawling cities of Las Vegas and Hong Kong, to small rural towns coast-to-coast, neon lights have been a welcomed and inviting nighttime sight ever since they gained popularity in the early 20th century. But what exactly is neon, and how did it find its way to seemingly every corner of the globe? This is the story of how art met science to help define the identity of countless stores, businesses, and city skylines after sundown.
Join New York Adventure Club as we explore the colorful and nostalgic history of neon, and its profound impact on diverse skylines and societies throughout the world.
Led by photographer and neon designer Julien McRoberts, this deep dive into the bright lights of neon will include:
The origins of neon and early concepts of illuminated tube lighting, which can be traced back to 1675
The fundamentals of neon, from bending and designing electrified and gas-filled tubes to the over 250 color combinations based on five noble gasses
The Golden Age of neon in America (1930s-'60s), which adorned movie palaces, motels, diners, and more
Glowing, going, gone — the decline of neon, and collectors & preservationists
Memorable neon signs across the United States and abroad, and which museums showcase or teach the niche art style
Pro photo tips on how to best photograph neon light
Afterward, we'll have a Q&A with Julien — any and all questions about neon are welcomed and encouraged!
Can't make it live? Don't worry, you'll have access to the full replay for one week!
See you there, virtually!
*Immediately upon registering, you will receive a separate, automated email containing the link to join this webinar
**For the best possible viewing experience, please ensure you're using the latest version of your internet browser — Google Chrome is the most compatible. Exact technical requirements and a webinar user guide will be shared in the automated confirmation email upon registration.
***A full replay of the experience will be available to all registered guests for up to a week
About Julien
Julien McRoberts is a lifestyle brand and editorial photographer/producer. Her unique ability to capture intimate cultural moments, places, and people has garnered her a wide variety of clients, including National Geographic Traveler, Calvin Klein Home, USA Today Magazine, Sunset Magazine, Variety, Marie Claire UK, and more.
Much of Julien's work conveys a sense of the stolen glance, from the bustle of the streets of New York City to ancient Native American rituals. Born in the American West, this world is hardly foreign to Julien. "I have the West in my blood but feel equally as home in a fast-paced city environment," she says. Her website is www.julienmcroberts.com.
Julien's love of neon started many years ago when she took a class on designing neon in Los Angeles. She went on to create neon art pieces for various clients along with a few commercial installations. Her love of neon never faded but now she photographs much of this in her work as a professional photographer. Many of her images will be featured in the presentation.
Testimonials
"Outstanding presenter; she kept my interest the entire time and mixed in video with slides and sharing stories. I hope to take more from her in the future!" -Doug
"Lots of diversity in signs shown, photo tips were helpful too" -Joseph
"I liked all the great photographs and tips on taking our own" -Jeannene
"The neon signs are very interesting - loved learning about them and seeing old photos" -Melissa
"I love the photos, passion and historical context." -Maggie
"Excellent presentation, interesting variety of material, well researched." -Sharlene
"Informative, fun and presented very clearly. She always does a great job keeping the story moving and engaging." -Joseph
"Loved the vintage old neon and the new neon...covered a lot, including how neon started, history, how he neon is made, etc. excellent!" -Marcie
"It covered a lot of information I didn't know. Including how neon signs are made." -Margo
"The topic, the history and knowledgeable guide The photography hints were a nice extra." -Jane
"Informative, interactive, video supplementing standard picture-and-talk webinar format, Julien's familiarity with the subject combined with photography tips and personal examples of work - all first rate." -Mark
"Was such an interesting and unusual topic - a great mix of science explanation and the cultural context. The speaker is brilliant. Can't wait to listen to more talks by them." -Lucy
"Historical perspective of neon; loved the photos, particularly times square circa 1930's" -Bob
Disclaimer
By attending a New York Adventure Club experience, you accept our terms of service.
Categories: Virtual, Art & Entertainment