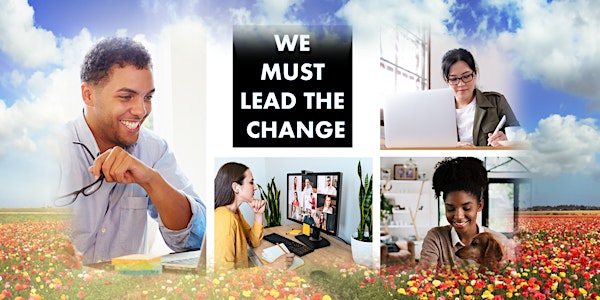 The Color of Diversity in the Mental Health Field : A Free CE Event
Culturally responsive work with social trauma-supervision–immigrant populations–spiritual abuse–spirituality integration & more. NBCC Hrs: 9
About this event
Participants can earn up to 9 FREE CEs and gain clarity on culturally responsive approaches to social trauma, supervision, immigrant populations, spiritual abuse, and integrating spirituality in treatment.
WEDNESDAY, AUGUST 3, 2022 - 9 am - 6 pm EST
As a field, we are wrestling with how to effectively strengthen our readiness to meet the increasing demand for culturally responsive mental health service provision for marginalized communities across the nation and across the world. Our levels of preparedness from years past are not enough – there must be a change…we must level up.
The events of the past 2+ years have permanently altered how we all experience and move through the world. This is particularly true for communities that have been historically marginalized. These changes will reverberate for all of us in ways surmised and others unknown, for many years to come. In addition, diverse communities are surely assessing our relevance and ability to meet them where they are.
This August 3rd summit, The Color of Diversity in the Mental Health Field, will highlight themes that must be a part of the current and ongoing discourse for the counseling field to remain aware and relevant in meeting the needs of diverse and marginalized communities.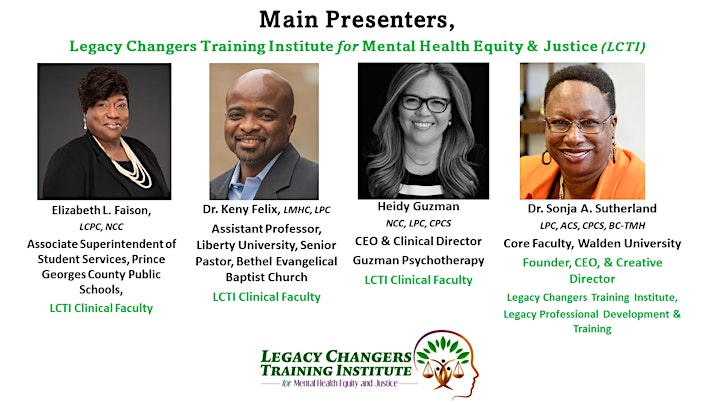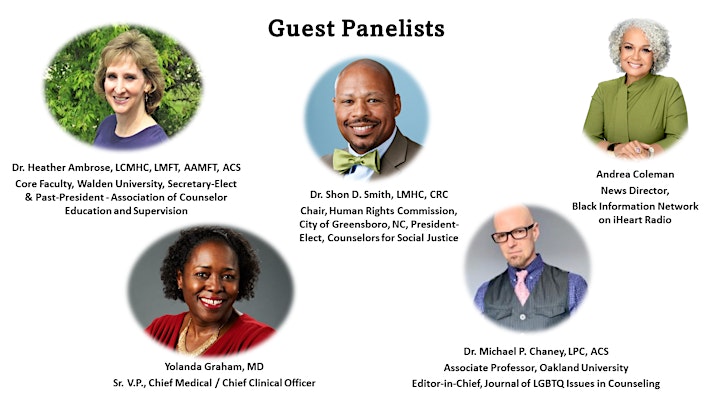 CE WORKSHOPS FOR THE DAY INCLUDE THE FOLLOWING & MORE:
Guest Panel Discussion 1: Critical Professional and Clinical Considerations for Serving Effectively in the Current Sociocultural Landscape 1.5 CE Hours
In this workshop participants will hear from these leaders in the field of mental health as they discuss critical themes that must be part of the current and ongoing discourse for the counseling field to remain aware and relevant in meeting the needs of diverse and marginalized communities. Listen in and bring your questions.
Panel Discussion 2: My Pain – Your Pain – Our Pain: Working with the Social Trauma of a Nation 1.5 CE Hours
Across our nation, irrespective of difference, people are shocked, numb, sad, and angry. Mass shootings, bomb threats, and so much more in 2022 have so many of us in states of disbelief, helplessness, despair, and avoidance of the media, to name just a few. New York, California, Illinois, Florida, Texas, Maryland, Washington, Louisianna, Pennsylvania, Georgia, Louisiana, Tennessee, Ohio, Oklahoma... The nationwide secondary trauma impacts us as well as our clients. How do we cope? How do we help our clients? How can we find the strength to advocate for change? What is our ethical responsibility as a field for doing so? How do we encourage others to do the same? Join us for a timely and much-needed discussion on these questions and more.
Migratory Dream: The Intersection of Practice, Policy, and Research, in Clinical Work with Immigrant Communities. 1.5 CE Hours
Exposure to stressful events that generate anxiety in immigrant populations varies substantially according to the conditions that immigrants face during assimilation, acculturation, and the legal immigration process. This presentation seeks to shed light on often-overlooked daily challenges immigrants face and propose a model for culturally informed competent clinical practice and research. Theoretical, methodological, and ethical challenges to the study of immigrants will also be discussed.
Cross-Culturally Responsive Supervision: A Practical Developmental Overview for Furthering Growth in Supervisees 1.5 CE Hours
Supervisors play a key role in the improved and intentional cultural responsiveness training of the current and future generation of clinicians serving culturally diverse and traumatized populations. We are tasked with understanding how to more effectively conceptualize their cultural competence developmental needs. Not only so that they can serve their clients well, but also because most of them are impacted in varying ways by what is happening today, regardless of cultural background. So we are pressed to be able to intervene from more culturally-informed, and social justice-informed perspectives. This training explores ways to engage in meaningful assessment of supervisee self-awareness and cultural humility and ways to facilitate a conversation around cultural competence development. This training encompasses a discussion of the 2016 Multicultural & Social Justice Counseling Competencies, the 2016 Multicultural Orientation Framework, and racial identity development, and how they can be used within a stages-of-change model.
Exploring Spiritual Abuse in the Black Church: Implications for Congregants, Clergy, and Counselors 1.5 CE Hours
The church has served as an epicenter of civil rights, economic growth, education, spirituality, social services, and a safe haven from oppression for African Americans. As a marginalized community that still experiences systemic and societal racism and race-based discrimination that manifests as psychological stress and mental conditions, African Americans prefer religious coping strategies rather than formal counseling due to stigma and overall mistrust of mental health agencies. The intersection of church and trauma, known as spiritual abuse, now presents an emerging construct for counselors and counselor educators to explore. The outcome of spiritual abuse can have traumatic impacts and cause clients to abandon their church and faith altogether. This training presents recent research on components of spiritual abuse, and its manifestation as trauma, betrayal and religious struggles for African American clients. This training provides considerations for counselors relative to ASERVIC and Multicultural & Social Justice Counseling competencies while interfacing with diverse and marginalized clients and implications for Clergy towards controlling spiritual abuse in their church environment.