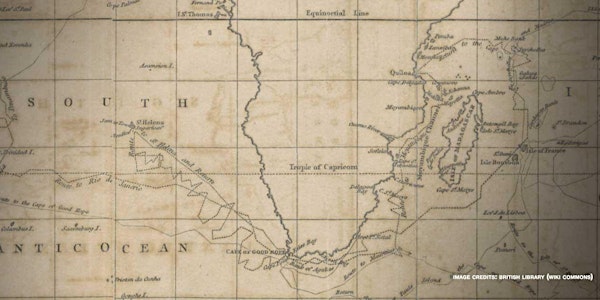 The Colonial History of the Fragrance Trade (online)
Nuri McBride explores colonial history and trade in the context of perfumery, in the latest lecture from the Scent and Society series.
Refund Policy
Contact the organizer to request a refund.
Eventbrite's fee is nonrefundable.
About this event
The trade in aromatics, as with culinary spices, is an ancient business, and perhaps the first truly global trade. Humans have sailed into unknown waters, walked across deserts, and travelled across the steppes for thousands of miles on camelback in search of beautiful smells. The aromatic trade's long history is often mythologised as an exciting adventure story of discovery and commerce. Yet, how can you discover something that has been known and used by another community for thousands of years?
Some of that trade was equitable, bringing wealth and beautiful scents to both communities, but much of it was far from fair.
In this class, we will:
+ survey the history of the last 800 years of the global trade in aromatics, spices, and fragrance materials.
+ focus on the impact European Expansionism and colonisation had on the history and development of the modern fragrance trade.
+ examine the colonial legacy that still haunts this industry.
+ share this information with the hope that we can begin to envision new modalities for the supply chain.
NOTES
A ticket allows for access to the live class, including Q+A, as well as the video of the class after it's taken place. Videos are available for 3 days after the class ends.
There are no refunds or transfers for this class.
This class takes place on Zoom and will be recorded. We will share the video for this class with all registered participants for 3 days after it takes place.
This event is present as part of the IAO's 'Scent and Society' series, currently curated by Nuri McBride. Scent and Society is an ongoing exploration of the multiplicity of perfume histories across time, and across the world.
ABOUT NURI MCBRIDE
Nuri McBride is an academic, activist, writer, and perfumer focused primarily on the preservation of olfactive cultural heritage. Her main area of interest is in the importance of aromatics in life-cycle rituals, particularly surrounding death and dying. This interest grew out of Nuri's personal work in end of life care and witnessing the emotional power scent can hold for the bereaved. In 2015, she began the Death/Scent project to explore the use of aromatics in death practices around the world. Nuri is a long time advocate for greater death awareness education and an end to funeral poverty. She also incorporates scent in her guided death meditation classes as a profound way to connect the participants to the physical, intellectual, and emotional state of examining their mortality.
ATTENDANCE AND REFUND POLICY
This is an online class that will take place on Zoom. The Zoom link will be sent by email approximately 24 hours before the class, and reminder emails are sent automatically through the Eventbrite system. Lest these emails end up in your spam folder, please be sure to add hello@artandolfaction.com and noreply@event.eventbrite.com to your address book.
+ Event times are listed in Pacific Time (PDT); please use a time converter for your local start time.
+ Please download and install Zoom before the class starts, to avoid last minute technical issues.
+ Learn more about how we teach and our community guidelines here: https://artandolfaction.com/newcomers/
+ We will upload the class recording after session, and share it for 3 days with attendees. This video is view-only, and expires at the end of the 3 day window.
+ Unfortunately, we cannot offer refunds or credit for this class. Note also that event tickets are non-transferable.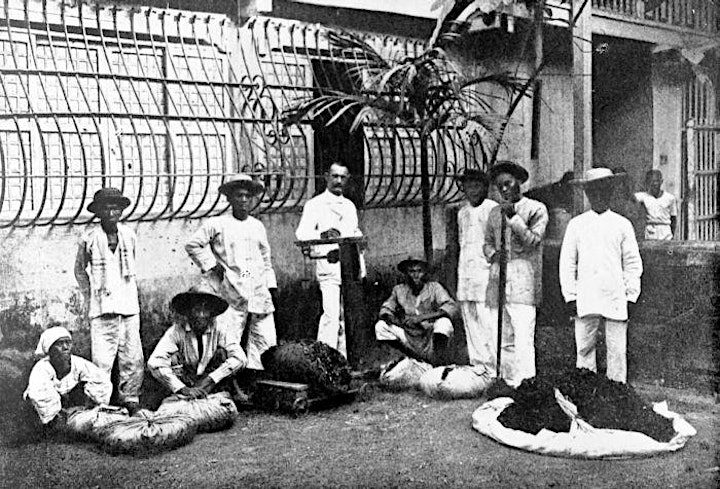 Image Credit: "Voyage along the Eastern Coast of Africa ... to St. Helena; to Rio de Janeiro, Bahia, and Pernambuco in Brazil, in the Nisus Frigate. [With two charts.]" Author: PRIOR, James - Sir Shelfmark (London, 1819). Courtesy of British Library.
"Gathering flowers for the production of ilang-ilang from the plant Canangium odoratum. / Repronegatief. Ontvangst der bloemen van de plant Canangium odoratum die ilang-ilang-geurolie leveren." Attribution: Tropenmuseum, part of the National Museum of World Cultures. Creative Commons Attribution-Share Alike 3.0 Unported.