Sales Have Ended
Ticket sales have ended
Thanks for your purchase! We look forward to see you at the conference.
Sales Have Ended
Ticket sales have ended
Thanks for your purchase! We look forward to see you at the conference.
Description
SOLD OUT!!
The Most Powerful Conference of the Year is Back!
2019 & Beyond
Current and Future Trends in:
FASHION | FOOD | TRAVEL.
Join LA's most sought-after speakers and trendsetters to experience the FUTURE of Fashion, Food, and Travel. This year, we're not just focusing on what's new but pushing the conversation ahead to 2019 and beyond to ensure that you have the tools and insights to take your Business, Blog, and Career to the next level.
With an immersive day filled with powerful stories during our panel discussions and keynotes, interactive activities to ignite your creativity, social hours to expand your network, and a lunch to fuel your energy, you'll leave wanting more. Connect with Industry Professionals, Influencers, Tastemakers, your favorite brands and learn from the best in the business. The Collective Conference 2018 is specifically designed to spark a meaningful discussion that turns into actionable takeaways. We promise it will be an EPIC day!
Our 2018 program is better than ever:
Hacking Your Future
Looking Beyond The Feed and Exploring Offline Connections in Fashion, Food, and Travel
The Evolution of Storytelling
Staying Ahead and Standing Out in A Crowded Industry
Defining Your Story and Making an Impact
Finding Balance in the Emerging Solopreneuer Landscape

Social 2020: Looking into the Future of Social Media
Morning social, Taste of LA reception, amazing gifting suites, and awesome brand sponsors!
Check out our full program here!
Meet 2018 Speakers!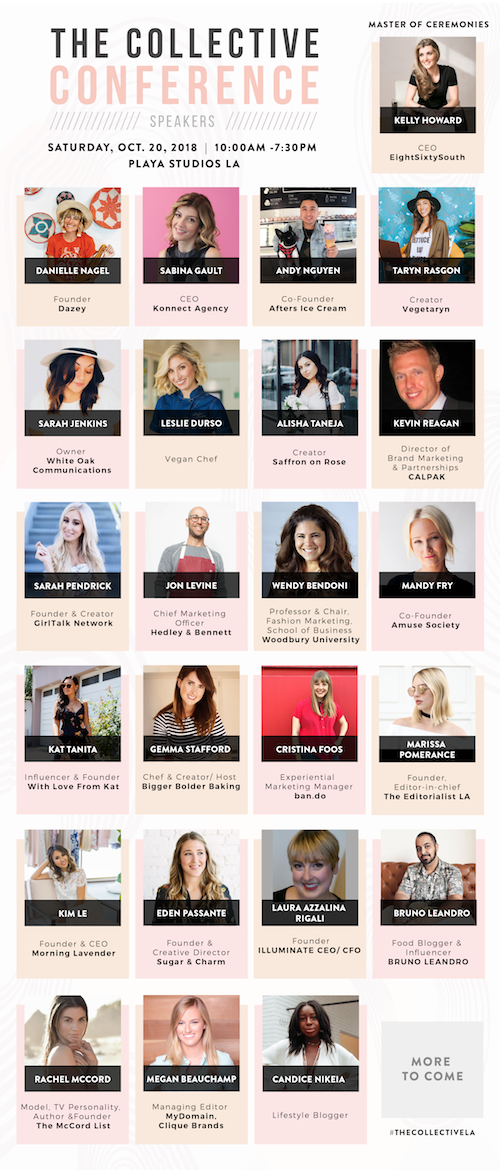 ---
What Makes Us Unique & Why You Should Attend:
We're dedicated to building meaningful offline relationships that last beyond a one day event. Everything at our conference, from the welcoming community table seating to the interactive activities, is designed to foster communication, build connection, and inspire ideas.
Our community is inclusive. Each and every participant is an important part of the Collective. We are accessible to all when it comes to status, affordability, and needs. Our focus is not just on the stars of the industry, but on each of our attendees as well.

We are futuristic! We not only look at the current trends in fashion, food, and travel but explore the future of these industries. By attending this conference you'll make amazing connections and walk away with knowledge, tools, and insights on how to grow your Business, Blog, and Career.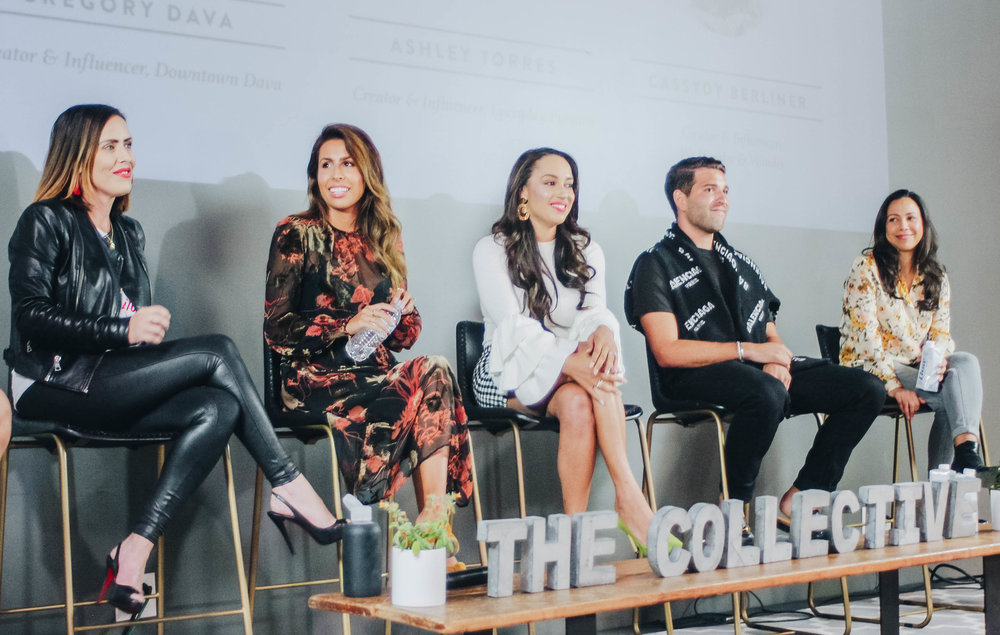 ---
2018 SPONSORS & PARTNERS

FAQs
What Comes With Your Ticket?
Access to a packed day filled with informative panels, inspiring keynotes, fireside chats, and influencer conversations featuring some of LA's top fashion, food, and travel influencers, brands, entrepreneurs, executives, PR and marketing professionals, and media.
Access to meet and greet sessions with speakers, media, and influencers
Access to morning mixer, networking lunch, afternoon social hour, and evening Reception
Access to Taste of LA which features complimentary tastings of different LA food establishments.
Access to Gifting Suites where you can visit various brand suites to shop and pick up your gift.
Table gifts from our brand partners.
Is there a website for #TheCollectiveLA?

Yes, please visit https://www.365dots.com/the-collective-los-angeles for more information.
Who should attend?
Our attendees span across various backgrounds including, influencers, entrepreneurs, marketers, media professionals, advertisers, and brands. Anyone looking to form meaningful connections and walk away with tangible next steps to advance their goals should attend.
Do you give press access?
Yes, we give access to notable print + digital publications, as well as public personalities with engaged social followers. Please email brianna@365dots.com to request access.
Do you offer refunds?
We do NOT offer refunds. If you can no longer attend, you can transfer your ticket to someone else by emailing hello@365dots.com to update the registration.
What sponsorship opportunities are available?
Sponsorship opportunities include, but are not limited to: roundtables, panel sponsors, meal sponsors, keynote sponsor, award sponsors, breakfast, lunch, and cocktail sponsors, as well as custom opportunities. For more information on sponsorship opportunities, please email Emily@365dots.com