Event Information
Location
Salam Center Mosque
4545 College Oak Drive
Sacramento, CA 95841
MAS-SSF invites you to attend "The Collapse of Parenting" presented by Dr. Leonard Sax. Event is open to 12 Years old and older.
About this event
Guest Speaker Dr. Leonard Sax, MD, PhD
Leonard Sax is the author of four best-selling books for parents: Why Gender Matters, Boys Adrift, Girls of the Edge, and The Collapse of Parenting. He has spoken at schools, colleges, and communities around the world, and has been a guest on the TODAY Show, CNN, PBS, NPR, BBC, and Fox News.Dr. Sax is a well known lecturer
More information on Dr. Sax is provided at the following link http://www.leonardsax.com/about/
During the event, Dr. Sax will answer some of the questions parents always ask. The following questions are examples:
What parents need to know about how kids are using video games and social media.
How much time spent playing video games is too much time, and how do we know?
Which video games are OK to play, which are not, and how do we know?
The more time a teen spends on Instagram, the more likely that teen is to become depressed. That is a huge effect for girls, but a much smaller effect for boys. How come?
How much should I know about what my daughter is doing on Instagram?
At what age is it appropriate for a child to have a smartphone?
Children's Program
Amazing Athletes will be providing a fun and exiting program for children under 12 years old. Children attending this program have to be registered to participate in the program.
Schedule of the Day
1:30 PM Refreshments
2:00 PM Welcome | MAS-SSF info
2:30 PM Presentation
4:30 PM Break for Asr Prayer
5:00 PM Presentation Continued
6:00 PM Dinner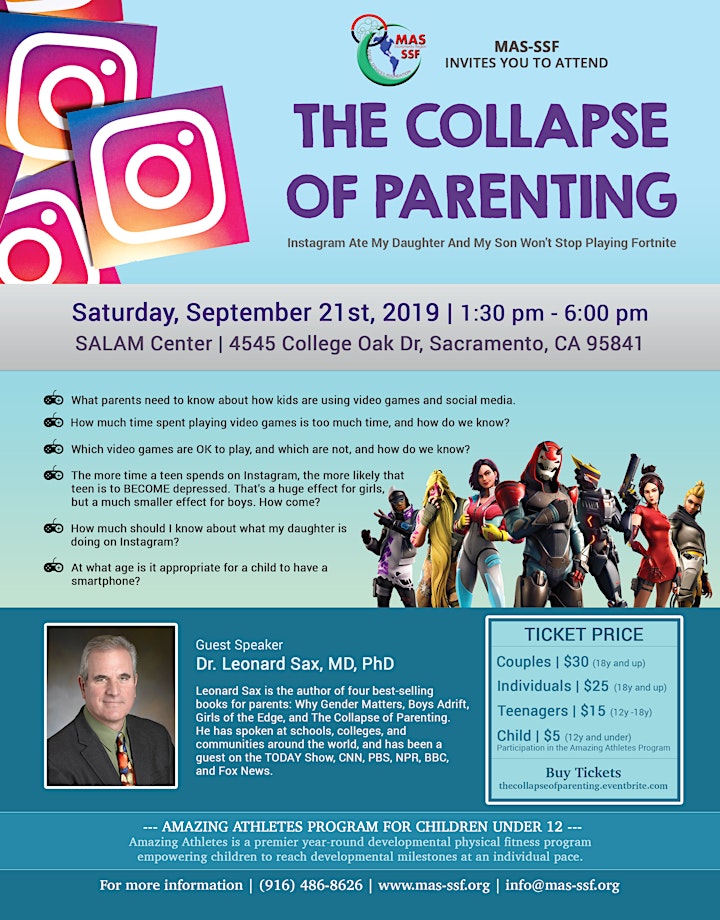 Date and time
Location
Salam Center Mosque
4545 College Oak Drive
Sacramento, CA 95841
Refund policy