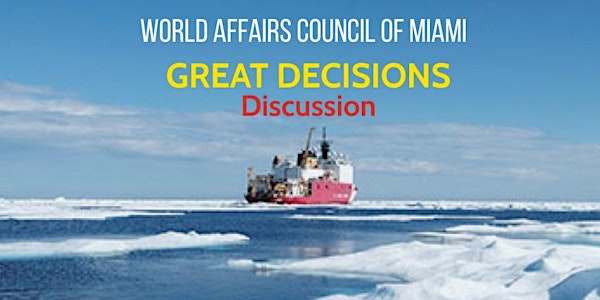 The Coldest War- Toward a Return to Great Power Competition in the Arctic?
Join us for a Great Decisions discussion with Consul General Susan Harper on issues in the Arctic Circle and its relation to world affairs.
When and where
Location
IRONSIDE KITCHEN PIZZA & COFFEE CO 7580 Northeast 4th Court Miami, FL 33138
About this event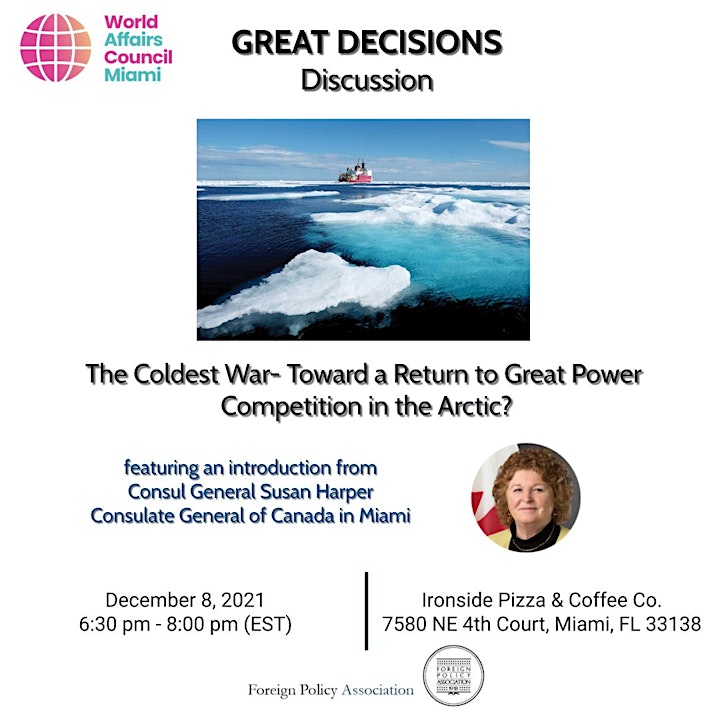 What is Great Decisions?
Great Decisions is the largest nonpartisan public education program on international affairs in the world. Created in the 1950s by the Foreign Policy Association, the World Affairs Council of Miami utilizes Great Decisions to engage citizens in South Florida to learn about critical issues involving world affairs and U.S. foreign policy.
History of Great Decisions:
The first "Great Decisions" group was launched in Portland, Oregon in 1954 by FPA's Vice President Roger Mastrude. Based on the so-called "Avon" model of face-to-face, active and informal conversation, participants would read a fact sheet on each of the eight topics before meetings, where they aired their respective views and opinions. FPA would tally up opinion ballots and report the results to the Department of State. The program gained media attention, was picked up by local schools, and soon gained national attention. The grassroots, face-to-face model adopted by Great Decisions more than 50 years ago continues today, with tens of thousands of participants taking part in discussions nationwide annually.
What we will be discussing:
Join us for a Great Decisions discussion on issues impacting the Arctic Circle and what it means for world affairs and U.S. foreign policy. Consul General Susan Harper of the Consulate General of Canada in Miami will be in attendance and will deliver introductory remarks!
Where we will meet:
Meet at: Ironside Kitchen Pizza & Coffee Co 7580 NE 4th Ct, Miami, FL 33138
Parking:
There are limited street parking spaces in front of the building on NE 4th Court and a Pay By Phone Parking Lot (Lot # 31818) just north of Ironside Pizza at 7636 NE 4th Court.
Cost:
Registration for discussion is complimentary.
Food and beverages are available for purchase.
Resources to Prepare for the Discussion:
https://www.fpa.org/great_decisions/index.cfm?act=topic_detail&topic_id=94