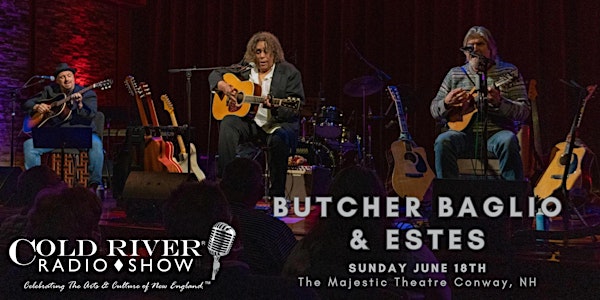 The Cold River Radio Show
Live Stage Variety Show Featuring Award Winning New England based Artists, Performers, Storytellers, Comedians, and Best Selling Authors.
Date and time
Sunday, June 18 · 7 - 9pm EDT
Location
Majestic Theatre 32 Main Street Conway, NH 03818
About this event
THIS IS FOR IN-PERSON EVENT TICKETS - FOR LIVE STREAM OPTIONS CLICK HERE.
This Cold River Radio Show Headlines Butcher, Baglio & Estes, Jon Butcher, Sal Baglio & Allen Estes. Three veteran musicians and familiar names from the Boston music scene.
Jon Butcher, with a Grammy nomination, 19 national and international releases to date, hit videos in steady rotation on MTV and VH1, arena tours supporting the likes of The J. Geils Band, Rush, Def Leppard, Scorpions and INXS, film scores and music licensing for hit cable and TV shows such as Shameless (Showtime), The Simpsons (FOX), The Sopranos and Six Feet Under (HBO), and guest appearances on the EXPERIENCE HENDRIX TOUR, Butcher continues to write and perform to this day, further cementing his reputation as one of the most creative and accomplished musicians to ever come out of Boston.
Sal Baglio, Lead singer for the seminal 80's rock and roll band The Stompers, Baglio has continued to hone his craft, writing original songs for the past fifteen years. His one-man carnival ride includes his new album Music For Abandoned Amusement Parks. Part music, part storytelling, Sal's show is pure musical memory theatre. Anyone who ever ran to a music store, rushed home to their turntables, read ALL of the liner notes of their favorite bands will be transported by Mr. Baglio's stories, original songs, AND cover songs featured in his performance.
Allen Estes The Estes Boys performed in and around New England and by the mid 80's Allen moved to Nashville TN, writing and working with Tammy Wynette, Robert Ellis Oral, Lori Morgan, and Shania Twain. After 10 years, Gloucester called him back, and in the 90's Allen recorded with writer Frank Tedesco. Estes has become a well known folk figure in New England and elsewhere, performing and writing the kind of music which reflect both the personal pain and the joy of an artist's journey.
This Show Also Features...
Dominic Lavoie is a singer-songwriter, musician and producer who uses music to stay as true to himself and the creative spirit as possible. Ethereal dreams to jarringly clear human experiences dance in his songs; and become real both on stage and through his albums. He's shared the stage with Rayland Baxter, Los Lobos, Dr Dog and Guster; and Lavoie is as comfortable on stage as he is in the studio, having released 7 full lengths, 2 EPs and a self-directed music film. Dominic's co-written for artists, like rapper Spose, and collaborated with producer Steve Berlin (Los Lobos, Deer Tick) on his own 2020 release 'Wave With A Broken Arm'.
Author Paula Munier is the Senior Agent and Director of Storytelling for Talcott Notch Literary and the USA TODAY bestselling author of the Mercy Carr mysteries. A Borrowing of Bones, the first in the series, was nominated for the Mary Higgins Clark Award and named the Dogwise Book of the Year. Blind Search also won a Dogwise Award. The Hiding Place and The Wedding Plot both appeared on several "Best Of" lists. Home at Night, the fifth book in the series, was inspired by her volunteer work as a Natural Resources Steward of New Hampshire, and releases on October 17, 2023
Local Spotlight Terry Swett Originally from North Norway, Terry lives on a farm in North Bridgton. Terry has been a sign maker and musician/songwriter his entire adult life. Thirty years later, he still makes signs for a living and still writes and performs. Along with his solo performances Terry is the founding member of the popular acoustic band Milltown Roadshow who's country/folk/bluegrass repertoire is best classified as Americana and always includes several of his original pieces. Early in 2020, while working on his newest recording project, he was inspired to write a birthday present for the state of Maine. Being presented as a bill, the Maine House and Senate voted to make the song a part of state history. So with the signature of govenor Janet Mills, ''My Sweet Maine" © 1-2020 became the Maine state song of the 21st century.
As Always, Host Jonathan Sarty and His Fabulous Cold River Radio Band: David Mattacks on Drums (Jethro Tull, Fairport Convention), Todd Baker on Double Bass, Mike Sakash on Soprano Sax, and Joseph (Sonny) Barbato on Piano.
Frequently asked questions
What are The Venue Policies in Regards to Food and Drink?
Is There a Minimum Age for This Event?
Who Should I Contact in Regards to Venue Specific Questions?
About the organizer
A New England Stage Variety Show Celebrating The Unique Arts and Culture of New England Through Featuring Regional Artists, Performers, Authors, and Storytellers.