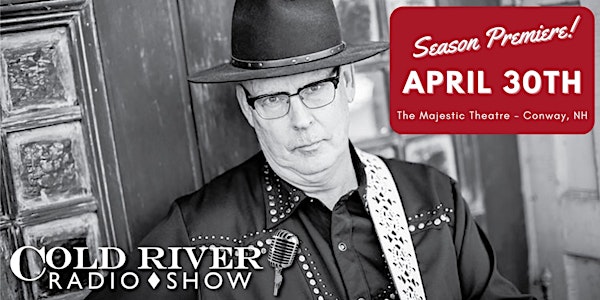 The Cold River Radio Show Season Premiere
Live Stage Variety Show Featuring Award Winning New England based Artists, Performers, Storytellers, Comedians, and Best Selling Authors.
Date and time
Sunday, April 30 · 7 - 9pm EDT
Location
Majestic Theatre 32 Main Street Conway, NH 03818
About this event
This Cold River Radio Show Headlines The FrannyO Show, With a sound inspired by a melting pot of Americana, country, blues, and rock, Fran O' Connell discovered a love for music later than most. A graduate from Columbia University, a Veteran, and a seasoned entrepreneur, O'Connell is no stranger to heartache, hard work, and the pursuit of the American Dream. All of it inspired the inception of The FrannyO Show, the musical moniker of O'Connell.
The FrannyO Show has recorded two albums in Nashville with Rolling Stone acclaimed producer Jamie Kent. O'Connell frequently tours with his dynamic band throughout the Northeast.
This Show Also Features...
Comedian TTTom Clark as Maine comic character "C.L. Thomas in Things That Ain't Right!" TTTom's comic character, C.L. Thomas, is a combination of all the dry-witted Maine characters that he has seen and met across Vacationland since he was a child. The character's unique take on the world has entertained tourists and locals alike.
Author Keith Gentili on his book "White Mountains State." A former sportswriter, Gentili launched The New Boston Beacon, a monthly newspaper, in 2018. The New Hampshire Press Association has named him a Columnist of the Year three times. In 2021, the New England Press Association honored The Beacon as a Distinguished Newspaper and Gentili as a Serious Columnist of the Year. His publishing background also includes years with the Nantucket Beacon, Tuff Stuff magazine, and Antiques Roadshow Insider.
Local Spotlight The DellaValla Bluegrass Trio: Molly (guitar), Joseph (banjo) and John DellaValla (fiddle).
As Always, Host Jonathan Sarty and His Fabulous Cold River Radio Band: David Mattacks on Drums (Jethro Tull, Fairport Convention), Todd Baker on Double Bass, Mike Sakash on Soprano Sax, and Joseph (Sonny) Barbato on Piano.
The Cold River Radio Band will be joined by Guest Guitarist Jarrod Taylor. Jarrod Taylor is highly regarded throughout New England as an accomplished guitarist and dedicated instructor at Plymouth State University with over 20 years teaching experience. He's an active performer in a wide variety of ensembles ranging from blues, rock, country, to jazz and funk. A summa cum laude graduate of the Berklee College of Music in Boston, Jarrod's musical background touches upon many traditions and genres, while he continues to practice, study, and grow musically with a focus on jazz and classical guitar.
Frequently asked questions
What are The Venue Policies in Regards to Food and Drink?
Is There a Minimum Age for This Event?
Who Should I Contact in Regards to Venue Specific Questions?
About the organizer
A New England Stage Variety Show Celebrating The Unique Arts and Culture of New England Through Featuring Regional Artists, Performers, Authors, and Storytellers.